The changes in Fishing that Wrath of the Lich King brought made Fishing skill level less important, since characters of any level can fish from pools. However, you won't always be fishing from pools, and the right equipment can give you a serious boost to your Fishing skill. Higher Fishing skill makes it much easier to farm specific open-water fish; Fishing daily quests also often require you to fish in open water, and it can take a very long time to complete them with low Fishing skill.
In this guide, we'll list all the available Fishing equipment, and explain how to get your hands on it! Use the Contents button to navigate to the specific type of gear you're looking for.
Fishing Poles
When you think about fishing gear, fishing poles are probably what comes to mind. While all the other equipment in this guide is optional, you can't fish without a pole. A few of these poles are a bit tricky or confusing to get — additional instructions/explanations can be found below the table where relevant.
*Must be the indicated level to accept the quest
**You can't get Exalted with the Kalu'ak without being at least level 68, as that is the minimum required level for starting their quest chains
The Blump Family Fishing Pole is only available to Alliance characters, as it is a quest reward from quest that binds on pickup. The fish required for this quest can be found in the open waters of Darkshore. Note that it isn't a quest-specific fish, and can therefore be fished up before picking up the quest.
The Darkwood Fishing Pole is the rarest pole there is, which is somewhat strange given that it doesn't offer a particularly sizeable Fishing skill bonus. Rumors and superstition abound about what the best way to fish it up is, but all we can say for sure is that it has been found in open water in Ashenvale, Duskwood, Hillsbrad Foothills, Redridge Mountains, Stonetalon Mountains, and Wetlands. There also seems to be a significant amount of them fished up from Mystral Lake in Ashenvale (50, 70), so if you're crazy enough to try and farm for it, that might be where you want to start.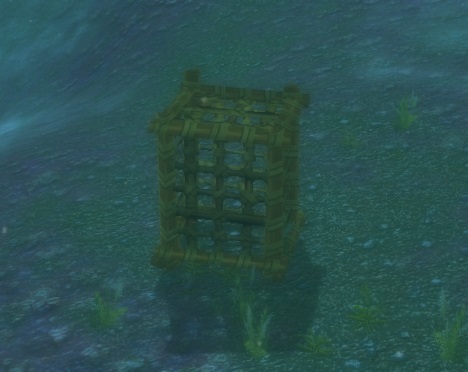 The Big Iron Fishing Pole can be discovered in the Shellfish Traps found south and southwest of Shadowprey Village in Desolace. There's about a 1.5% chance of finding the pole in a trap, so you'll probably need to go through almost 100 traps before you find one. An Elixir of Water Breathing, or a friend who can cast Water Breathing on you, can make your search much easier — you can also regain breath from the Bubbly Fissures found on the sea floor in this area.
Nat Pagle's Extreme Angler FC-5000 is a Horde-exclusive fishing pole received as a BoP reward from Snapjaws, Mon. The Saltwater Snapjaws you need to kill for the quest can be found all along the coast of the Hinterlands, north of the quest giver.
Seth's Graphite Fishing Pole is a reward from Rather Be Fishing. This quest can be confusing because you don't actually fish up the Eels — instead, the Pristine Shimmerscale Eel are a drop from the Shimmerscale Eels found in Slimyr Lake, northeast of Shattrath.
To get Nat's Lucky Fishing Pole, which is a reward from QUEST, you'll need to do quite a bit of fishing — but it's well worth it. This pole is one of the best poles you can get at low level. You won't be able to pick up the quest until you have at least level 35 and a Fishing skill of 225.
To complete the quest, you'll need to catch four specific fish in four specific locations: A Misty Reed Mahi Mahi from the Misty Reed Strand in the Swamp of Sorrows, a Sar'theris Striker from the Sar'theris Strand in Desolace, a Feralas Ahi from the Verdantis River of Feralas, and a Savage Coast Blue Sailfin from the Savage Coast of Stranglethorn Vale. For your convenience, we've created maps to help you find exactly where to fish in each location. You should also make sure that the location indicated above your minimap is the correct location (e.g., Savage Coast when you're fishing for the Blue Sailfin).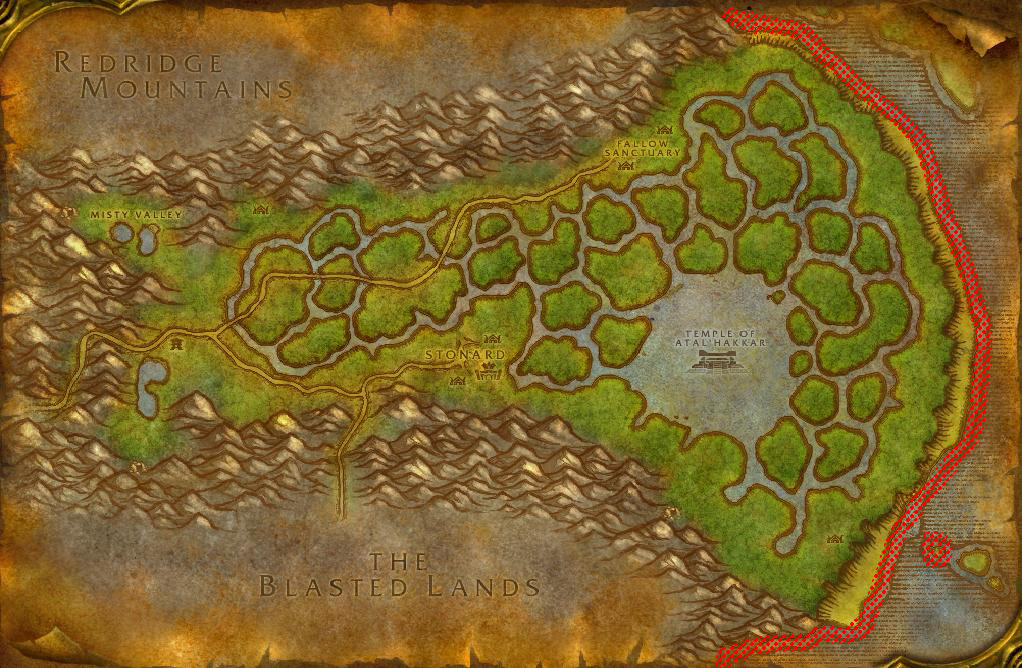 Gear & Consumables
Anyone doing open-water fishing will want to increase their Fishing skill as much as possible — gear is a great way to do that. There are also a couple of consumables that temporarily boost your fishing skill.
Unlike the Fishing Poles, getting your hands on the above-listed Fishing gear is relatively straightforward. The items you can get as a reward from the Stranglethorn Fishing Extravaganza are acquired by bringing specific fish (that can only be caught during the fishing extravaganza) to Riggle:
Captain Rumsey's Lager requires Cooking to create, but otherwise isn't too tough to craft once you manage to find the recipe in one of the Dalaran Fishing Daily rewards bags. The ingredients for the lager can be purchased from Sarah Brady in the Underbelly of Dalaran, or Kylene in the Lower City of Shattrath. It's only 16

for enough materials to create 5 lagers, so it's well worth doing if you plan on fishing in open waters and need to get yourself over 450 Fishing skill.
The Underbelly Elixir is found in — you guessed it — the Underbelly of Dalaran. Unfortunately, you only have a 1 in 3 chance of getting the hungry Tuskarr buff, so you'll need to bring a few with you to your fishing spot. The elixirs respawn fairly quickly after one is picked up, so you can wander the Underbelly and collect quite a few. Mounting will remove your buff, so don't drink your elixirs until you're ready to fish!
Lures
Lures are temporary buffs to your Fishing skill. However, they provide significant bonuses, and are a must-have if you're fishing in challenging waters.
Click on an item to see which vendors it can be purchased from, or which mobs drop it (where applicable).
Miscellaneous
While the items listed above are the only ones that give a Fishing skill bonus, there are still a few more items that are somewhat fishing-related: