Author: Nevermore
Date: September 17, 2022
Expansion: WotLK Classic
When choosing the right race for your character, keep in mind that each one offers entirely different bonuses and effects, and each one shines in a different aspect of the game. However, if min-maxing is not your thing, feel free to just choose the race that feels like it fits your character the best and suits your aesthetic style.
Both factions typically have one stronger race for a specific class and specialization, with other races offering lesser performance but interesting effects.
Horde
We have two races competing for the best race spot in the Horde. Trolls and Undead have highly effective racial effects for PvP combat. Trolls get you increased casting speed and crowd control reduction, while Undead provide you with a Trinket racial effect, increased shadow resistance, and a gimmick kind of a racial effect.
Trolls are one of the best options for playing a Discipline Priest in the Horde. They offer you several racial effects, the most powerful ones being Berserking and Da Voodoo Shuffle. Just be careful not to hex your friends in the process, right, young witch doctor?
Undead is the second-best choice for playing a Discipline Priest in the Horde. They provide you with a secondary trinket, allowing you to remove crowd control effects. They also have access to a bit of a gimmick type of an ability, letting them feast on the corpses of their enemies, inflicting some… mental distress to anyone witnessing the act.
Blood Elves are the last available choice for playing a Discipline Priest in the Horde. Their racial effects are weaker than the other races, however, they do still get you a strong crowd control effect that can be used either defensively or offensively against your enemies.
Arcane Torrent provides an instant AoE silence, while also restoring 6% of your mana. This racial effect can be combined with other interrupting and silencing effects to create a complete crowd control lockdown on a target, completely impairing any spellcaster. You can also use this ability to defend yourself in sticky situations, or to simply recuperate a small portion of your mana.
Magical Resistance reduces the chance to be hit by spells by 2%. This racial effect provides a fairly powerful advantage in PvP, as it forces enemy spellcasters to attain a higher Hit Chance to be effective against you.
Arcane Affinity increases your initial Enchanting skill by 10. This does not have major gameplay implications since it's only a minor starting bonus.
Alliance
The Alliance has more choices for playing a Discipline Priest, each of the available races coming with strong effects. However, the top spot is taken by Humans, with access to double PvE trinkets, increased Spirit, and increased stealth detection!
About the Author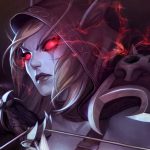 Nevermore
Hey there folks, I am Nevermore and have been deeply passionate about WoW for more than a decade. Whether we talk about the hidden mysteries of Azeroth or the otherworldly Outland, my journey brought me here to share the things that I have experienced with you all.