Author: milliondollarpuppy
Date: November 11, 2022
Expansion: WotLK Classic
Welcome to Warcraft Tavern's Mining guide! In this comprehensive guide, we'll cover all the important facets of Mining. Trainers, how to level, and where to mine are all found below. We'll also discuss the overall benefits of picking up this gathering profession.
Why Mine?
Mining is a great economy skill players can use to farm various materials throughout the open world in Wrath of the Lich King. Metal Ore can be used to craft a variety of useful items. Here are some of the primary reasons you might want to pick up Mining on your character:
Mining is a simple profession, it's a laid-back way to make a little gold while you explore the world.
Blacksmiths use Metal Bars in their trade to craft gear and item enhancements.
Jewelcrafters can Prospect Ore to harvest valuable gems that can be cut and they can use Metal Bars to craft Neck and Finger-slot items.
Mining offers the Toughness passive perk at 450 skill. This gives your character 60 Stamina — looks like your hard work paid off!
Miners have a valuable cooldown, Smelt Titansteel, which yields a Titansteel Bar on a 20-hour cooldown. This Metal is used for Epic Profession crafts and should be a decent source of passive income.
All Mined material has value: Saronite Bar, Titanium Bar, Green and Blue-quality gems, and Eternal mats (like Eternal Earth) will all have their place at the Auction House and should provide steady income.
It's easy to get started with Mining. Simply buy a Mining Pick, and you can begin farming materials in low-level zones. You may want to consider using an off pair of gloves with Enchant Gloves – Mining, this will give you a little extra boost and let you farm higher-quality nodes sooner.
Mining Trainers
As with all professions, you'll need to visit a trainer to pick up Mining, and you'll need to return to a trainer each time your Mining skill is close to capping. Note that there is a 25-level gap between the maximum skill of each rank and the minimum skill required to train the next rank. This means you don't have to wait until you've capped your Mining skill to purchase the next rank!
Rank

Character Level
Required

Mining Skill
Required

Maximum
Mining Skill

Cost to
Train

Where to
Train

Apprentice

5

–

75

1

Any Mining trainer

Journeyman

10

50

150

5

Any Mining trainer

Expert

10

125

225

1

Any Mining trainer

Artisan

10

200

300

2

50

Any Mining trainer

Master

10

275

375

10

Any Mining trainer in
Outland or Northrend

Grand Master

10

350

450

35

Any Mining trainer in
Northrend
As you can see, any Mining trainer can train you from Apprentice to Artisan, and any Mining trainer in Outland or Northrend can train you up to Master, but only Northrend Mining Trainers can train you to Grand Master. The lists in the Mining Routes section are therefore organized by region. If the trainer you're seeking is in a city, you can ask any guard to direct you to the Mining Trainer.
How to Level Mining
Mining is very much the same as it was in Classic and TBC. Leveling is straightforward, as you simply need to train the skill, and then you can begin collecting entry-level nodes. Nodes are found scattered throughout the world, and you'll need to find specific ones in order to properly level your skill. Most nodes are concentrated in certain zones, so your leveling path will consist of several loops through a given zone until you reach a given skill level — then it's time to move on to the next zone.
While it's possible to fail to gather a node, this doesn't lock you out of further attempts. Simply use the skill again and hope you're successful. It might be a good idea to plan ahead for any possible crafting professions you may take on — you may want to strategically gather specific nodes to support this future craft. If you're Mining simply for the sake of gold, then you can also check out Auction House prices to see if any of the old-world mats you pick up along the way are worth anything.
In the Mining Routes section you'll find details on all the zones you can utilize on your path to 450 skill.
Find Minerals and Smelting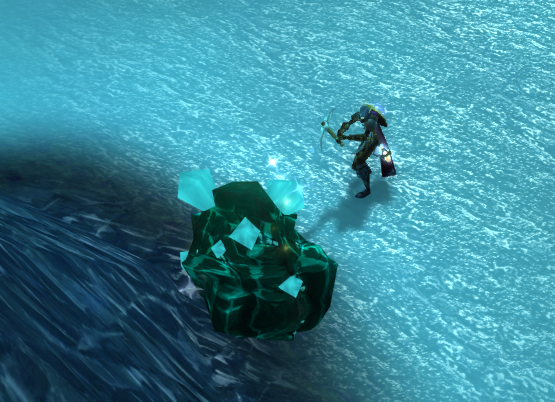 One of the most important skills for Mining efficiently is Find Minerals. Like Find Herbs, it will mark Mineral nodes on your mini-map. This spell is taught by a trainer and can be used as soon as you start your Mining Journey.
Mining also allows you to train Smelting right away. This profession skill allows you to smelt Mineral Ore into Bars used in a variety of crafts. It can also be used as a method to level up your Mining skill, simply Smelt Bars at the correct levels to get some easy points.
Ahead you'll find information on leveling with Smelting and where to farm in the open world, if you want to go the traditional route.
Smelting Skill-Up Table
The table below is a reference you can use if you wish to level up Mining to 340 using Smelting (all bars will be grey once you reach 340, and you won't be able to level up the skill any further via smelting). This is also a useful resource if you simply need to know what skill level you need to be for the late-game Minerals.
The colors represent the chance of gaining a skill point at that level when crafting a Metal Bar. In the far-right column, you'll find the Ore requirements for each Smelting recipe.
Best Mining Routes
The following lists are where you can find suitable mineral nodes to level up your Mining skill. The red circles on the maps indicate caves where you can find nodes.
---
Congrats on reaching 450 Mining Skill! Keep reading to find out about Titanium Ore, Titansteel Bar, and their potential to make you massive profits.
Endgame (Titanium and Titansteel)
Regardless of whether you use your ore for crafting or not, all Miners benefit from gathering Titanium Ore. It's the key reagent in a number of high level pieces of gear like the Nessingwary 4000, Epic Engineering helms like Electroflux Sight Enhancers, and Jewelcrafting Epics like Titanium Spellshock Necklace. The ore is gathered from Titanium Vein, which are most abundantly found it Icecrown, Sholazar Basin, and The Storm Peaks, but watch out! Competition for these nodes is usually quite fierce.
Titanium Bar are also the primary material used in creating Titansteel Bar. Even more than Titanium, Titansteel is highly coveted by all professions that need bars to craft. In addition to Saronite Bar, it is the only mineral used to craft patterns and enchants from ToC and ICC. It is also the main metal used when making the highly coveted endgame Engineering items Jeeves, Mekgineer's Chopper, and Mechano-Hog. To make Titansteel, you'll need to Smelt Titansteel, which requires:
But keep in mind: Smelting has a 20 hour cooldown, so choose what to do with your bars wisely.
We hope this overview of Mining in WotLK was helpful! Please drop us a line in the comments if you have questions, suggestions, or corrections.