In WoTLK Classic, players have several choices when it comes to playing the Priest class for PvP content. The most notable races are Troll or Undead for the Horde, and Human and Night Elf for the Alliance
Horde
The first available choice for the Priest class, possessing strong racials that have high applicability in Player-versus-Player content.
The first racial that we will talk about is Will of the Forsaken — it acts as a makeshift trinket besides your main trinket, allowing you to remove effects such as charm, fear, and sleep. However, you can not use this racial after using your main trinket instantly, as it shares a 45-second cooldown with it.
The other racial with strong PvP applicability is Cannibalize, which lets you eat a corpse to regain significant health. This effect can be used in combat and acts as a bandage, however, you can only use it on humanoids or undead. Luckily, every player — no matter what race they are — is a humanoid, so go ham on them! Shadow Resistance reduces the chance to be hit by Shadow spells by 2% while Underwater Breathing can be used in order to stalk your enemies in the open world.
The second available choice when considering to play a Priest, possessing three strong racial effects that can help you in PvP combat, plus a few other racials that help you while leveling.
Berserking empowers you with increased casting speed by 20% for 10 seconds. This effect is extremely strong when combined with other haste-increasing effects, effectively making you feel like you are using Bloodlust.
Regeneration is a strong racial effect that allows you to continue regenerating health during combat, highly increasing your survivability — you retain 10% of your health regen while in combat, and total health regen is also increased by 10%. Da Voodoo Shuffle is another racial effect that highly improves your PvP potential, allowing you to reduce the duration of any movement impairing effect by 15%.
The last available choice for the Priest class in the Horde, Blood Elves offer racial effects that are more average in terms of power.
Arcane Torrent allows you to silence all nearby enemies while also regenerating a small portion of your mana pool. Magic Resistance reduces the chance of you being hit by spells by 2%. Blood Elves also benefit from Arcane Affinity, which increases your initial Enchanting skill by 10.
Alliance
About the Author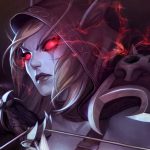 Nevermore
Hey there folks, I am Nevermore and have been deeply passionate about WoW for more than a decade. Whether we talk about the hidden mysteries of Azeroth or the otherworldly Outland, my journey brought me here to share the things that I have experienced with you all.