Author: Spannah
Date: September 2, 2022
Updated: September 27, 2022
Expansion: WotLK Classic
Welcome to Warcraft Tavern's Reputation Guide for the Kalu'ak in Wrath of the Lich King Classic! In this guide, we'll go over all the ways you can gain reputation with the Kalu'ak faction, as well as the best ways to reach Exalted.
How to Reach Exalted With The Kalu'ak
This section serves as a TL;DR for the rest of the guide.
Status

Additional Reputation
Required

Neutral

0

Friendly

3000

Honored

6000

Revered

12,000

Exalted

21,000
Reaching Exalted with the Kalu'ak is very straightforward since the main way to gain reputation with them is to first do all of their normal quests, and then run the 3 daily quests that are spread between their 3 main camps in Northrend. By the time Horde players finish all of the 1-time quests as well as the 3 dailies, they will already be Revered, while Alliance players may or may not be Revered depending on how many dailies have been completed while questing.
Alliance players will need 14 days of Kalu'ak dailies after the main quests to reach exalted (Humans will only need 12). Horde will need 13 days of dailies.
The only other way of gaining reputation with the Kalu'ak is the Kalu'ak Fishing Derby fishing quest that was introduced in patch 3.3.0 in Wrath of the Lich King. This isn't a reliable way of gaining reputation however, as only 1 player per server would get their hands on the 2500 reputation awarded by the quest, once a week, so we won't be covering it in this guide.
Who Needs the Kalu'ak Rep?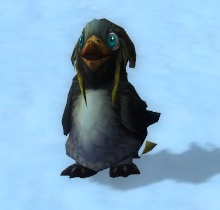 Players who have Fishing or Tailoring may want to shop with the Kalu'ak quartermaster, as will people who think Pengu is cute. There are also a few easy-to-acquire gear peices that are decent pre-raid.
Fishing Poles

Mastercraft Kalu'ak Fishing Pole–

One of the best fishing poles in the game, with +30 skill for fishing and underwater breathing. While the Arcanite Fishing Pole has +40 for fishing, it is difficult to obtain as you must win the Stranglethorn Fishing Tournament (which starts with quest). Bone Fishing Pole and Jeweled Fishing Pole also grant +30 to fishing but are rare drops from fishing dailies, so they aren't as straightforward to obtain (they also do not give you underwater breathing).

Tailoring Patterns
Gear

The level 76 chest pieces and level 78 weapons are solid choices for pre-raid items and are suitable for heroic dungeons, as they are easy to obtain.

Pets
Achievements
Kalu'ak Quests
Quests for the Kalu'ak can be found throughout the Borean Tundra, Howling Fjord and Dragonblight, and have level requirements ranging from level 68 – 71. With all of the quests being spread out through 3 different zones in Northrend, you can make it easier to navigate between those by riding the giant turtle that swims between the three zones.
Below, you will find the locations of the questing hubs that can be found in the 3 aforementioned zones. See here for a complete list of Kalu'ak quests.
Kalu'ak Daily Quests
Once you've done all of the available quests, your only reliable way of gaining reputation will be their 3 daily quests that grant 500 reputation each. While two of them are available with no requisites other than being the appropriate level, The Way to His Heart… only becomes available once you've completed Swabbin' Soap in Howling Fjord. As for the daily quests in question, you will find 1 in each of the Kalu'ak's main settlements:
You can click a zone in the list above to see a guide that contains detailed instructions for all zone's daily quests, including the Kalu'ak dailies. Remember to ride the giant turtle swimming between these 3 zones to cut down on travel time!
Kalu'ak Reputation Rewards
The Kalu'ak have two quartermasters that you'll be able to purchase your rewards from:
Rank

Item

Cost

Type

Friendly

1

60

Food

Friendly

2

Jewelcrafting (Skill level of 350)

Honored

2

Jewelcrafting (Skill level of 350)

Honored

5

Leatherworking (Skill level of 415)

Honored

37

18

81

Mail Chest

Honored

37

52

51

Mail Chest

Honored

44

24

28

Plate Chest

Honored

27

97

22

Cloth Chest

Honored

25

6

36

Cloth Chest

Honored

29

 60

 45

Leather Chest

Honored

29

 71

 87

Leather Chest

Honored

Plate Chest

Revered

5

Tailoring (Skill level of 435)

Revered

5

Leatherworking (Skill level of 415)

Revered

One-Handed Mace

Revered

72

 36

 12

Dagger

Revered

Polearm

Exalted

Fishing Pole

Exalted

12

Companion
Make sure to check out our other Wrath of the Lich King Classic reputation guides here!