Wrath of the Lich King adds the first iteration of Heirloom equipment to the game. These items are "Bind on Account" equipment that scale with the players level. This means that you can wear them at level 1 and they will level with you, all the way until level 80. These can be freely sent between all characters on your Battle.net account, allowing you to reuse and repurpose them over and over between your characters.
These items are all classified as level 1 items, meaning you can only use enchants on them that have no level requirement. Typically these are enchants from before any expansion, such as Crusader or Spellpower. There are a few items, such as Champion Herod's Shoulder that start as one armor type, in this case Leather, and upon reaching level 40 convert into the next tier, in this case Mail. This allows classes that learn a new armor type to continue using the same item and have it scale appropriately.
Emblem of Heroism can be used to purchase heirlooms from Enchanter Isian for Alliance and Enchanter Erodin for Horde, or from Brammold Deepmine at the Antiques & Heirlooms store for either faction. If you find yourself with either Valor, Conquest, or Triumph, you can downgrade them by visiting Usuri Brightcoin in the Dalaran Sewers, who offers to downgrade Emblems 1:1.
Stone Keeper's Shards can be used to purchase heirlooms from Knight Dameron for Alliance, or Stone Guard Mukar for Horde. These NPCs are found inside the Wintergrasp fortress, and are only available if your faction controls Wintergrasp.
In addition to this, there is one heirloom that must be won, not purchased. The Dread Pirate Ring is awarded for winning the Kalu'ak Fishing Derby. This unique-equipped ring grants an additional 5% experience gained, stacking with the other experience boosts from heirlooms.
Caster DPS
While there are caster DPS options in every armor class, nothing quite matches the universality of the Cloth options. Purchasing Cloth armor and a Staff will guarantee that every caster DPS you decide to level gets to repurpose the same heirlooms.
These items can be effectively used and reused on:
Mage
Warlock
Shadow Priest
Elemental Shaman
Balance Druid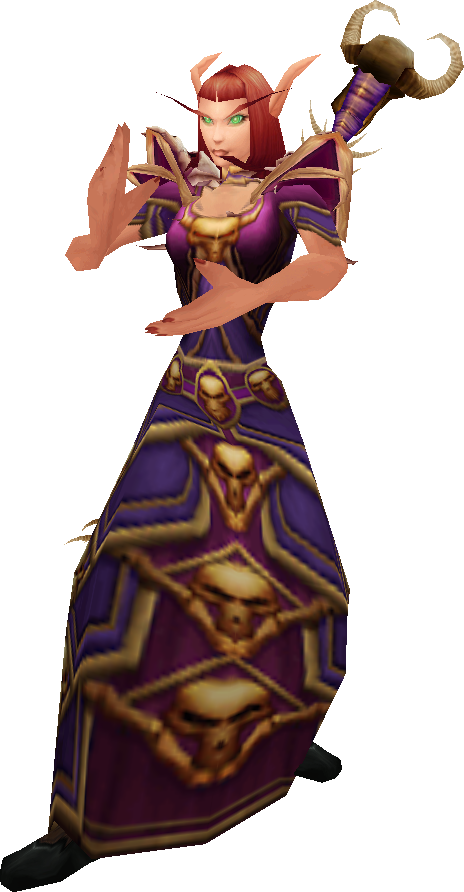 | Slot | Item | Enchant | Cost |
| --- | --- | --- | --- |
| Shoulders | | N/A | |
| Chest | | | |
| Weapon | | | |
Physical DPS
Gearing a physical character can be a lot trickier than gearing a caster. Dropping down to Leather means the largest variety of characters will be able to reuse the items later, but this also hinders your ability to do things like tank dungeons, or potentially survive against elite quests.
For melee DPS it is also significantly more difficult to share weapons, with most classes looking for different things in a weapon.
These two groups effectively share the same heirlooms within them:
Rogue
Hunter
Feral Druid
Enhancement Shaman
Warrior
Retribution Paladin
Death Knight

Rogue, Hunter, Feral Druid, Enhancement Shaman
These classes are tricky when it comes to weapons. You don't need a ranged weapon for anything other than a Hunter, but a Rogue can still use one if you pick one up. On the other hand, the only shared weapon type between all four classes are Daggers, but Shamans especially want slower weapons. If you don't plan on ever leveling a Shaman, you could pick up Balanced Heartseeker instead. Druids are also a bit trickier, as they ideally want to use a two-handed weapon with a lot of stats, but no other class effectively shares a two-hander with them. Shamans also cannot dual-wield until level 40, meaning they might want a two-hander until then also, even though Venerable Mass of McGowan will shred anything before then anyway.
| Slot | Item | Enchant | Cost |
| --- | --- | --- | --- |
| Shoulders | | N/A | |
| Chest | | | |
| Weapon | | | |
| Ranged | | | |
Warrior, Retribution Paladin, Death Knight
Easy choices here. All three of these classes generally prefer to level with two-handed weapons, but if you want to level as a Frost Death Knight or Fury Warrior you could pick up Venerable Mass of McGowan x2 instead.
| Slot | Item | Enchant | Cost |
| --- | --- | --- | --- |
| Shoulders | | N/A | |
| Chest | | | |
| Weapon | | | |
Trinkets
Wrath of the Lich King doesn't offer many heirloom trinkets, leaving players with three choices. Swift Hand of Justice gives Haste Rating, as well as healing you for a small amount whenever you land a killing blow. Discerning Eye of the Beast gives Spell Power, as well as restoring a small amount of Mana whenever you land a killing blow. Neither of these are Unique, meaning players can have two of the same Trinket equipped.
Discerning Eye of the Beast is generally the better choice for any caster character, but this Spell Power is also almost entirely wasted on any physical DPS class, giving it less opportunity to be reused. Players that are limited in their Emblems but looking to level many characters will instead look to grab Swift Hand of Justice. No matter which Trinket you decide is best for you though, these are the least impactful heirlooms. They do not offer any experience boost or any significant stat increase, so make sure you wait until last to pick these up.
The final option is the Insignia Trinkets. These give a small amount of Resilience, and the PvP Trinket Use effect of breaking any crowd-control on the player. This can be very powerful for twink characters or players on highly contested realms, but generally these are not incredibly strong for leveling. On the other hand, you likely won't have any other Trinkets for most of your time leveling, and every now and then it could come in handy. Inherited Insignia of the Alliance can only be used on Alliance characters and shares a cooldown with the Human racial Every Man for Himself. Inherited Insignia of the Horde can only be used on Horde characters. These do not swap based on your faction, so you will need one of each if you plan on playing both sides.
Heirloom Shoulders
| Type | Item | Cost |
| --- | --- | --- |
| Caster Cloth | | |
| Caster Cloth | | |
| Caster Leather | | |
| Caster Leather | | |
| Physical Leather | | |
| Physical Leather | | |
| Caster Mail | | |
| Caster Mail | | |
| Physical Mail | | |
| Physical Mail | | |
| Caster Plate | | |
| Physical Plate | | |
| Physical Plate | | |
Heirloom Chests
| Type | Item | Cost |
| --- | --- | --- |
| Caster Cloth | | |
| Caster Leather | | |
| Physical Leather | | |
| Caster Mail | | |
| Physical Mail | | |
| Physical Plate | | |
Heirloom Weapons
One-Handed
| Type | Item | Cost |
| --- | --- | --- |
| Physical Dagger | | |
| Physical Dagger | | |
| Physical Sword | | |
| Physical Sword | | |
| Physical Mace | | |
| Caster Mace | | |
| Caster Mace | | |
Two-Handed
| Type | Item | Cost |
| --- | --- | --- |
| Physical Axe | | |
| Physical Mace | | |
| Caster Staff | | |
| Caster Staff | | |
| Physical Sword | | |
Ranged