Author: Nevermore
Date: September 1, 2023
Expansion: WotLK Classic
Equipment will be the main source of your character's power, contributing the biggest bulk of your stats. It is therefore very important that you choose the correct equipment for each slot — commonly referred to as "best in slot" equipment – in order to maximize your power.
This guide is divided into two sections. The first section is basic lists, providing you full sets for a fresh level 80 pre-raid, a level 80 preparing for their first foray into Trial of the Crusader, and an example of ideal gear to aspire to from Trial of the Crusader. The second section provides more alternatives for each slot, giving an example of gear progression between these three areas of gearing.
As of Phase 3, the new Heroic Defense Protocol Beta Dungeons will offer you both T7 and T8 items, per Boss Kill, with a guaranteed former Ulduar 10 (225) Ilvl drop. Heroic++, otherwise known as Defense Protocol Beta drops gear from 10-man Ulduar and Naxxramas. Heroic+, otherwise known as Defense Protocol Alpha, drops gear from 10-man Naxxramas, as well as regular Heroic gear. Future Phases are likely to add further Heroic difficulties.
Best-in-Slot
Progressive Best-in Slot
For this progressive list we have ordered each item according to their power and overall damage output. For example, an item that sits at the top of the list will be the most powerful, known as "BiS", while an item that sits at the bottom of the list will be the weakest alternative.
About the Author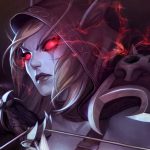 Nevermore
Hey there folks, I am Nevermore and have been deeply passionate about WoW for more than a decade. Whether we talk about the hidden mysteries of Azeroth or the otherworldly Outland, my journey brought me here to share the things that I have experienced with you all.