Welcome to the Unholy Death Knight PVP guide for World of Warcraft Wrath of the Lich King 3.3.5a. In this guide, you will learn about playing an Unholy Death Knight in the arena or a battleground. The guide includes Talents, Glyphs, Gems, Enchantments, Add-ons, Gameplay & Skill rotation tips, Team setups.
Talent Tree
Corpse Explosion is taken for that extra burst. It has to be timed properly and can sacrifice your pet so be careful with it.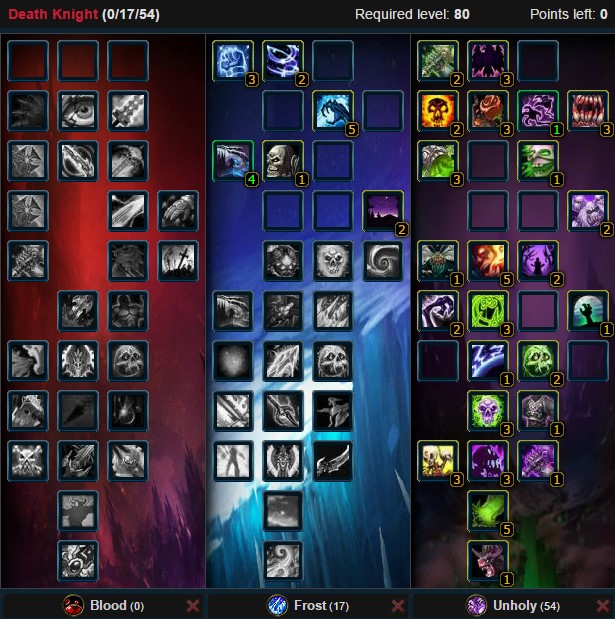 Wandering Plague is mostly taken for Battlegrounds because it just works better with multiple targets. Still a viable choice.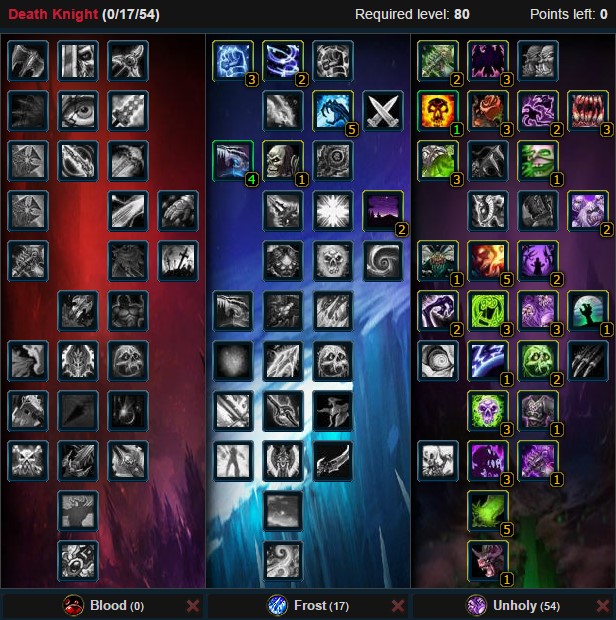 Glyphs
Major Glyphs
The first two are mandatory. The third glyph can be replaced with Glyph of Disease or Glyph of Icy Touch
Minor Glyphs
Gems
Gems are situational and depend on the build and equipment. They are used to reach the required stat caps.
Enchants
Gameplay & Rotations
Stat priority
5% Hit Rating → 135 Spell Penetration → Strength → Crit → Haste → 1000+ Resilience
Rotation
Diseases are always on the target. Use Chains of Ice and Plague Strike
Scourge Strike for dealing damage or Death Strike for healing
Spread diseases with Pestilence or use Blood Strike if no other enemies nearby
Death Coil when you have unused runic power
Use Frost presence when you need to tank damage otherwise, use Unholy presence – it's your main presence.
Spells and Tips
When you see a spell cast – you have 4 options to interrupt it:
Add-ons
Add-ons improve your gameplay by a lot. It is necessary to utilize add-ons, since they play a vital role in your performance, whether you are in a raid, arena or at the auction house.
Check out our Add-ons Page which will provide you with a download link and some configuration info. The addon versions are for WoW WotLK 3.3.5a. The site has multiple versions of the add-ons, so if you need another version – you can also search for it there.
Team Setups
Here is a list of preferable partners in the 2v2 and 3v3 arena.
2v2 Arena
Holy Paladin – Paladins are one of the best supports you could have. This is not the easiest duo to play, but it's a really powerful one.
Shadow Priest – Probably best double DPS comp for a DK. Has tons of shadow damage
Any other healer – Some are better than others. For example Shamans Heroism/Bloodlust will drastically increase the damage of your Gargoyle, not to mention yourself.
3v3 Arena
Arms Warrior + Holy Paladin
MM Hunter + Holy Paladin
Frost Mage + Discipline Priest
Retribution Paladin / Rogue + Any healer
Affliction Warlock / Shadow Priest + Resto Druid / Shaman