Author: Zephan
Date: June 28, 2022
Updated: August 30, 2022
Expansion: WotLK Classic
Unlike a lot of other DPS specs, Affliction Warlocks have a lot of flexibility in talent selection — so much so, that it can certainly be intimidating for newer players. This section of our Affliction Warlock guide will focus on building your Affliction Warlock in a way that maximizes your damage output, while also giving you some room for personal preference talents that allow you to express your particular playstyle.
Talents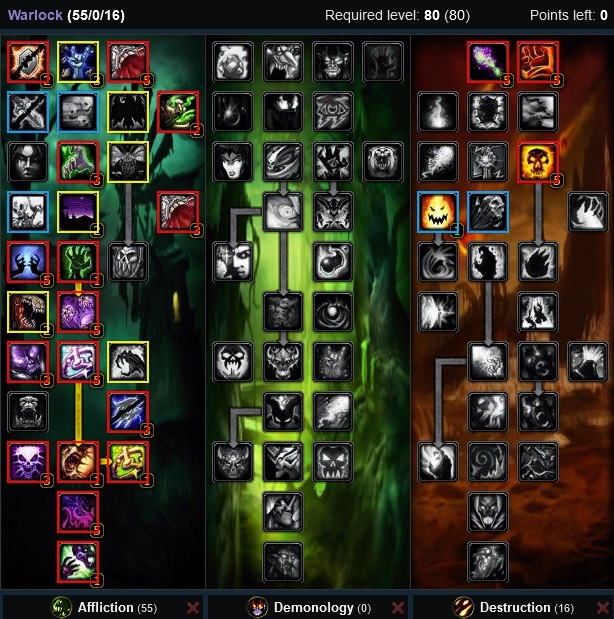 | | |
| --- | --- |
| Red | Mandatory and optimal |
| Yellow | Offensive Options |
| Blue | Utility Options |
The following is a summary of all the most important talents, what they do and why you should have them, or what choices you have.
Increases your chance to hit with spells by 3%, and reduces the mana cost of your Affliction spells by 6%.
The value of this talent is highly dependent on the target you are facing as well as how well geared you are. In Phase 1 you are most likely to get the biggest use out of the hit rating whilst facing bosses (requires 17% hit chance in total). The mana cost reduction for Affliction spells whilst nice won't have any noticeable impact on throughput.
Reduces the global cooldown of your Curses by 0.5 sec.
In previous expansions of the game Amplify Curse increased the damage from Curse of Agony, this is no longer the case in WoTLK. Instead, it only decreases the global cooldown of our curses. In practice this doesn't make the biggest difference, the more geared you get, the more haste you have, the lower the GCD is already (minimum 1s) the less use you will get out of the talent. This is especially true during cooldowns such as Heroism and Accelerator.
This talent buffs your Corruption even more, by providing a chance to get an instant cast Shadow Bolt. This talent goes along well with Eradication when you are multi-dotting.
Your Felhunter regains 8% of its maximum mana each time it hits with its Shadow Bite ability and the cooldown on that ability is reduced by 4 sec. In addition, increases the effect of your Felhunter's Fel Intelligence by 10%.
Fel Intelligence gets a slight boost to be closer to Arcane Intellect and Divine Spirit, though both are still stronger on their own. The best part of this talent by far is the benefit to Shadow Bite, your pet does a good chunk of your DPS and his main ability to do so is Shadow Bite.
Drains 1200 of your summoned demon's Mana, returning 100% to you.
Dark Pact (1200 + 0.96 x SP) functions the same as Life Tap (2400 + 0.6 x SP), both can proc Glyph of Life Tap.
The proposed benefit of using Dark Pact over Life Tap is getting more mana back. Both spells have different base amounts of mana return and spell power scaling. The turnover point where Dark Pact provides more mana is at roughly 3300 spell power.
Note that this benefit only really shows up if you actually save out a global cooldown due to having to cast less, certain fights have where you got to move you essentially get to use a Global Cooldown for free.
Glyphs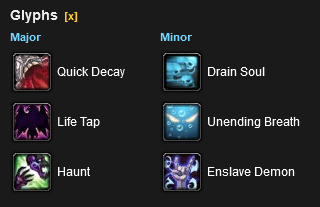 With talents out of the way, it is time to go over our Glyphs. Glyphs are a new addition to the class build mechanic introduced in Wrath of the Lich King. Glyphs can be crafted by the new profession Inscription.
The best glyphs by far are Quick Decay, Life Tap, and Haunt for Major Glyphs and the most beneficial Minor Glyph is Glyph of Drain Soul.
Your haste now reduces the time between periodic damage ticks of your Corruption spell.
This glyph causes your Corruption to scale with Haste Rating, this is the best and most impactful glyph available to us Affliction Warlocks. Here is to hoping that it will be in at launch.
Thi glyph is great for any Warlock spec. It provides a significant amount of spell power for little effort. Most often we have to Life Tap anyway within 40 seconds or we have to move somewhere and have no other instant casts to use.
Curse of Agony deals its damage split over 12 ticks and ramps up in damage per tick. This Glyph will add 2 ticks that deal the max damage. The benefit from this is twofold:
you increase the Damage per Cast Time (DPCT) of the spell due to the addition of two extra heavy damage ticks
You have to cast Curse of Agony less due to it lasting longer.
Overall this results in less of a DPS gain than the above glyphs.
This is the same as Night Fall, not great but also not bad.
Mana really isn't a big issue in WoTLK, this is a very minor DPS gain.
Whilst this decreases the cast time, it does not reduce the Global Cooldown (GCD), meaning no extra casts. The only gain from this is 0.2 seconds of free movement.
Increases the healing you receive from your Siphon Life talent by 25%.
This in combination with Demon Armor whilst multi-dotting adds, can deliver a significant amount of self-healing. When this would be needed is remains a question.
Phase Locked Glyphs
Certain glyphs (which also tend to be the strongest glyphs for Affliction Warlocks) were added later in the game in various patches. It remains to be seen if all of these will be available at release or if they will be added in progressively.
The following are the relevant glyphs for Affliction Warlocks and in which patch they originally were added:
About the Author
Zephan
I am a Classic Warlock enthusiast and in general like theorycrafting. I am the owner and admin of the best community in the whole wide world, being the Classic Warlock Discord. This is the home of some of the best Warlocks in this game and the basis for theorycrafting and figuring out the optimal plays for us warlocks. My aim is to make sure this up-to-date information is out there everywhere to be found and to give back to the community.