Player versus Player requires a bit of a different mindset compared to the PvE content. It necessitates fast thinking, fast reactions, and adaptability to each situation. This guide will go over all of your useful spells, and cover how to use them as effectively as possible.
Strategy & Spell Priority
When it comes to player-versus-player combat in Wrath of The Lich King, there is no true rotation for Shadow Priests. Instead, you need to be aware of what spells you should keep up on yourself and your enemies (spell priority), and you'll want to understand the strategies involved in playing your class effectively.
When it comes to priority, we will talk about several key spells that you will want to upkeep on yourself and on your enemies at all times.
First of all, you should maintain your buffs on yourself at all times, even if somehow they are purged or dispelled. You will want to buff yourself back during combat if your enemy decides to purge your abilities, rest assured that you can do so from the safety of your Shadowform.
Secondly, you'll want to upkeep different dots on our targets at all times. Vampiric Touch is the very first dot you will want to place on a target, allowing you to create issues for your enemies if they wish to dispel themselves of dots. Vampiric Touch will deal instant damage to any target that attempts to dispel the debuff.
Shadow Word: Pain and Devouring Plague are the next spells you should prioritize, upkeeping those spells on your targets will be crucial to your gameplay. However, keep in mind that Devouring Plague can only afflict one target at a time, so make sure to place it on the target you are trying to burst down.
You only have access to 3 dot abilities, maintaining them properly will be crucial to your enemy's demise.
One thing to keep in mind is that Shadowform prohibits you from using any spell from the Holy spells tab in your spellbook with the exception of two, however, you have a free range of casting abilities when it comes to the Discipline spells in your arsenal.
No matter who you want to focus on in a fight, Mass Dispel is one of your biggest allies. Mass Dispel allows you to effectively destroy any beneficial effects from your enemies while also destroying any negative effects from yourself and your allies. You can use this spell to even destroy vulnerabilities such as Ice Block or Divine Shield.
Next up, you can use your utility spells such as Dispel Magic and Abolish Disease to remove most of your enemy's negative effects placed upon yourself or your allies without the need of cast time. Use this to your advantage at all times, especially if your opponents possess an interrupt ability and you are afraid of casting Mass Dispel.
If you are dealing with troublesome healers, you should prioritize dotting up your targets and then simply spamming Mana Burn. Mana Burn is one of the most powerful spells in the game, as it can very easily render any healer or caster useless while also inflicting huge amounts of damage.
Regarding the priority of your Shadow spells, after you place your dots on the target, you have different choices depending on what type of enemy you are facing. You can choose to instantly Silence a caster or a healer and then start off with a Mind Blast and proceed with Mind Flay.
As stated earlier, Mind Flay is your filler spell, you will find yourself casting this ability at all times when it comes to ranged combat, with the addition of Mind Blast in between used on cooldown.
In case you deal with pesky melee enemies, you can choose to just dot them up and spam Holy Nova and instant healing spells on yourself while also using your Shadowfiend to deter them.
Power Word: Shield is an ability that you can cast while in Shadowform and you should always aim to maintain on yourself at all times, do not forget that you can also buff your allies.
Psychic Scream should always be used to interrupt your enemy's agenda, it is a powerful crowd control tool that can deter most enemies while also having a low cooldown. You will want to use this ability either at the beginning of a fight if you are dealing with melee enemies or get in close to casters and use this after you manage to dot them up.
When it comes to possible strategies, you can choose to play your class in a few different ways. You can choose to either LoS your targets while crippling them with dots, play a burst type of gameplay and rush your enemies while also dispelling any potentially beneficial effect that they may have, or play a hybrid and choose to become an off healer while also contributing to killing your enemy, the possibilities are endless.
Knowing how to properly LoS your enemies will be core to your gameplay, as your dots can prove to be quickly ravishing for your enemies. Proper pillar play and using ramps and most of your environment depending whether you are in an arena or a battleground will determine how well you will fare against most other classes, as you have the ability to endlessly heal yourself if you manage to utilize LoS properly.
Choosing to focus directly on bursting your enemies can be done quite easily by initiating with Silence followed up by Vampiric Touch, Shadow Word: Pain, Devouring Plague, and then ultimately spamming Mind Flay. You will want to utilize Psychic Scream and Psychic Horror after the silence is complete and finish up with Shadow Word: Death. Using Shadowfiend before you silence your target, will also improve your overall damage.
Playing as an off healer can be quite rewarding, you can choose to focus on just dotting up your enemies and forgoing Shadowform in favor of spells such as Flash Heal and Renew. This can be done only if you are teamed up with another powerful damage dealer.
With proper practice, you will manage to master the ways of a Shadow Priest and slowly drive your enemies into insanity while completely crippling and desecrating their bodies. Keep in mind that your arsenal is quite vast and you have a lot of options to take into consideration and a lot of different playstyles to grasp. Mixing all of the before-mentioned playstyles can pave the way to becoming one of the most ferocious gladiators on Azeroth!
Spells
In this section, we will go over all relevant spells and discuss when and how to use them.
About the Author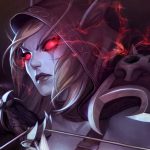 Nevermore
Hey there folks, I am Nevermore and have been deeply passionate about WoW for more than a decade. Whether we talk about the hidden mysteries of Azeroth or the otherworldly Outland, my journey brought me here to share the things that I have experienced with you all.