Destruction Warlocks talents all are lined with a focus to increase our Fire Damage as much as possible, through talents such as Improved Immolate, Emberstorm, Pyroclasm, Shadow and Flame, Fire and Brimstone, or new Fire Damage Spells namely Conflagrate and Chaos Bolt. Additionally Destruction also brings extra support and control to the raid in the form of Improved Soul Leech, Shadowfury, and Aftermath. The Destruction Warlock also isn't the only one shedding our Fire Damage, he brings along his best pall "The Machine Gun" Imp, which gets buffed to teeth with Demonic Power, Empowered Imp, Ruin, and Improved Imp.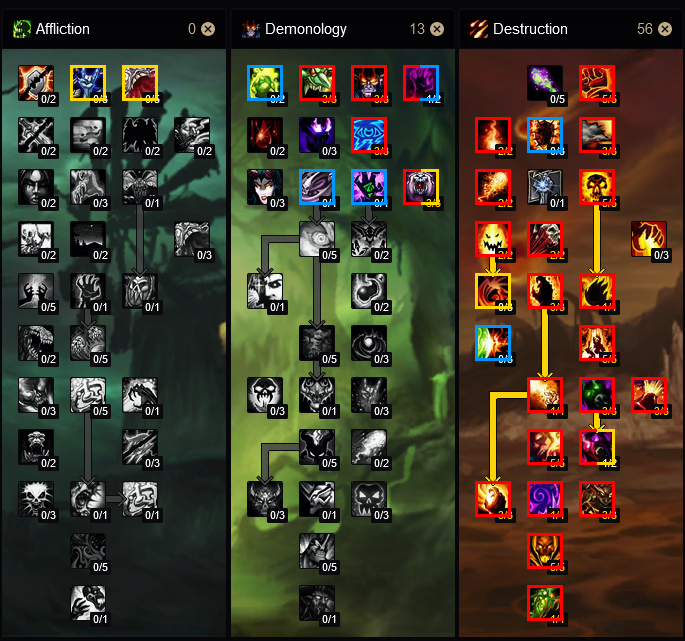 This talent build includes all the mandatory talents to full fill your role optimally and deal as much damage as possible, these are highlighted in red. As you can see this talent build still leaves you with 2 (+3*) optional talents that you can spend as you please, either to further increase your damage or quality of life options, these are highlighted in the above picture in yellow and blue.
* Three more optional talents when you aren't using Demonic Aegis
| | |
| --- | --- |
| Red | Mandatory and optimal |
| Yellow | Offensive Options |
| Blue | Utility Options |
Talents
The following is a summary of all the most important talents, what they do and why you should have them, or what choices you have.
Increases the amount of Health restored by your Healthstone by 20%.
If you want to fully complete the role of support you can consider putting points into Improved Health Stone. Each rank of Improved Healthstone creates healthstones with different IDs which allows them to be stacked, another benefit (also means you don't need to take all ranks).
With Fel Domination we get a new spell to more quickly summon our Machine Gun Imp. Whilst useful in sticky situations where we lose our Imp, in an ideal world we don't lose our Imp. It would be more useful if it were instant cast, but we miss out on Master Summoner so we know it won't be.
When active, 20% of all damage taken by the caster is taken by your Imp, Voidwalker, Succubus, Felhunter, Felguard, or enslaved demon instead. That damage cannot be prevented. Lasts as long as the demon is active and controlled.
Whilst mostly considered a Demonology Talent, Destruction also can easily access Soul Link. It won't increase our DPS but significantly increase our survivability which can come in clutch for progression raiding.
You have a 100% chance to heal your pet for 15% of the amount of spell damage done by you.
We already put a single point into this talent to reach the next tier and keep our Imp alive. You can opt to put one more point into it if you find your pet dying frequently, do know that with the second point diminishing returns kick in, as more of that second point will turn into overhealing.
Reduces all damage taken by 6%.
Another talent that can come in handy for progression is Molten Skin, this will add some extra damage mitigation and survivability.
After being hit with a spell, you have a 30% chance to gain Nether Protection, reducing all damage by that spell school by 30% for 8 sec.
Nether Protection isn't what it used to be, it no longer provides us with complete immunity which was the biggest benefit for certain boss fights. Now instead it gives us 30% absorption for 8 seconds, which is still useful for progression but won't help us ignore mechanics.
Glyphs
With talents out of the way, it is time to go over our Glyphs. Glyphs are a new addition to the class build mechanic introduced in Wrath of the Lich King. Glyphs can be crafted by the new profession Inscription.
Recommended Glyphs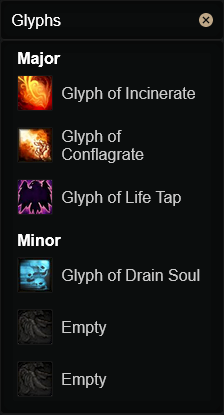 About the Author
Zephan
I am a Classic Warlock enthusiast and in general like theorycrafting. I am the owner and admin of the best community in the whole wide world, being the Classic Warlock Discord. This is the home of some of the best Warlocks in this game and the basis for theorycrafting and figuring out the optimal plays for us warlocks. My aim is to make sure this up-to-date information is out there everywhere to be found and to give back to the community.