Author: DanielD
Date: September 18, 2022
Expansion: WotLK Classic
There are a handful of Fishing Daily Quests in WotLK, all available from the same NPC in Dalaran. You will only be offered a single daily each day, chosen at random from a total of five different quests. In this guide, we'll help you find the NPC that gives out WotLK's angling dailies and provide a walkthrough for each quest! We'll also briefly discuss and list the items that can be found in the Bag of Fishing Treasures you get as a reward for the dailies.
Completing all five of the WotLK Fishing Daily Quests will earn you the Chasing Marcia achievement. These dailies are also part of the requirement for the Fishing daily quests completed achievement.
Unlocking the Fishing Dailies
In order to unlock the Fishing dailies, your character must be level 70 and have the Fishing Skill — and that's it! There don't seem to be any other requirements. Marcia Chase in Dalaran (Northrend) is the NPC that offers the fishing dailies. She is found at the fountain south of Runeweaver Square (53, 65).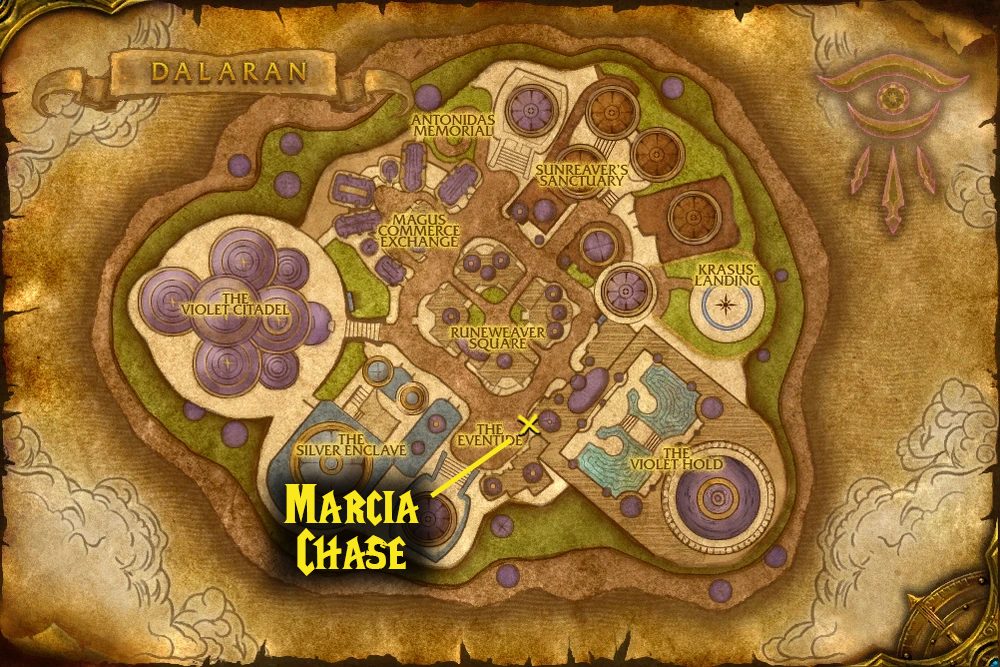 Walkthroughs – Fishing Daily Quests
Marcia Chase will offer one of the following quests each day — click a quest to see a detailed walkthrough.
Make sure you aren't in a raid group, or you won't be able to find the fish for the quests!
While fishing in Dalaran, you may end up with a Waterlogged Recipe if your Cooking skill is high enough — if you're working on collecting Dalaran Cooking Awards, this is a quest worth doing. Otherwise, you can put the item on the Auction House and make far more than you'd make turning it in.
Bag of Fishing Treasures – Fishing Daily Quest Rewards
In addition to the 250 Kirin Tor reputation, you'll always receive a Bag of Fishing Terasures when you hand in one of the fishing dailies to Marcia. It will contain some gold, plus a few items — the list below contains all of the items that can appear in the bag. There are some excellent items for lucky players to find in their bags of treasure, including the Tiny Lockbox, a number of powerful gems, some stylish gear, and a couple of fishing poles.
While some of the junk items are fairly worthless, others have a very high sell value, so make sure you check the sale price of everything before you delete it! Worthy of particular mention is the Porcelain bell, which vendors for 100g. The Glow Worm can also be a nice find since it raises your Fishing skill by 100 for an hour, which can help with some of the tougher Fishing dailies.
Note that if your Bag of Fishing Terasures had a Sealed Vial of Poison in it, you can use it to start the quest quest and then immediately go and turn it in to Alchemist Cinesra, who is found in the northeasternmost section of the Underbelly. As mentioned above, the Waterlogged Recipe is worth using to complete the quest if you're working on Cooking dailies, otherwise it can be sold on the Auction House.
Rarity is approximate and is based on stats derived from players opening the Bag of Fishing Treasures.
Item

Type

Sell Price

Rarity

Container

5

Very Rare

Red Gem

1

12

50

Very Rare

Red Gem

1

12

50

Very Rare

Blue Gem

1

12

50

Very Rare

Blue Gem

1

12

50

Very Rare

Yellow Gem

1

12

50

Very Rare

Red Gem

1

12

50

Very Rare

Yellow Gem

1

12

50

Very Rare

Fishing Pole

17

85

18

Very Rare

Fishing Pole

17

91

99

Very Rare

Perm. Enhancement

20

Very Rare

Cooking Recipe

50

Very Rare

Cloth Armor (Head)

2

54

90

Very Rare

Small Pet

–

Very Rare

Junk

9

75

Very Rare

Junk

1

75

Very Rare

Simple Gem

1

Rare

Junk

100

Rare

Junk

2

Rare

Quest

1

Rare

Junk

16

66

66

Rare

Junk

11

Rare

Junk

25

Rare

Junk

5

Rare

Junk

5

Rare

Misc Armor (Head)

43

Rare

Misc Weapons (Two-Hand)

46

Rare

Junk

25

25

Rare

Junk

5

Rare

Junk

5

Rare

Junk

5

Rare

Junk

33

69

Rare

Simple Gem

50

Rare

Junk

4

99

Rare

Potion

60

Rare

Junk

1

Uncommon

Quest

–

Uncommon

Guardian Elixir

1

25

Uncommon

Temp. Enhancement

1

88

Common

Trade Goods

7

50

Common

Food

4

Common