Tier 7 has a ridiculous amount of loot compared to previous tiers. This can make choosing which items to go for a very daunting task. Lucky for you, you've stumbled upon this guide, and we've done all heavy lifting for you. You can trust that the information here is accurate and backed by math, not opinions.
Curious as to how we arrived at this list? Check out the Stats section of this guide for an in-depth breakdown on what to look for on gear.
Progressive BIS
About the Author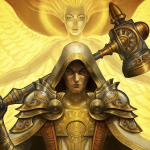 lettara
World of Warcraft veteran of 18 years. Ex world first raider and rank 1 healer. Slayer of dragons. Lover of cats.