Equipment will be the main source of your character's power, contributing the biggest bulk of your stats. Therefore, it is very important that you choose the correct equipment for each slot — commonly referred to as "best in slot" equipment — in order to maximize your power.
This section of the guide will be divided into two parts: the first part of the section will have a simple BiS list. The second part of the section will have the best items along with all possible alternatives and extended explanations for their use.
Note: The "Pre-Raid" tab contains items that were available before the implementation of the new "Titan Rune Dungeons"!
Some of the alternatives and explanations in the list are a work-in-progress. More details will be provided soon!
Best-in-Slot
Progressive Best-in-Slot
The following tabs are dedicated to our "Progressive Best-in-Slot" lists which have a full in-depth explanation for each item and why they have been chosen. Keep in mind that there will be items that are considered "Meta" and items that can be used for alternative builds and play styles.
About the Author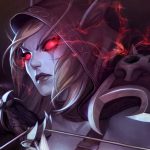 Nevermore
Hey there folks, I am Nevermore and have been deeply passionate about WoW for more than a decade. Whether we talk about the hidden mysteries of Azeroth or the otherworldly Outland, my journey brought me here to share the things that I have experienced with you all.