Welcome to the Unholy Death Knight DPS guide for World of Warcraft Wrath of the Lich King 3.3.5a. In this guide, you will learn about playing an Unholy Death Knight in a raid. The guide includes Talents, Glyphs, Gems, Enchantments, Add-ons, Gameplay & Skill rotation tips.
Talent Tree
The first build is suitable for players with lower gear level (Pre-ICC build). The Blood subspec provides great early talents such as Subversion, Bladed Armor, Two-Handed weapon specialization, and Dark Conviction.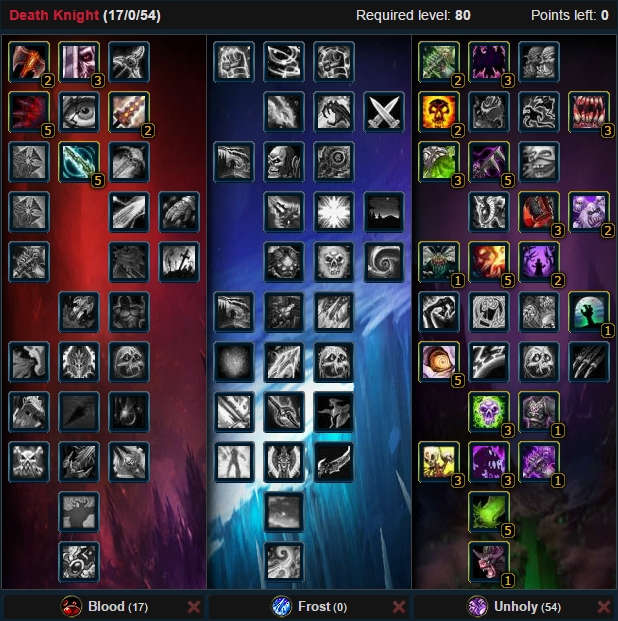 The second build is similar, but we're trading 3 points from Dark Conviction for Reaping. This build is for moderately geared players (2P Tier 10 set and above). The loss of 3% crit will be covered by improved gear. Meanwhile, we get access to Death Runes, optimizing the rotation to focus on single-target damage.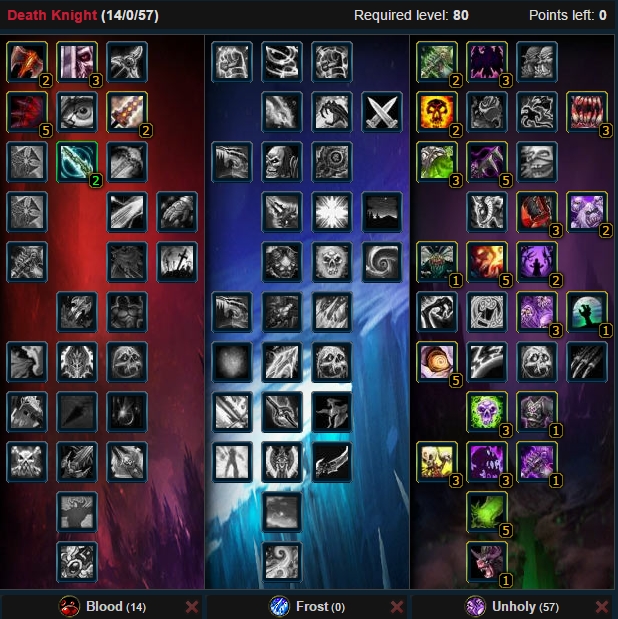 The third build is a high-end alternative for moderately geared players. The Frost subspec provides Icy Talons and Endless Winter, making auto-attacks the highest percent of your damage. Haste becomes more important, as it scales of Icy Talons.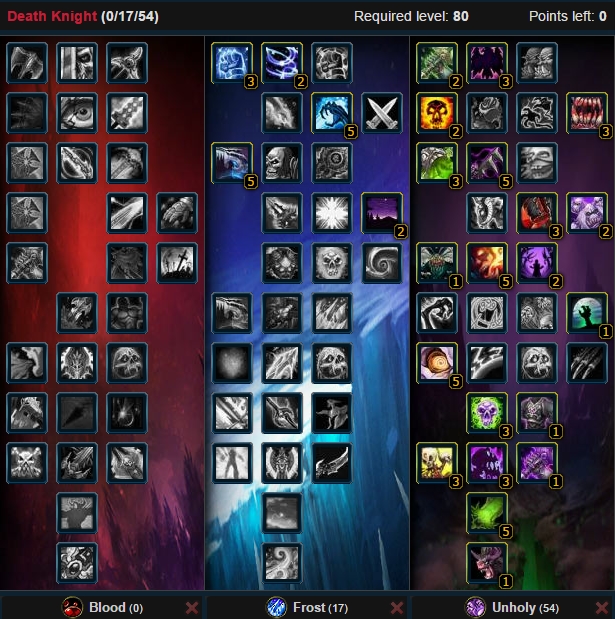 Glyphs
Major Glyphs
Choose the remaining two glyphs depending on whether you want to focus on Single target or AoE damage. Use the following glyphs for improved Single target damage:
For increased multiple target & AoE damage use:
Minor Glyphs
Gems
Gems are situational and depend on the build and equipment. They are used to reach the required stat caps.
Enchants
Rotation
Most of the time, you will be using Blood Presence. Below, we have different starter rotations depending on the build. To continue the rotation, be sure to maintain diseases at all times and continue with Blood Strike, Scourge Strike & Death Coil
Standard DPS Rotation:

DPS rotation with Reaping:

AoE rotation:
When facing multiple targets, start by applying and spreading the diseases with the following combo:

After that, continue with the below-mentioned rotation. There is no need to re-do the first combo if you're using Glyph of Disease, as Pestilence will refresh the diseases.

Army of the Dead – Is used few seconds before the encounter, or when changing phase. Using it while doing your combo will cause a DPS loss and a combo break.
Use Summon Gargoyle when you have full buffs and procs on you because your stats will be partially transferred to it. It takes 60 Rune Power to summon, so you won't be able to use it instantly when the fight starts. The Gargoyle inherits Haste from the Unholy Presence, but not the damage from the Blood Presence, so use it beforehand, then swap back to Blood Presence.
Stat Priority
Hit -> Expertise -> Strength -> Haste / Armor Penetration -> Critical Strike rating
Death Knights use a combination of abilities and spells, so both melee hit and spell hit are essential stats. In raids, you want to have 8% of Hit (or 263 rating) for your melee abilities. Spells require 17% of Spell Hit, but with Virulence talent and Misery or improved faerie fire on the target, the requirement is reduced to 11% (or 289 rating). A standard soft cap of 26 Expertise is advised, but it's not as necessary as capping Hit rating.
(Reminder that melee and spell hit is counted differently: 1% Melee Hit = 32.79 hit rating, and 1% Spell Hit = 26.23 hit rating)
Strength is one of the most valuable stats for this Unholy DK because it improves the effectiveness of every ability & spell. Strength also transfers to pets, making them more powerful. Unholy spec heavily relies on the Ghoul and therefore enhances it even further with Ravenous dead and Glyph of the Ghoul.
Whether to focus on Haste or Armor Penetration depends on which spec you're using. Haste has increased value when using builds with Frost subspec (3rd build) because it stacks with Icy Talons, adding 20% to all Haste received from gear. Focus on Armor Penetration to increase physical damage if you're using one of the builds with Blood subspec (1st & 2nd build).
Critical Strike rating is a secondary stat for this build. There's a variety of talents that increase Crits for these builds: Subversion, Dark Conviction, Vicious Strikes, Ebon Plaguebringer. Additionally, there's Wandering Plague, which also increases in proc frequency depending on your crit chance.