Author: Nevermore
Date: September 29, 2022
Expansion: WotLK Classic
When choosing the right race for your character, keep in mind that each one offers completely different bonuses and effects, and shines in a different aspect of the game. However, if min-maxing is not your thing, feel free to just choose the race that feels like it fits your character the best and suits your aesthetic style.
Both factions typically have one stronger race for a specific class and specialization, with other races offering lesser performance but interesting effects.
Horde
When it comes to playing a Frost Mage in the Horde, Trolls constitute the best possible choice, offering you a very powerful Haste-increasing effect, and then some other interesting bonuses.
Trolls are one of the best options for playing a Frost Mage in the Horde. They come with several notable racial effects, the most powerful ones being Berserking and Da Voodoo Shuffle. Due to how dependent Frost Mage is on Haste, we can arguably say that this is the strongest race in the Horde!
Undead is the second best choice for playing a Frost Mage in the Horde. They provide you with a secondary trinket which lets you remove crowd control effects. Undead also have a gimmick type of an ability, which allows them to feast on the corpses of their enemies, inducing mental distress to anyone witnessing the act.
Blood Elves are the last choice for playing a Frost Mage in the Horde. Their racial effects are weaker than the other races, however, they do still get you a strong crowd control effect that can be used either defensively or offensively against your enemies.
Arcane Torrent comes with an instant AoE silence, while also providing you with 6% of your mana. This racial effect can be combined with other interrupting and silencing effects to create a complete crowd control lockdown on a target, entirely impairing any spellcaster.

You can also use this ability to defend yourself in sticky situations, or to easily recuperate a small portion of your mana. However, as a Frost Mage, you will mainly want to use this ability defensively, as you will generally want to kite your targets and out-range them.

Magical Resistance reduces the chance to be hit by spells by 2%. This racial effect offers a fairly powerful advantage in PvP, as it forces enemy spellcasters to attain a higher Hit Chance to be effective against you.
Arcane Affinity increases your initial Enchanting skill by 10. This does not have very significant gameplay implications, only providing a minor starting bonus.
Alliance
On the side of Alliance, there is one race that dominates the PvP scene entirely, and that race is, ironically, the Humans. Human race has one of the most powerful racial effects for PvP — the ability to retain their PvP trinket while using two DPS trinkets with their Every Man for Himself racial.
Human is, arguably, the strongest race for playing a Frost Mage for the Alliance, thanks to their strong racial effects and the unique trait of being able to use two PvE trinkets, instead of the normal PvE/PvP combo, without incurring significant penalties.
Gnomes are the second best choice for playing a Frost Mage, with beneficial racial effects for both PvP and the Mage class itself. They have access to a variant of the PvP trinket, only here it has a 1-minute cooldown with limited effects while also empowering your overall Intellect!
Draenei represent more of an aesthetic choice when it comes to playing a Frost Mage in PvP. They have access to a powerful Heal-over-Time ability, albeit on a long cooldown, while also boosting your Hit Chance.
About the Author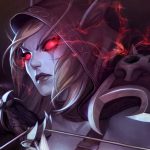 Nevermore
Hey there folks, I am Nevermore and have been deeply passionate about WoW for more than a decade. Whether we talk about the hidden mysteries of Azeroth or the otherworldly Outland, my journey brought me here to share the things that I have experienced with you all.