Author: Nevermore
Date: September 17, 2022
Updated: September 17, 2022
Expansion: WotLK Classic
In this section of the guide we will go over some of the possible effective builds for a Discipline Priest in PvP. Keep in mind that the builds can be subjected to multiple variations depending on the outcomes you wish to achieve. We recommend that you try every single one of them and then create your own variants to suit your playstyle!
Discipline Priest is one of the few specializations that can be played with a multitude of builds, each of them providing different effects that are strong and entirely viable!
Talent Builds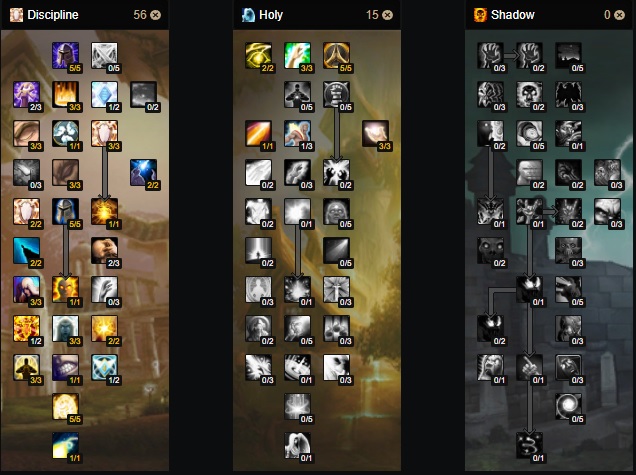 The Standard Build is overwhelmingly powerful, granting you access to many potent effects like Focused Power, Enlightenment, Borrowed Time, and Soul Warding, while also getting you some powerful utility effects such as Grace, Renewed Hope, and Divine Aegis. This build can tinkered with quite a bit, letting you swap the point distribution throughout your active talents, or letting you gain more benefits from a particular talent while still keeping a moderate benefit from a talent you decided take some points from.
You can also customize and optimize this build to gain effects to suit your desired playstyle, ranging from highly increased utility, to very effective damage-enhancing effects.
You have the option of creating any build as long as you stick to crucial talents such as Focused Power, Divine Aegis, Enlightenment, and Borrowed Time!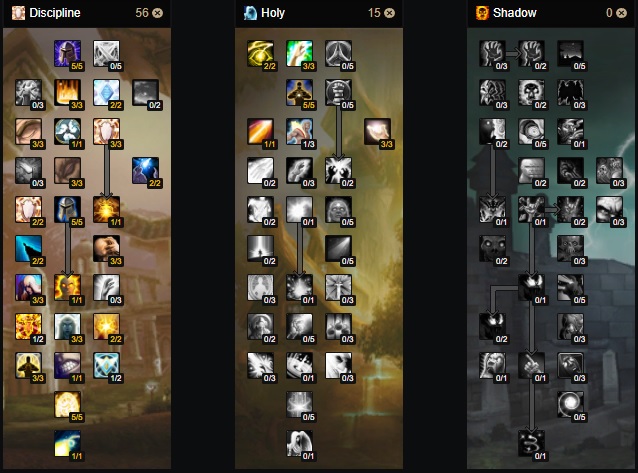 This is an example of how you can switch your talents around to gain a variety of benefits! This variant will provide you with effects similar to the standard build, but it will focus on increased defensive options with Spell Warding and Divine Aegis, as well as increased stamina from the Improved Power Word: Fortitude talent.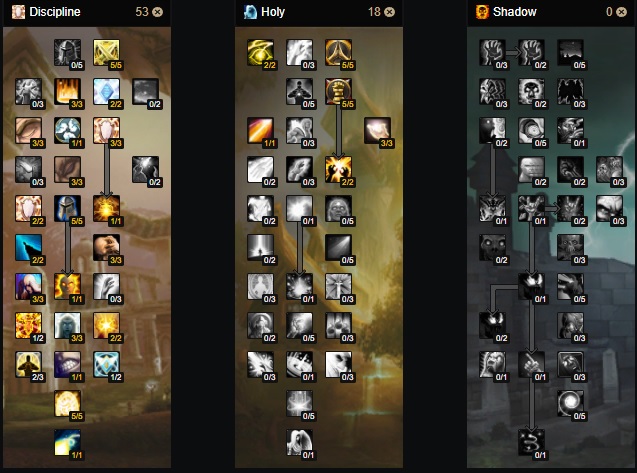 The second variant of the Standard Build focuses on an offensive playstyle, concentrated on aiding your DPS in killing your enemies as fast as possible. This can be achieved through talents such as Twin Disciplines, Holy Specialization, Divine Fury, and Searing Light. The entire idea behind this build is to burst down your enemies together with your ally as fast as possible with spells like Smite and Holy Fire.
However, while it has high offensive potential, this build suffers from reduced crowd control resistance and lower utility.
Notable Talents
Glyphs
Major Glyphs
Glyph of Penance is extremely powerful. So powerful, in fact, that we will call it mandatory. It lets you reduce the cooldown of Penance by up to 2 seconds, allowing you to cast it again much faster. Since Penance is the most powerful healing ability in our arsenal, we will definitely want to have this glyph.
Glyph of Pain Suppression allows you to cast Pain Suppression even while under the effect of a stun. This glyph is mandatory, since it will let you mitigate a potential disaster. Considering that many classes have the power to kill an opponent during a single stun effect, you will want to have this glyph at all times. Another good thing about this glyph is that it allows you to cast Pain Suppression on another friendly target, even if you are stunned!
Glyph of Mass Dispel reduces the mana cost of Mass Dispel by up to 35%! This glyph will be extremely useful in arenas and battlegrounds as you will often find yourself spamming the ability. The only downside of Mass Dispel is its high mana cost, so, by choosing this glyph, you will lessen the burden of destroying so many harmful effects on your allies!
Glyph of Power Word: Shield allows you to also heal your target when using Power Word: Shield, by up to 20% of the absorption effect. This glyph can very helpful, especially when dealing with situations where your allies require immediate aid. You can bring this glyph confidently to arenas, knowing that your shields will also provide the much-needed healing!
Glyph of Inner Fire is on the weaker side of glyphs, only granting you a beneficial effect. However, since we are cloth users, we may choose to use this one, since it can help us survive physical damage dealers in a more efficient way.
Glyph of Renew empowers your Renew spell by up to 25%, at the cost of reducing its duration by up to 3 seconds. This glyph can be quite useful in arenas, as it will allow you to heal more, in a shorter duration of time. However, it may also consume one of your global cooldowns to achieve the effect, which is why this glyph is only considered to be decent.
Minor Glyphs
Glyph of Fortitude reduces the mana cost of your fortitude spells by up to 50%, allowing you to rebuff your allies more efficiently. Considering that the meta is full of classes that love to purge and dispel beneficial effects, this glyph is a very welcome addition to your toolset!
Glyph of Levitate removes the pesky requirement of a reagent for your Levitate spell. Let's just say, Harry did not need a feather to cast his levitation spell, and neither should you!
Glyph of Shadowfiend is a neat glyph that allows you to gain 5% of your maximum mana back if your loyal Shadowfiend is murdered by a mischievous enemy instead of succumbing to natural causes. This glyph is pretty much mandatory, especially since players have the tendency to kill a Shadowfiend as soon as it is unleashed to deny the priest any mana regeneration.
About the Author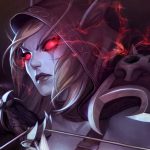 Nevermore
Hey there folks, I am Nevermore and have been deeply passionate about WoW for more than a decade. Whether we talk about the hidden mysteries of Azeroth or the otherworldly Outland, my journey brought me here to share the things that I have experienced with you all.