Author: Oxykitten
Date: July 29, 2023
Updated: July 29, 2023
Expansion: WotLK Classic
Feral druids have many valuable talents available to them which can improve their ability to tank, DPS, or both. Therefore, there is no single correct build, and the talents you should get depend on how much you will tank or DPS within the same spec. If you have Dual Talent Specialization and dedicate both your specialisations to PvE, you can use the pure-DPS build shown below and the tank build shown here.
There are several useful glyphs for Feral tanks and for Feral DPS. Unfortunately, these do not overlap, and make up the most difference between tank and DPS builds. This makes the Feral tree less hybrid than in previous expansions, though a mixed tank/dps build is still perfectly viable, at least for an off-tank.
Talents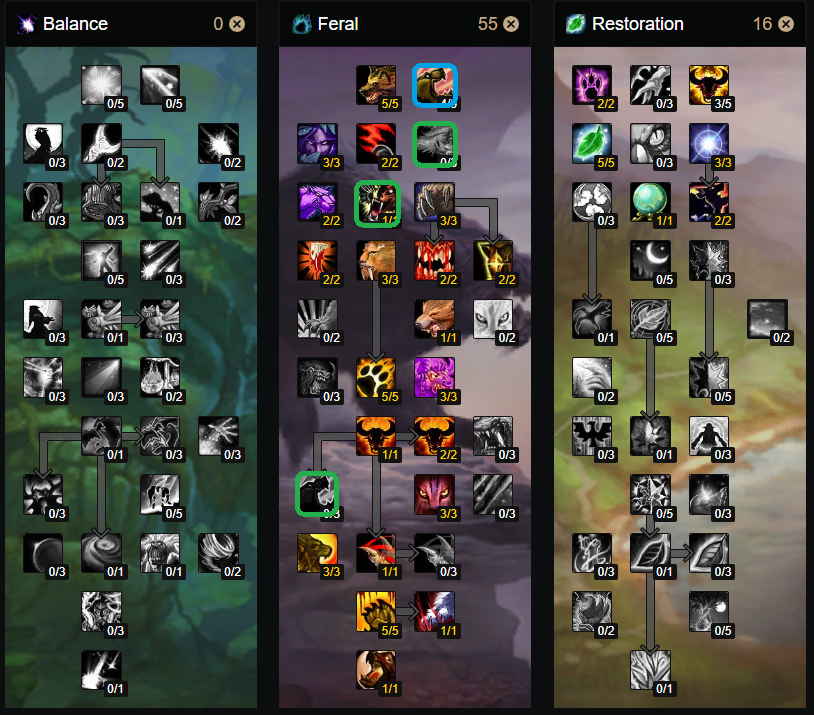 | | |
| --- | --- |
| Uncoloured | Core, mandatory talents |
| Blue | Cat-oriented optional talents |
| Green | Bear-oriented optional talents |
Glyphs