Author: Nevermore
Date: August 16, 2023
Updated: August 19, 2023
Expansion: WotLK Classic
This section of the guide offers an in-depth list of the best possible options for each Phase along with alternatives, where available. There are two methods of gearing for PvP.
The first method focuses on PvP items in every slot, except potentially a PvE Weapon and PvE Trinket.

These builds focus on high Resilience Rating and Stamina, prioritizing survivability where possible.

The second method is a Hybrid, focusing on PvE items in your off-slots, and PvP items in your main 5 slots.

This approach sacrifices survivability in exchange for higher offensive power, significantly lowering your potential Resilience.
Hybrid Builds for Retribution Paladin
The list mainly features the Standard PvP Build, however, Retribution Paladin is a unique specialization that has access to two main Hybrid Builds:
The first is a typical offense-oriented build where PvP items are dropped in favor of items with higher Strength, Critical Strike Chance, Haste Rating, and potential Armor Penetration.
The second build functions similarly to the first but shifts from Physical stats into Spell Power. This is done to increase survivability against hard-hitting classes, like Death Knights. This is done by creating a war of attrition, where you simply spam Flash of Light and Consecration to help yourself survive. The build usually brings a one-handed weapon and a shield swap.
During Season 8, Retribution Paladins may also want to consider using 2-piece Tier 10. This gives their melee hits a high chance of resetting the cooldown of Divine Storm, opening up a lot of Burst potential, with back-to-back Divine Storms. If you do decide to go down this route, you may want to compensate for lost Resilience in off-slots.
Retribution Paladin Full BiS Item List
Each of the tabs below contains an accordion with an extensive list of items and explanations. You will find specific items nested under each Season tab after opening, such as Season 5 BiS Gear -> Shoulders. The majority of slots feature progressive upgrades, including options from previous phases, as well as the current BiS. Note that most items receive a price update when a new phase arrives, meaning you will be able to acquire the previous best options more easily.
Entry-Level PvP Gear (First Tab)
The first tab below, Entry-Level PvP Gear, comes with a special mention: if your character was around during the TBC Classic Era, you can choose to skip it. The reason is, you may find that your Brutal Gladiator Gear will have a larger impact than the items you will see in the first tab. Though, if your character was created anew for WotLK Classic and you find yourself dying rapidly and repeatedly in Battlegrounds, you might want to consider looking over it: the items in the first tab offer a decent amount of Resilience Rating without requiring any grind. Though, it must be noted that the first tab is better suited for the first two phases of the expansion — you are likely to find more powerful items in the later phases.
Due to a lack of info in regards to the precise item changes that may occur with the release of WotLK Classic's Phase 4, this section of the guide will receive an update once the PTR information becomes available. Furthermore, due to the uncertainty of whether or not Phase 4 will contain The Ruby Sanctum or not besides The Icecrown Citadel raid, we will abstain from posting a preliminary list.
About the Author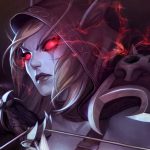 Nevermore
Hey there folks, I am Nevermore and have been deeply passionate about WoW for more than a decade. Whether we talk about the hidden mysteries of Azeroth or the otherworldly Outland, my journey brought me here to share the things that I have experienced with you all.