Arcane Mages have essentially 1 primary talent build and one more build that can possibly see use in extremely quick encounters.
Notable Talents
Focus Magic: Increases the target's chance to critically hit with spells by 3%. When the target critically hits the casters chance to critically hit with spells by 3% for 10 sec. This talent is incredibly strong when two mages trade it back and forth giving each other a total of 6% critical chance.
Torment the Weak: Frostbolt, Fireball, Frostfirebolt, Pyroblast, Arcane Missiles, Arcane Blast, and Arcane Barrage deal 12% more damage to snared or slowed targets. In raids Frost Death Knights will apply a constant slow to bosses making our spells do 12% more damage.
Icy Veins: Increases casting speed by 20% and prevents spell pushback.
Arcane Power: This is our big "nuke" cooldown. For the next 15 seconds, our spells deal 20% more damage, but also cost 20% more mana — this is when you really use all of your other cooldowns and do as much damage as possible. The 3 minute cooldown means that for most fights, you only get to use this once or twice.
Missile Barrage: Reduces channel time of Missiles by 2.5s and reduces mana cost by 100% when it procs from casting Arcane Blast.
Talent Builds
Glyphs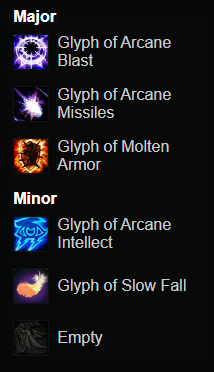 Major Glyphs
Minor Glyphs
You can use any Glyph in the last minor glyph slot — they're not really that impactful.
Glyph of Fire Ward and Glyph of Frost Ward aren't as useful if you run an Incanter's Absorption build as the reflect doesn't trigger the talent