Author: Passion
Date: August 31, 2022
Updated: September 1, 2022
Expansion: WotLK Classic
Welcome to our WotLK Classic leveling guide for Death Knights! Masters of death, fortified by blood and frost, these former champions of the Lich King are the first new class added to World of Warcraft. Death Knights are a hero class, meaning they start at a higher level, in this case level 55. Able to tank or DPS in any of their 3 talent trees, they are a welcome and very powerful class in WotLK Classic.
Death Knights are incredibly fast to level, offering a lot of tools, high damage, and some of the most powerful sustainability out of any class. All three of their talent trees are well suited for leveling, having their own niches and strengths.
Blood Death Knights have incredible self-sustain, rarely leaving a fight with less health than they entered it. More suited to tanking, Blood Death Knights tend to kill enemies the slowest of the three talent trees while leveling.
Unholy Death Knights have very high damage and a focus on debuffs, but while leveling they tend to have lower burst damage, instead focusing on sustained damage.
Frost Death Knights prioritize their burst instead, dealing a lot of damage up front but lacking the sustained damage of Unholy and survivability of Blood.
None of the choices are wrong and each individual player may find themselves preferring one specific playstyle, so this guide will attempt to cover all three, going over helpful tips, where to spend your talent points, what to look for when gearing, effective use of your abilities, and other general advice to make the leveling process as smooth and easy as possible!
Pros
Start at level 55 instead of level 1
Fantastic survivability and utility
Able to adapt to many situations
Capable of soloing the vast majority of quests
Rotation is very adaptable
Cons
Starting at level 55 can lead some players to be overwhelmed by abilities early
Death Knights are very popular in the early days of the expansion, potentially flooding zones and making it harder to find a group
Limited mobility
General Leveling Tips
As a Death Knight you get free weapon enchants through Runeforging, make sure you always put a new one on your weapon because they are big boosts. Lower-level Death Knights will be limited in their choices, and will typically want to use Cinderglacier or Razorice until they learn Fallen Crusader, which will be the main Rune for all Death Knights.
Death Knights have a lot of tools for a lot of situations but are especially good at dealing with casters. Use Mind Freeze, Strangulate, and Death Grip liberally to avoid ever getting hit by spells.
Your Diseases deal more damage than you may think, and can easily help you passively kill enemies if you spread them with Pestilence and burst them with Bloodboil.
Don't be afraid to use your cooldowns whenever, you have a lot of them, so even if you use them regularly you'll most likely have something up when you need it.
Press Horn of Winter whenever you can. It keeps an important buff on you as well as giving you free Runic Power every time you cast it!
Death Knights are able to use Cloth, Leather, Mail, and Plate Armor. This is a key part of survivability as a leveling Death Knight and you will often need to choose between higher damage Leather options and higher survivability Mail or Plate options. This is always going to end up being a personal choice, only you know how your leveling feels, so only you can decide if you need more survivability or if you're comfortable enough to get damage instead. In general, you will always want to avoid wearing Cloth gear, as it does not provide the stats you need.
Stat Priority
Strength – This is always going to be your favorite stat. Each point of Strength gives you 2 attack power.
Attack Power – Increases your damage dealt with most of your abilities.
Critical Strike Rating – Increases your chance to deal critical damage.
Haste Rating – Increases the speed of all your attacks, allowing you to do more damage faster!
Hit Rating – Increases your chance to hit with all attacks. This is a great extra stat, but while leveling you will rarely find enough of it to make it worthwhile.
Agility – Increases your critical strike chance by a small amount.
Stamina – Increases your maximum health! This is a fantastic stat that is already on most gear, so it is usually not something you aim at, instead something that comes naturally.
Rotation
The rotations of the three specs differ surprisingly little, using a lot of the same fillers and area-of-effect spells while swapping their main spenders. Blood uses Heart Strike, Frost uses Obliterate and Unholy uses Scourge Strike.
No matter what spec you are, your main goal will be to keep your diseases, Frost Fever, and Blood Plague up on all targets by using Plague Strike, Icy Touch, and Pestilence.
Death Knights have access to three Presence spells, Blood Presence, Unholy Presence, and Frost Presence. While it may seem like your Presence of choice would be based on your spec, that isn't quite the case.
Blood Presence increases your damage dealt by 15% as well as healing you for 4% of the direct damage you deal. This should be your main presence for leveling, giving the most damage as well as a constant source of self-healing to keep you going for longer.
Unholy Presence increases your movement and attack speed by 15% and reduces your Global Cooldown by 0.5-seconds. While this sound fantastic, the attack speed amounts to less damage than Blood Presence, and your damage is much more limited by Runes and Runic Power than the Global Cooldown.
Frost Presence increases your Stamina by 8%, reduces the damage you take by 8%, and increases the amount of armor given by your gear by 60%. This is your main tank stance and is rarely used for any solo content.
Unholy
Frost
Blood
Talent Path
All three trees have a lot of great talents and a lot of more generic filler talents, primarily because Death Knights have almost 50 talent points to spend as soon as they are finished with their starting zone. Even so, there are a lot of great talents that uniquely define each spec.
Unholy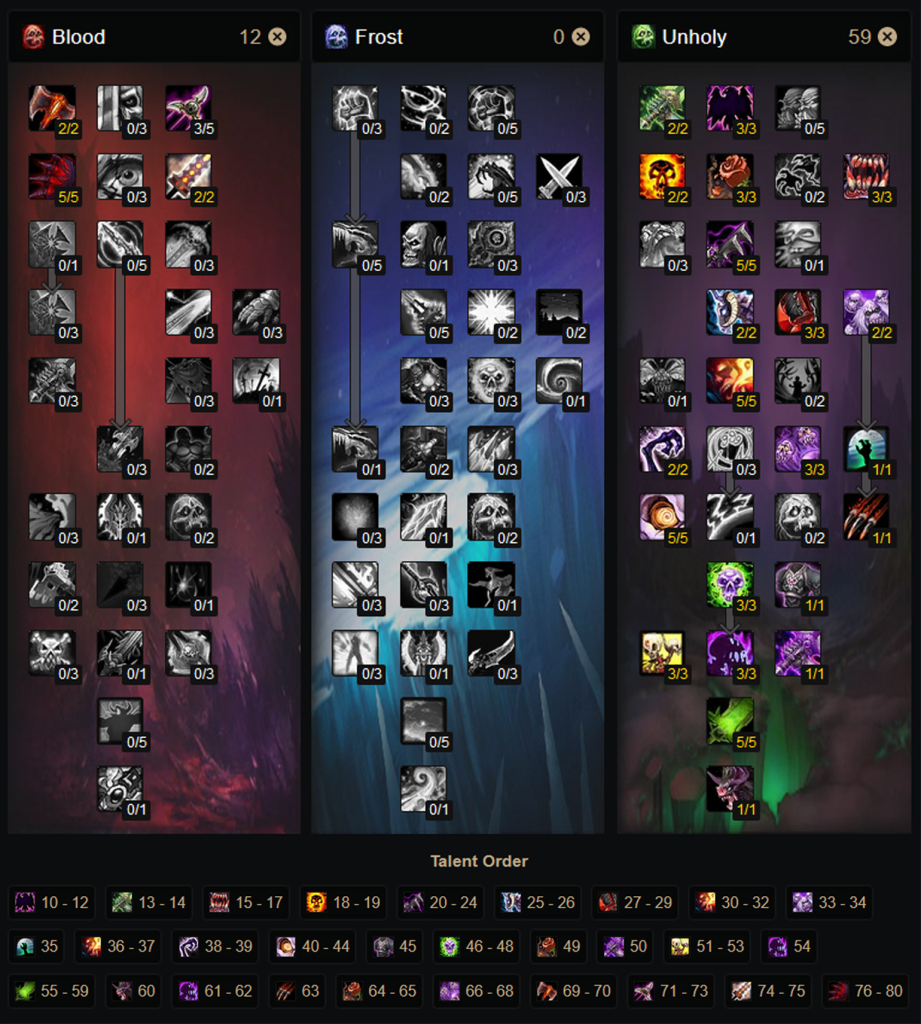 These are the key points in the Unholy talent tree:
Frost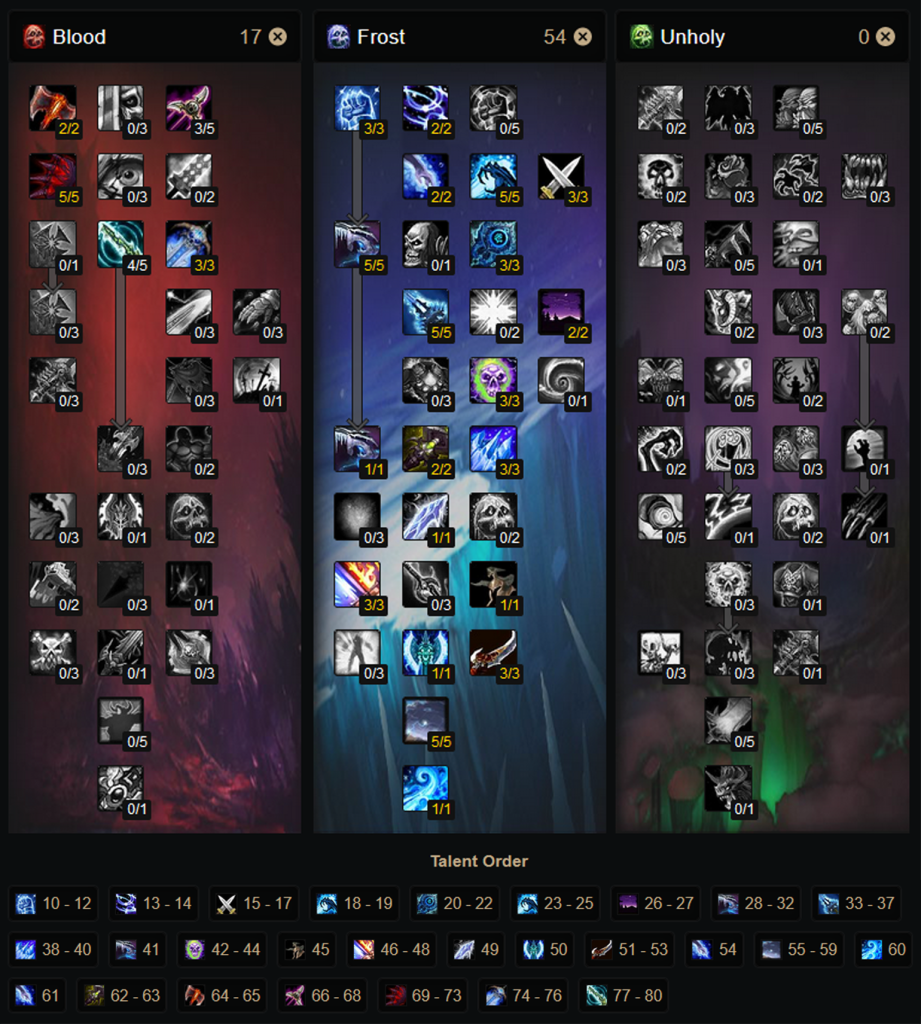 These are the key points in the Frost talent tree:
Blood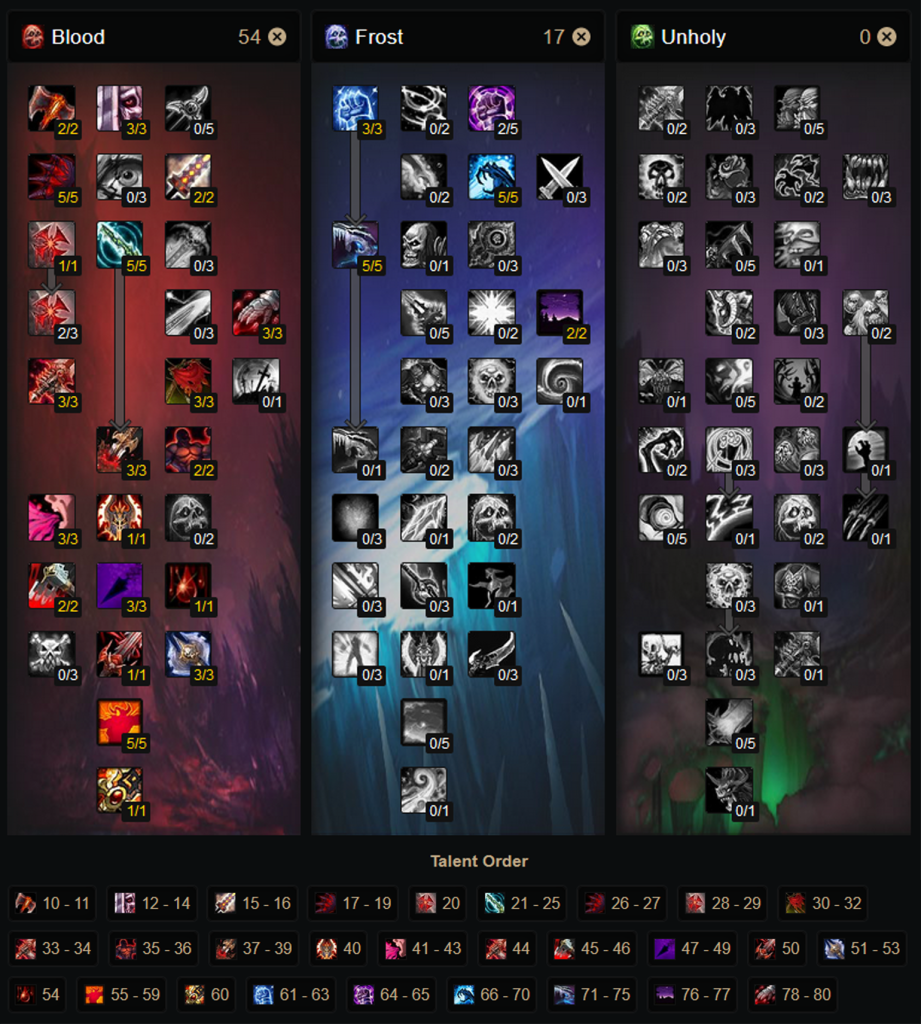 These are the key points in the Blood talent tree:
Glyphs
Glyphs aren't always going to be the easiest to get a hold of while leveling, but if you happen to swing by an auction house you might find some cheap and useful glyphs to use.
Here are some of the Major Glyphs worth considering:
All specs
Unholy
Blood
Frost
Here are some of the Minor Glyphs worth considering:
Notable Abilities To Train
Notable Frost Ability Ranks
Frost Strike at level 55, 60, 65, 70, 75, 80
Howling Blast at level 55, 70, 75, 80
Obliterate at level 61, 67, 73, 79
Notable Blood Ability Ranks
Notable Unholy Ability Ranks
Class Quests
The entire starting zone for Death Knights consists of quests exclusive to the class. This zone will introduce you to the class, slowly giving you abilities, talent points, and gear upgrades as you progress, culminating in your choice between Greataxe or Greatsword and sending you off to your faction capital to begin your journey into Outlands.
Equipment
Death Knights are able to use Axes, Swords, Maces, and Polearms. You should always try to use whichever weapon is the best for you, but swapping weapon types will typically require you to level the appropriate weapon skill as well.
Prioritize higher DPS weapons. Death Knights scale in a variety of ways, and because of this typically you can simply equip whatever weapon has the highest DPS for you, as long as it doesn't sacrifice a massive amount of other stats.
Weapon upgrades will be the biggest damage increase while leveling. This goes for almost every class and Death Knights are no exception.
Death Knights are able to use all armor types and ideally will always want to wear Plate, but sometimes Leather or Mail items will provide better stats at the cost of survivability. While leveling you won't always be able to wear optimal gear, so make do with what you have.
Professions
Professions can be hard to keep up while you level, but in Wrath of the Lich King, they give a lot of benefits. Something like Blacksmithing is very difficult to keep up while you level, but gathering Professions like Mining and Herbalism are incredibly easy to keep up as you go, and even if you don't want to craft things yourself, you can sell the materials on the auction house to supplement other aspects of leveling.
While every profession gives some kind of stat boost, most of them give them towards max skill. Gathering professions instead give skills early that constantly scale as you level.
Mining gives Toughness, a passive boost to your Stamina, starting with 3 Stamina at 75 Mining, and ending at 60 Stamina at 450 Mining.
Skinning gives Master of Anatomy, a passive boost to your Critical Strike Rating, starting with 3 Critical Strike Rating at 75 Skinning, and ending at 40 Critical Strike Rating at 450 Skinning.
If you instead want to craft things while you level, Alchemy and Engineering are fantastic alternatives.
Engineering allows you to craft grenades and bombs alongside a bunch of fun or niche utility items such as target dummies and fireworks.
Alchemy allows you to craft your own potions, flasks, and elixirs which can all be invaluable for improving your leveling experience and speed.
Useful Macros
There aren't many useful macros while leveling, but one important one that I recommend always having is a stopcasting interrupt macro to make sure nothing gets in the way of your interrupts.

    #showtooltip
    /stopcasting
    /cast Mind Freeze