Author: Furious
Date: July 15, 2019
Updated: October 10, 2020
Expansion: WoW Classic
Welcome to our WoW Classic leveling guide for warriors! The tough and mighty warrior certainly makes for one of the strongest late-game classes for damage or tanking, but it balances out with a fairly weak leveling experience. If you're feeling frustrated trying to level a warrior, have faith that it does get better, and that all your suffering is forging you into a smarter, better warrior player!
Leveling a warrior is fairly different from playing a max-level warrior. For starters, you'll use a completely different talent specialization and your stat priorities are quite wonky. As a max-level warrior, your primary focus is dealing damage, but you also need to keep an eye on your health, survivability, and overall well being when you're leveling.
To keep up with the challenge a warrior demands, there are several important things you want to know! This guide will cover some generalized leveling tips, but we'll also go in depth on how you want to progress as a warrior, including your talent path, ability training schedule, class quests, and even how you should prioritize stats! We'll also give you some helpful tips and tricks to make the leveling process just a little bit easier!
Pros & Cons
Pros
One of the best damage-dealers with late-game gear.
Great at servicing as a tank and absorbing damage for allies.
You look absolutely awesome.
Cons
Very difficult to level solo.
Terrible self-healing and regeneration.
Extremely weapon-dependent.
Confusing playstyle due to awkward stances and weapon swapping.
General Leveling Tips
No matter what class you want to play, there are some best practices you can follow to make the experience more enjoyable and quicker overall. Leveling in WoW Classic is all about the journey and gradual progression of your character. If you're not having a fun time on your way to level 60, then you'll view leveling as a chore. This begins with ensuring you're picking the right class that suits your personality and desired playstyle, so make sure a close-and-comfy warrior is the right class for you.
On top of making sure you enjoy every moment you spend in Azeroth, you'll also want to:
Don't be afraid to research quests online that you get stuck on, but try to explore and figure it out for yourself first!
Make sure you always have plenty of food and bandages. Especially as a warrior, you'll spend a lot of time sitting down and eating after fights. If you run out of food, you're going to have a bad time because it'll take literal minutes for your health to regenerate.
Try to group up whenever possible. With more people around for enemies to smack, you'll take less damage yourself, giving you more time to slay your foes. Leveling alone is extremely challenging, so this can also make your experience better.
Stick to zones that you're familiar with and/or have closely-grouped quest hubs. If you already know a zone fairly well, you'll have a much easier time understanding where to go to complete quest objectives. Closely-grouped quest hubs just make the leveling process much smoother, giving you more experience while requiring you to move around less.
Professions
Taking the time to level professions while you level will slow your progress, but they can significantly improve your quality of life. You're free to pick all of the secondary professions (fishing, cooking, and first aid), but you can only have two primary professions. Which you should choose will ultimately depend on what your goals are. Do you only want to make gold, or would you like a professions that can craft useful equipment for your character?
Here are some great professions to train while leveling a warrior:
Warrior Specific Gameplay Advice
Rotation
Your rotation is going to change depending upon what level you are, as several key abilities require you to reach certain levels to train them. With that in mind, simply drop whatever abilities you don't have yet from the rotation, but add them in when you're high enough level to use them.
Your top priority will always be to keep Battle Shout applied for the attack power bonus. On single targets, if your target is at 20% or lower health, you'll want to prioritize Execute for the biggest damage. If your target is above 20% health, then your priority becomes to use Overpower upon dodging an attack.
Overpower does require you to dodge though, which does make it unreliable to fit into your rotation. Use it whenever it is available, otherwise use Mortal Strike on cooldown. If Execute and Overpower are both unavailable and Mortal Strike is on cooldown, you can cast Whirlwind. After that, spend any excess rage on Heroic Strike.
Your rotation becomes a little different with multiple targets. Instead of using Execute right away, you'll cast Sweeping Strikes for your abilities to hit an additional enemy. Then you'll actually use Whirlwind right after, followed up by Execute if your target is low enough.
If both abilities are unavailable, use Overpower if you've dodged an attack. In the event you don't dodge, you'll then use Mortal Strike instead. If you have any spare rage at this point, you can dump it all into Heroic Strike.
To simplify:
Single Target: Battle Shout (keep applied) > Execute > Overpower > Mortal Strike > Whirlwind > Heroic Strike
Multiple Targets: Battle Shout (keep applied) > Sweeping Strikes > Whirlwind > Execute > Overpower > Mortal Strike > Heroic Strike
Stat Priority
Strength – Your best stat by far. Strength directly increases your attack power, which means your attacks deal more damage! Hitting harder lets you kill enemies faster and gives you less downtime overall.
Stamina – After strength, you'll want as much stamina as you can find. Stamina only increases your maximum health, but this is crucial to your survivability. You take an absurd amount of damage as a melee attacker, making a large health pool very beneficial.
Agility – Agility becomes much more important when you're level 60, but it also benefits you before then. It grants you 1% Critical Strike Chance and 1% Dodge for every 20 points of Agility.
Spirit – You're also going to want plenty of spirit while you're leveling. Spirit lets you regenerate your health when you're out combat. This means you'll spend less time sitting and eating, meaning faster leveling overall.
Talent Path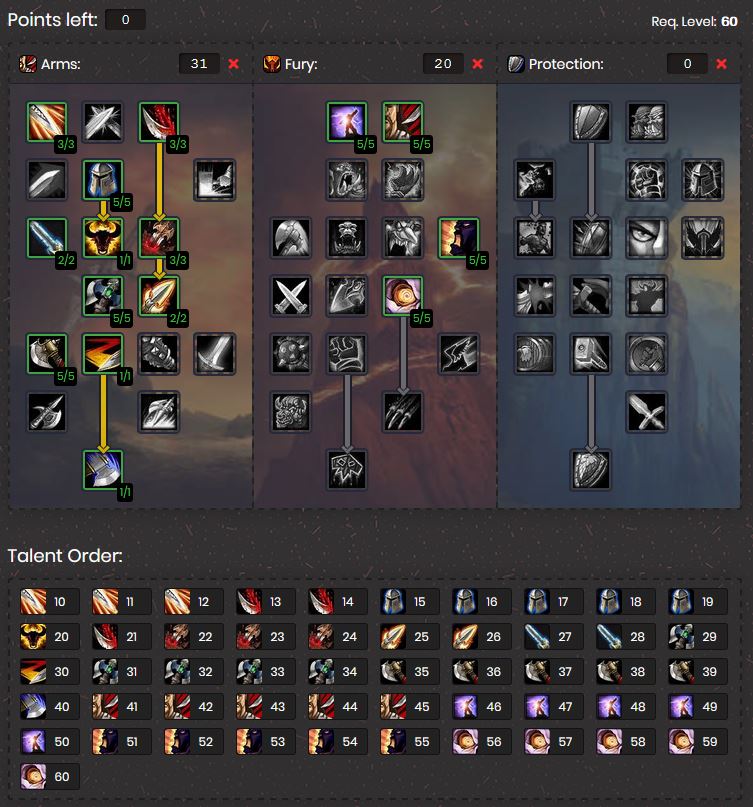 Talent Progression: 3 points Improved Heroic Strike > 2 points Improved Rend > 5 points Tactical Mastery > 1 point Anger Management > 1 point Improved Rend > 3 points Deep Wounds > 2 points Impale > 2 points Improved Overpower > 1 point Two-Handed Weapon Specialization > 1 point Sweeping Strikes > 4 points Two-Handed Weapon Specialization > 5 points Axe Specialization > 1 point Mortal Strike > 5 points Cruelty > 5 points Booming Voice > 5 points Improved Battle Shout > 5 points Enrage.
Despite fury being the better end-game damage specialization, arms is much better for leveling thanks to reliable rage generation and damage output. Your goal is to max out the arms tree to pick up Mortal Strike, after which leveling definitely becomes easier.
Abilities to Train
Class Quests
Defensive Stance: At level 10, you'll unlock your first class quest, which will eventually reward you with Defensive Stance. This is one of your three core stances and is required to interrupt before level 38. You'll also be able to use important defensive abilities, but you will need to equip a sword and shield.
Brutal/Fire Hardened Armor: Once you're level 20, you'll unlock another class quest chain. After completing it, you'll have received a nice pair of legs, gloves, a helm, and a blue chest piece that you can actually use to receive 30 rage once an hour. The equipment is fantastic for leveling, but you might have a hard time soloing this until you're around level 30.
Berserker Stance & Whirlwind Weapon: Upon reaching level 30, you'll unlock the class quest for your final stance, Berserker Stance. You'll need this to cast Intercept, your other dash ability. More importantly, this quest chain culminates in a reward of one of three whirlwind weapons. You'll definitely want Whirlwind Axe to benefit from your Axe Specialization talent. Whirlwind Axe is likely a weapon you won't replace until level 60, but the quest is extremely difficult before you're level 40.
Equipment
Buy weapons from vendors – When you're low level, weapons that are sold by merchants are actually some of the strongest you can find. Somewhere in your race's starting zone you can find a weapon vendor; don't be afraid to purchase a weapon if it is an upgrade! At level 30, purchase a Bullova axe from a weapon vendor in a major city.
Do quests and/or dungeons for weapons – Horde players certainly have an advantage here, as they have access to Ragefire Chasm and Wailing Caverns quests. Both dungeons reward great low-level weapons. At higher levels, you can do Uldaman and Maraudon for even better weapons.
Get your Whirlwind Axe as soon as you can – Your toughest class quest rewards you with the iconic Whirlwind Axe, which you'll probably use all the way until level 60. Yeah, it's that powerful! The sooner you get it, the sooner you can start demolishing your enemies!
Until level 40, warriors can use cloth, leather, or mail equipment. After level 40, they can also use plate gear. However, you should still prioritize gear that provides you with useful stats. Don't be afraid to wear a piece of cloth or leather if it gives you a better combination of strength, stamina, and spirit than a mail or plate piece does!
While armor is certainly useful for keeping you alive and giving you extra stats, the attributes of your weapon are far more impactful. The overall damage, weapon speed, and DPS are the biggest factors. You can value a point of weapon DPS as 7 points of strength, meaning any weapon upgrades you can find are invaluable.
Useful Macros
Charge / Intercept – Puts you into Battle / Berserker Stance depending on whether you're in combat, and you can cast it again to use the correct dash spell.
/cast [nocombat,stance:1] Charge; [combat,nostance:3] Berserker Stance; [nocombat,nostance:1] Battle Stance; [combat,stance:3] Intercept
Stance Juggling – Switches between all of your stances. It alternates between defensive stance and battle stance, and switches to berserker if you control click it.
/cast [modifier:ctrl,nostance:3] Berserker Stance; [stance:1] Defensive Stance; Battle Stance
Whirlwind – Switches to Berserker Stance and uses Whirlwind.
/cast [stance:3] Whirlwind; Berserker Stance
Overpower – Switches to Battle Stance and uses Overpower.
/cast [stance:1] Overpower; Battle Stance