Author: OrinDac
Date: March 13, 2020
Updated: October 12, 2020
Expansion: WoW Classic
The Druid is one of the most interesting and fun classes to play, whether you are Twinking or not. They can do a lot of things and fill a lot of roles. Make no mistake though; they cannot fill any of those roles as well as other classes designed to. You will never be as stealthy as the Rogue, as good at tanking as the Warrior, as good a healer as the Priest, or as good at DPS as the Mage, but you can still do all of those things, while none of those classes can do more than one of them.
Contents
Races: Which races can play as Druids and what traits to they have that would be helpful to a Twink?
Professions: Which professions are good for Twinking and which ones compliment a Druid well?
Spells and Abilities: What spells and abilities doe Druids have at this level and how best can they be employed in PvP?
Talents: What talents to Druids possess and what builds are the best for PvP?
Gear: What is the Best in Slot (BiS) gear for PvP Druids at this level and where can it be found?
Enchantments: Which enchantments are the best for a Druid Twink?
Buffs: Which potions, scrolls, elixirs, food and other consumables are useful to a Druid Twink at this level?
Races
The good and bad news for players wishing to endeavor upon a Druid Twink is that your choices for race are few and slim and will be completely dependent on your faction. This is actually great though, because it makes your choice simple and clear.
Alliance
Night Elf: Quickness and Nature Resistance are great for a bit of added, diverse protection and are useful to all classes, especially those that are going to run into a variety of situations like the Druid will. Wisp Spirit is actually very helpful in battlegrounds, as it allows you to get back to your body faster than everyone else, without any special spells. This means that if you were in the middle of a huge fight and died, you can get back to that fight and aid your allies long before your beaten enemies can. Shadowmeld is worth mentioning, because it is a non- shapeshifting stealth for Druids. An important difference between Shadowmeld and Stealth is that you can eat while shadowmelded, as long as you don't move. This means that if you are out of mana and health, you can use a free racial ability and some food to not die.
Horde
Tauren: Like the Night Elf, Tauren have Nature Resistance and it's still as good in this entry as it was in theirs. War Stomp is a great ability that will keep pursuers off your back while you are running flags, or just trying to escape a situation. The real thing to write home about for the Tauren though, is Endurance. 5% might not seem like a lot of health, but rest assured, it is. It really is.
Professions
There are a lot of professions to choose from, which can make deciding which ones to go with hard. Fortunately, one of the coolest professions is also an absolute necessity for a Twink of any class. Engineering. There are a plethora of gadgets, devices and bombs that are extremely useful within Battlegrounds and you won't want to miss out on them.
While Engineering is a necessity, you're other Profession is also important. Which ones you'll be interested in will largely depend on your class.
What follows is a description of each of the Professions that should be of interest to a level 39 Twink Druid and why.
For Twinks of any class, this profession is an absolute must-have. Along with all of the engineering gadgets and doodads you get before reaching 230 in engineering, there are some seriously fantastic items at this level that are of extreme use in PvP. Make sure you get all of them.
The Major Recombobulator is especially useful for countering the Crowd Control (CC) effects of Polymorph. In the hands of a Druid, it is even more annoying to Mages, as Druids, themselves being shape shifters, are virtually immune to the spell. So Mages will avoid wasting the cooldown on them. Other items of note are the Alarm-O-Bot, which can help in detecting Rogues and other Druids and the Dark Iron Bomb, which is the absolute best bomb in early Classic WoW, with the most damage and longest CC duration. There are also three energy reflectors; Gyrofreeze Ice Reflector, Hyper-Radiant Flame Reflector and Ultra-Flash Shadow Reflector, which all reflect their type of damage for 5 seconds. This is extremely useful and can quickly turn the tables on any caster in the game. Finally, there is the Arcane Bomb, which absorbs mana and does half of what is absorbed as damage to anyone in range.
All of these items are incredibly useful in PvP and are the best engineering has to offer at this level. Not to mention all of the fun fireworks and pet companions you can make.
Enchanting is probably the best choice for players who are not supporting their Twink with another character. It has few expensive reagents that must be truly gathered, most being products of disenchanting items you are already likely to pick up. It also offers lucrative selling opportunities with the many materials you will acquire from breaking down all of the Green and Blue items you do not need. It can also offset the cost of getting your own enchantments some, as higher level enchanters are sometimes on the lookout for lower level materials.
If you are being supplied herbs and reagents by another character, then Alchemy can be an extremely useful Profession to endeavor upon. The ability to simply create the many potions and elixirs that offer decided advantages in PvP at this bracket, instead of having to go shop for them, almost pays for itself. Alchemy can also be a great way to make money, especially if the reagents and materials can be acquired cheaply.
Other Professions
The gathering Professions are not at all useful to a Twink Druid. Herbalism, Mining, and Skinning should be avoided entirely, unless you are hoping to compliment your Engineering with Mining and take some pressure off of the character supporting your Twink. Tailoring and Blacksmithing are both useless to a Druid as well, so that leaves only Leatherworking as a viable remaining option and it's not a bad choice, as you can craft your own Pre BiS armor as well as some of your actual BiS armor.
Another use for for Alchemy, Leatherworking and Tailoring is to sell the various high level components and transmutes that only these Professions can craft. Alchemists can transmute metals with recipes like Recipe: Transmute Arcanite, Leatherworkers can craft the Cured Rugged Hide and Tailors can use Pattern: Mooncloth to purify Felcloth.
Secondary Skills
Cooking: Cooking has but one benefit to any Twink at any level bracket. The Well Fed Buff. There are many foods that offer the highest possible Well Fed bonus at this level. The easiest to acquire is Spider Sausage, the recipe for which can be purchased from virtually any standard Cooking trainer. Another fun and useful food the cooks can make at this level is Dragonbreath Chili, the recipe for which can be purchased from Helenia Olden (Alliance) or Ogg'marr (Horde) in Duskwallow Marsh. It can also be purchased from Super-Seller 680 in Desolace.
The Dragonbreath Chili is of particular help to Druids who use their animal forms a lot, as they do not benefit from weapon enchantment procs. The chili allows Feral Druids to add an elemental proc to their repertoire.
First Aid: The only thing to worry about here is to get your First Aid maxed as high as it will go, so that you can use the Heavy Runecloth Bandage, which can heal you almost completely full with just one bandage. To do this, you will need the three books Expert First Aid – Under Wraps, Manual: Heavy Silk Bandage and Manual: Mageweave Bandage. The only trouble is that, because you still can't get your Secondary Skills up to 300 yet, you'll have to find someone to craft the bandages for you. Alternatively, you could simply purchase them off of the AH.
Fishing: This skill is not as important at this level bracket, but it's still a great way to increase your income, especially while you're bored and waiting around near some water. Take any opportunity you can to fish, because each time you fish is a chance to catch a rare fish that can earn you some good money. It's also not a bad way to get Cooking and Alchemy reagents to increase those skills.
Spells and Abilities
At level 39, the Druid has access to a lot of incredibly useful abilities, including some that work in ways that no similar abilities used by other classes do. Remember, if you're playing a Druid Twink at this level, your advantage is adaptability and versatility, you will have to stick to whatever role you've chosen within a group, but don't forget that you have other abilities. Use them.
The following is a description of all of the abilities available to a Druid at level 39 that are useful to a Twink and some tips on how to use them best. Druid abilities break down into three groups. Balance, Feral Combat and Restoration.
Cat Form: Kind of the point of the whole build, right? You can turn into a cat and do neat cat things, like Prowl and run really fast. Also, as with all Druid Forms you break and are protected from Polymorph effects.
Bear Form: You're honestly going to want to spend most of your time in Cat Form in a Battleground, so there isn't a lot of use for this, but it's important to have it ready if you need more toughness than damage. It can also save your life if your health is low, as the Bear Form has increased health.
With respect to all animal forms, don't forget to carry around a Major Recombobulator, so that you can drive enemy Mages completely out of their minds when they realize that you can not only counter their Polymorph for yourself, but for allies too.
Prowl: The Druid's form of stealth. So overwhelmingly important, especially in this bracket. Interesting fact: Feline Swiftness works even while Prowling, so you will automatically still be moving around in stealth faster than any Rogue can. Oh and don't forget that Dash works without breaking stealth too!
Shred: Talk about a load of damage. This is probably your best way to start a fight in Cat Form, especially if you Tiger's Fury up first.
Claw: Your most basic combo builder. The damage is solid and you don't have to think much about what it does.
Frenzied Regeneration: This is an incredibly unique ability that is extremely useful when you are tanking and low on health, but don't need be doing a lot of damage.
Rip: A good DoT finisher.
Pounce: Like Shred, but used from stealth only.
Tiger's Fury: Another great short term buff. Doesn't break stealth either, so always use it right before you spring a surprise attack.
Swipe: Doesn't give a combo point, but is great for if your tank is overwhelmed and you need to hit a couple foes at once, or for when you are the tank and…need…to hit a couple foes at once.
Rake: A good DoT combo builder. Works well in tandem with Claw
Ferocious Bite: An incredibly powerful spell for when you've got a full load of combo points on a target and full energy.
Demoralizing Roar: Even if you are not engaged in melee combat, if you are near to those that are, switch to bear form and throw up this spell.
Ravage: Explosive damage. Really just the best way to start a fight from stealth.
Track Humanoids: This is an absolutely fantastic little utility spell that will aid any Druid playing in a BG immensely.
Faerie Fire (Feral): A balance spell you can cast in animal form. Use this against heavily armored targets with low health.
Travel Form: The great equalizer! This ability makes Druids the absolute best at FC. Period.
Bash: Can only be used in Bear Form, but still a solid short term CC, which should not go unmentioned.
Dash: SO useful, especially because you'll have taken Feline Swiftness and are already the fastest person in the Battleground. Use when you're being chased by a bunch of people and really irritate the crap out of them. Oh yeah, and it doesn't break Prowling. You're welcome.
Maul: Pretty basic short term buff. Can be used in conjunction with other Bear Form attacks to get a big damage increase.
Remember that a Druid at this bracket is all about being versatile. Stick to your role for the most part, but know your abilities and use them when it's appropriate, and when you are able, even and especially if it's outside the box.
Talents
Talent builds at this bracket are going to be all about which role you are going for. Below are the talent builds for each Druid role, showing all of the appropriate talents that should be selected for a given role. Most roles have just one talent build provided, but the Tank/Flag Carrier role has two.
Standard:
This build is a balance between CC, damage absorption, and mobility. If you are the FC in WSG, Nature's Grasp and Improved Nature's Grasp are a must.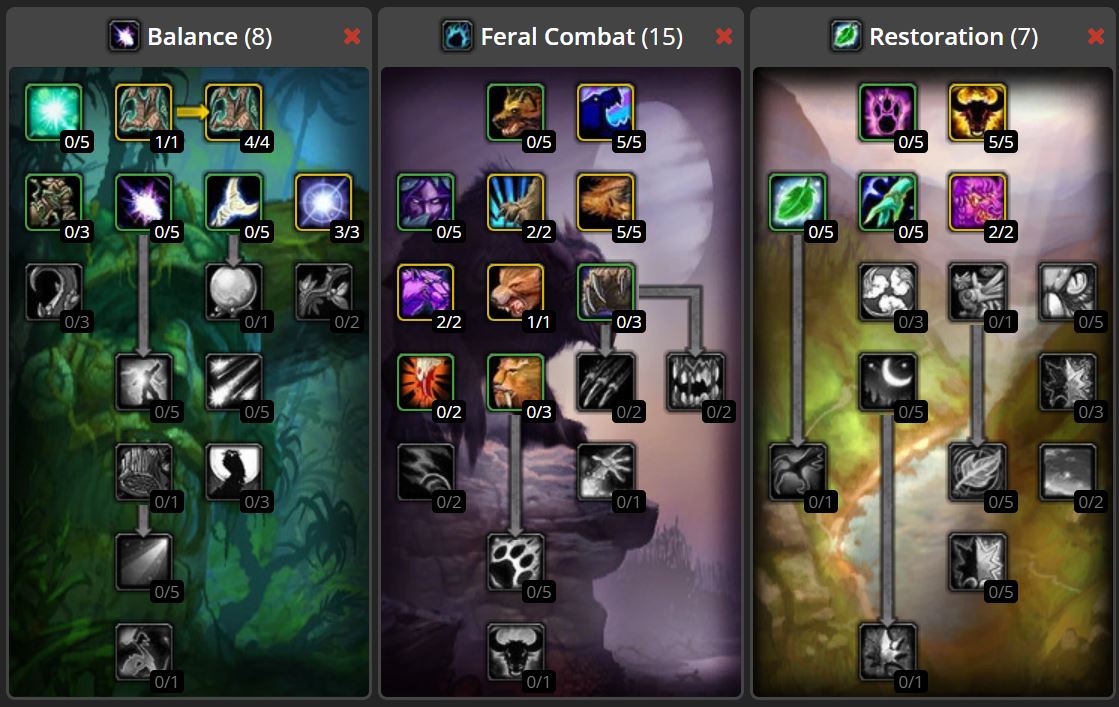 Feral:
This spec focuses predominantly on taking damage and dealing it out. It's a a pure feral tank build and less useful in CTF.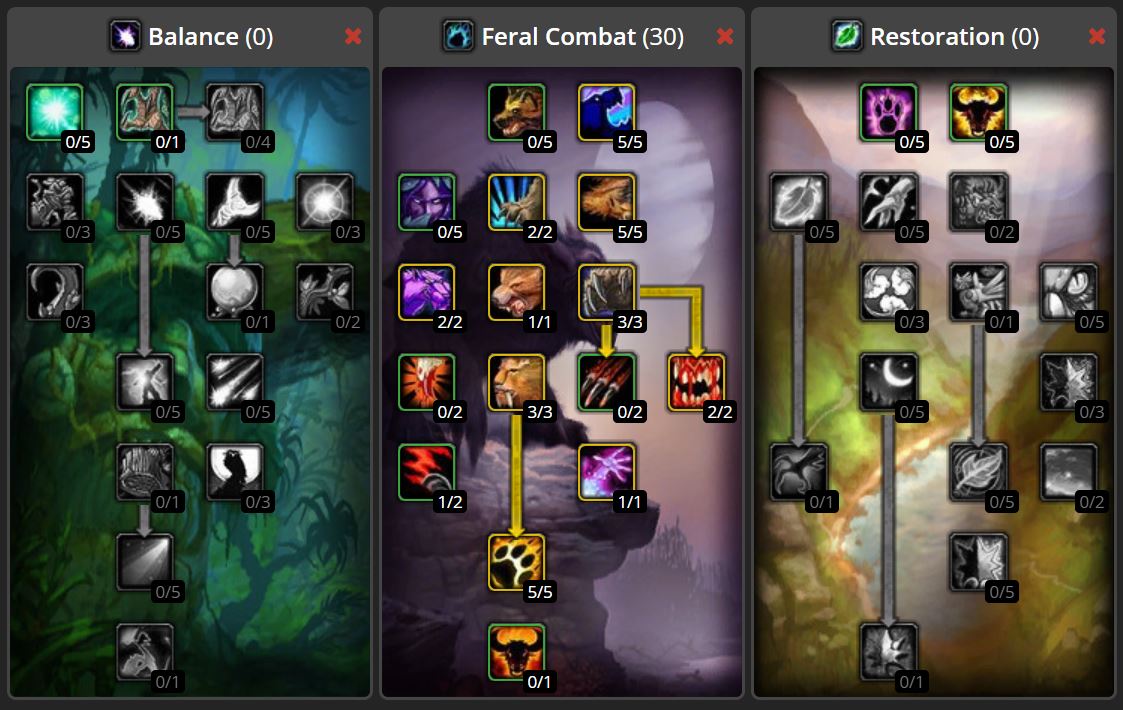 This build focuses strictly on maximizing your healing ability.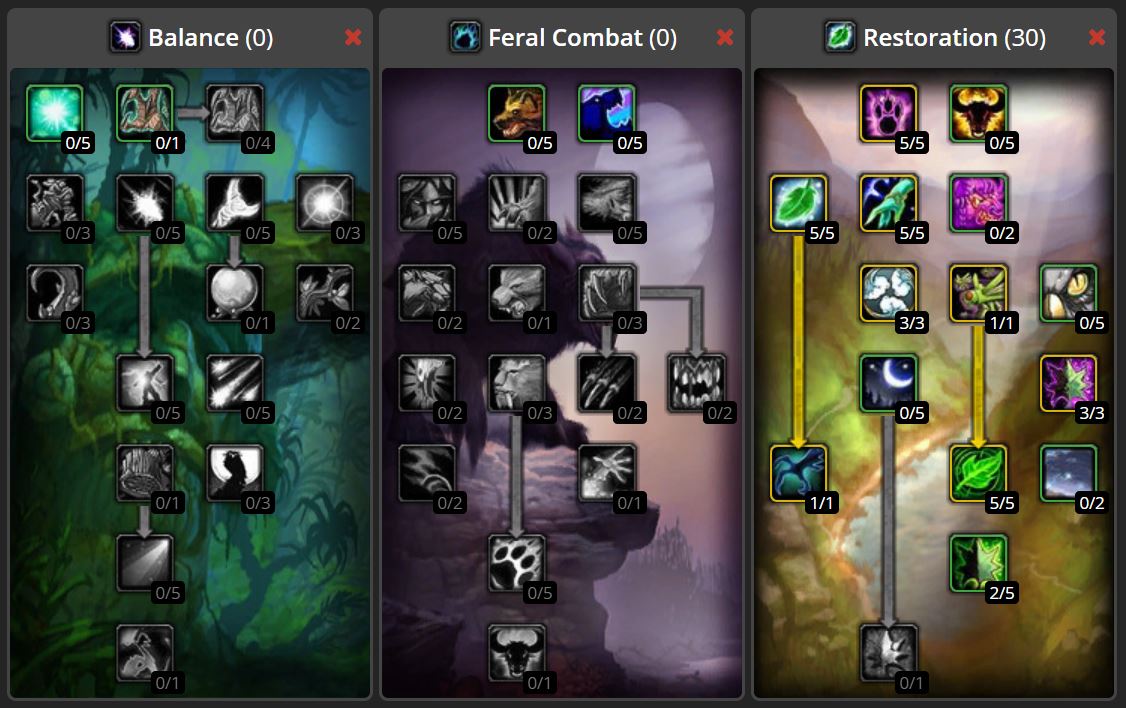 This spec is for Druids that want to compete with Mages and other caster classes in DPS. It focuses on maximizing your ranged caster DPS.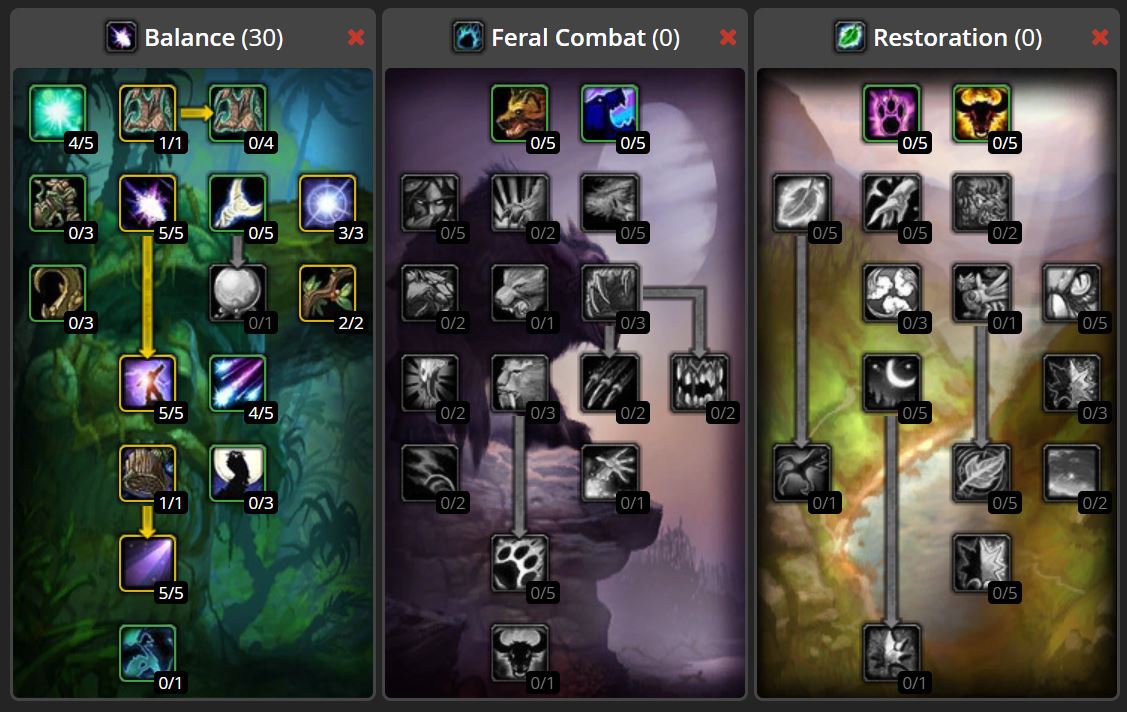 This build centers around maximizing your melee DPS, especially in Cat Form.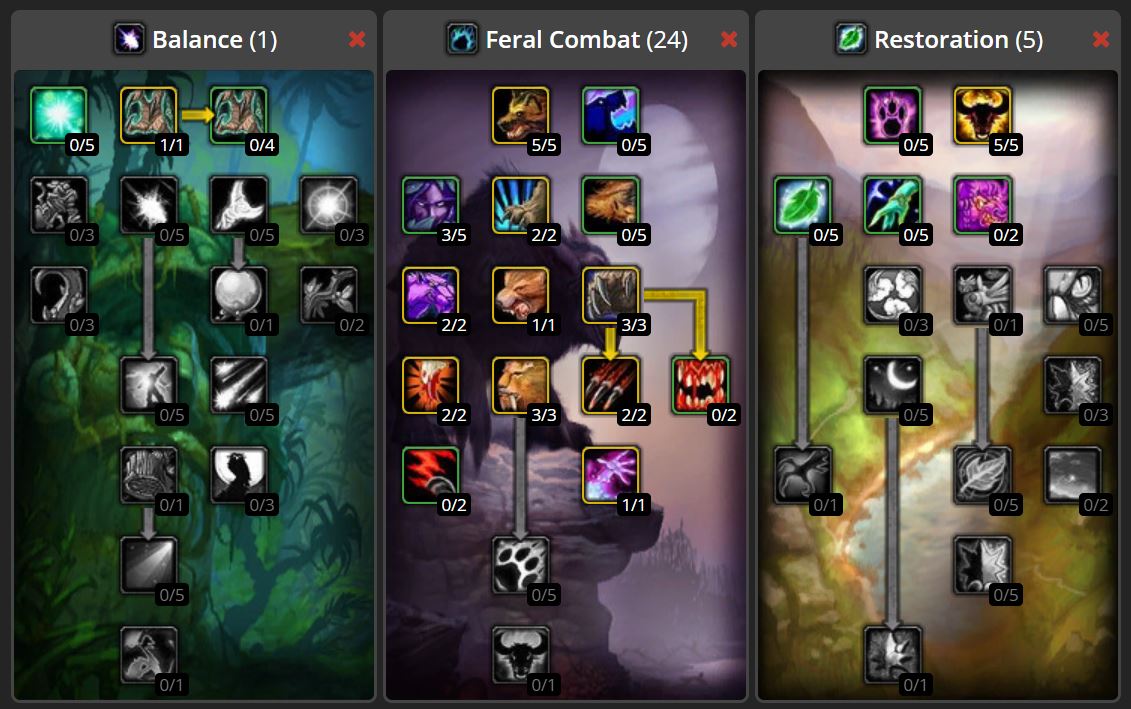 If you think you can get more out of the Druid by finding your own talent spec, then you might want to just check out the Druid Talent Calculator and create a build yourself.
BiS Gear
Gear is important for all classes and is usually one of the most difficult aspects of building a Twink of any level. For Druids, whether gearing for PvP or not, your gear choices are going to depend on your talent build. Tanks and Flag Carriers are going to want a lot of Stamina.
Enchantments
The enchantments for your gear are almost as important as the gear itself. Make sure to get all of the best enchantments for each gear slot item that can be enchanted. If your Main is not an enchanter, then acquiring these enchantments will be expensive, so keep that in mind. Here are all of the best enchantments for a level 39 Twink Feral Druid Tank.
Buffs
There are a plethora of buffs to be had at this level and some of them are incredibly useful. If you've taken Alchemy, you'll be able to acquire most of these, fairly easily. Otherwise, you can get them through other players who are Alchemists, or simply from the AH. Some of them are often sold by vendors in a limited quantity as well.
The different specs for a Druid will find slightly different buffs useful, so the lists of the different bonuses and consumables are laid out for each one.
Wow! That's everything! you now have all you need to create, gear and play the perfect level 39 Druid Twink. Whether you choose to turn into a bear and take the enemy flag, use your restoration spells to support your allies, drive your enemies mad with your multiple CCs and surprisingly high ranged spell DPS, or stalk your prey from the shadows as a prowling night cat, you may now do so with impunity. Remember, the only thing that Druids do best, is to everything second best. Have fun!