Author: Passion
Date: November 3, 2023
Updated: November 3, 2023
Expansion: WoW Classic
Along with the many changes coming with Season of Discovery, the former 5-man dungeon Blackfathom Deeps has been reworked into a 10-man raid. A select few content creators at Blizzcon have had the chance to show off this content, and with that we have been able to learn a few things.
The dungeon layout is mostly unchanged, as well as the particular bosses available. These bosses do have new and improved mechanics, considering this was previously a basic leveling dungeon. The loot has also been overhauled, being made significantly more useful while still staying true to the Classic style of itemization. A noteworthy example for me is Fathomblade. This fast two-handed sword requires level 25, gives 1% Hit chance, and also has the brand new effect "Chance on hit: Blasts all enemies in front of you with pressurized water."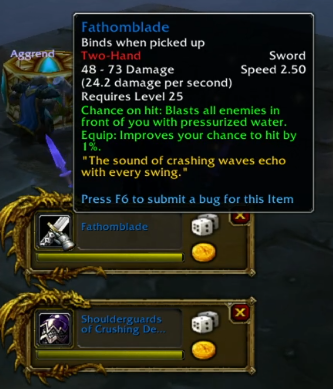 As WoW has evolved, Chance on hit weapons have generally faded out of view, so it is great to see new ones being added.