Author: Pride
Date: May 23, 2022
Expansion: TBC Classic
The demonic Eredar Twins, Lady Sacrolash and Grand Warlock Alythess, are the 4th boss that players will encounter in the Sunwell Plateau raid. There is more than meets the eye with these two – they possess unparalleled mastery over shadow and flame respectively.
This encounter is considered the first great "wall" in the raid, blocking off an extremely large percentage of guilds from progressing further in the raid. And it is no wonder – they deal so much damage that only the best healers can really keep up with it, and they have so many mechanics that everyone in the raid must be aware of — you can't have 1-2 slackers always failing to move in time, if you want to beat the Twins.
This guide will offer a detailed, step-by-step tutorial on how to survive fire and shadow, so you can send the Eredar Twins back to whence they came.
Role Summaries
Make sure you understand how to pull the Twins, it's one of the toughest parts of the fight — read the The Pull section
Make sure you understand what your position is for this fight!
Taking Shadow damage causes you to gain Dark Touched stacks, taking Fire damage clears your stacks
Taking Fire damage causes you to gain Flame Touched stacks, taking Shadow damage clears your stacks
Make sure you understand how to reset your stacks if needed — more than 4-5 stacks is too dangerous
If you are targeted by Conflagration, you need to IMMEDIATELY start moving to the designated Conflagration spot
Having a WeakAura (like this) or addon warn you when you are targeted by Conflagration makes things a lot easier
You can remove Conflagration using your PvP trinket (Medallion of the Alliance), Divine Shield & Ice Block — however, you still need to run to the designated spot

Every 20 to 30 seconds, your raid must dispel

Pyrogenics

off Alythess.

Dispel Magic

,

Purge

,

Arcane Shot

and

Spellsteal

all work,

Enhancement Shamans

,

Elemental Shamans

,

Hunters

and

Mages

are your best option, but healers can do it too in a pinch

When Sacrolash dies, you must stack up behind Alythess & move right underneath her if you get targeted by Shadow Nova — everyone else needs to make sure they get hit by Shadow Nova in order to reset their Flame Touched stacks
This raid is absolute hell to heal through for your healers, so be ready to use defensive cooldowns / Master Healthstone to survive if necessary
EVERYONE should be using consumables, such as flasks, elixirs and potions, appropriate for their spec here — this fight is very hard
Paladins, Mages, Rogues: Use Divine Shield, Ice Block and Cloak of Shadows to remove Flame Sear, particularly if you already have stacks of Flame Touched
Stand behind Sacrolash in a triangle pattern with the tanks at all times — see the The Fight section
You must always be 3rd or lower on threat on Sacrolash, or you will likely die — just be careful of threat
Quickly dip into the flames left behind by Alythess' Blaze to reset your Dark Touched stacks if needed
Move away from the other melee if you are targeted by Shadow Nova
Make sure you're not running towards the ranged DPS / healers when moving out due to Shadow Nova / Conflagration
You're staying on the ledge overlooking the Twins until Sacrolash dies, stacked with healers — see the The Fight section
You must always be 3rd or lower on threat on Sacrolash, or you will likely wipe the raid — just be careful of threat
If the ranged stack doesn't have any Flame Touched stacks, move out of the stack if you get targeted by Shadow Nova — otherwise, stay in the stack and make sure everyone gets hit so their stacks are reset
Jump down from the ledge when Sacrolash's HP reaches 1-2% and stack up behind Alythess
Shadow Priests, Warlocks: Hold back with your self-damage as much as possible, particularly while Sacrolash is alive — raid damage is crazy in this fight
Hunters: Use Misdirection on the tanks on cooldown — the extra threat will help out a lot, particularly at the start
Destruction Warlocks: Make sure you are specced into Nether Protection for this fight
You're staying on the ledge overlooking the Twins until Sacrolash dies, stacked with ranged DPS — see the The Fight section
Tank healers: Keep the MT topped off at all times as Confounding Blow deals heavy damage
Tank healers: Sacrolash will switch to the 2nd highest threat target for 6 seconds after Confounding Blow, so be ready to heal the off-tank
Raid healers: The player targeted by Conflagration will take 1600 damage per second — keep them alive!
Raid healers: Players afflicted by Flame Sear will take extremely high damage and must be spam healed like no tomorrow
There's a TON of raid damage in this fight — stay focused at all times and heal your assigned group & targets
Jump down from the ledge when Sacrolash's HP reaches 1-2% and stack up behind Alythess
It is highly recommended that you use a PvP trinket (Medallion of the Alliance) to remove Conflagration
All Tanks
Sacrolash Tanks
Stay in a triangle pattern with the melee & your fellow tank at all times — see the The Fight section
You must tank Sacrolash more than 20 yards away from the ranged stack, so they don't get hit by Shadow Blades
The 2 tanks need to be 1st & 2nd place on threat, as she temporarily ignores the main tank for 6 seconds due to Confounding Blow
The off-tank should be ready to use cooldowns in order to survive when Sacrolash switches to them, as damage can be unpredictable
If your Dark Touched stacks are starting to get high (3-4+), you should dip into the flames left behind Alythess' Blaze — but communicate that with your raid beforehand
Besides that, you should never move an inch while tanking Sacrolash
There's nothing for you to tank after Sacrolash dies, switch to DPS mode
Alythess Tank
Quickly move Alythess away from Sacrolash & melee when the fight starts — see the The Fight section
Kite her in a circular pattern around her flames, taking care to never leave your healers' range — /range 40 on DBM can help
You can move closer to Sacrolash in order to get hit by Shadow Blades if your Flame Touched stacks are getting high
Consider using defensive cooldowns if you get targeted by Flame Sear, Conflagration or Shadow Nova
After Sacrolash dies, you'll want to move Alythess around a bit slower, as your raid must stay directly behind her
Abilities
Shared
Lady Sacrolash
Grand Warlock Alythess
Raid Composition & Preparation
The Pull
Once you're done with the long gauntlet after Felmyst and reach the Eredar Twins' room, there's no more trash. That's it, moment of truth! The Twins will be directly underneath you as you enter their domain, the Witch's Sanctum.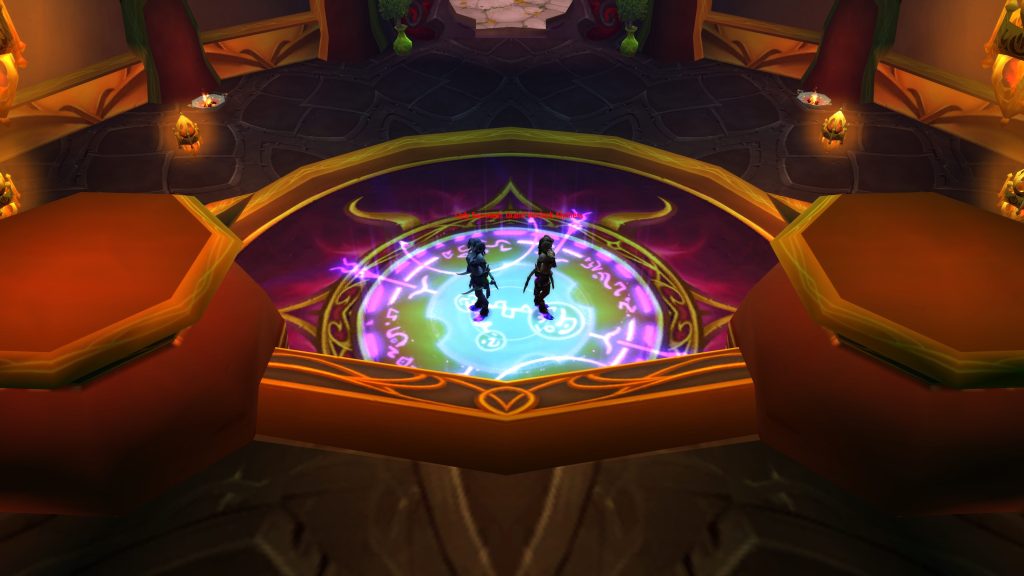 The pull in this fight is fairly difficult to execute correctly, with a host of things that can go wrong and wipe you immediately, so it's important that you understand how to pull here.
When your raid has buffed up and is ready to pull, the entire raid should approach the edge of the ramp and jump on the little orange ledge there. Don't move too far ahead, as you can accidentally aggro the Twins — just jump up on the part closest to the door and stay there.
Note that since ranged players are staying up on the ledge, your Shamans can drop their totems on the top before the fight starts, which will make things a bit easier. Use your totems before jumping up the ledge however, as you may accidentally pull the Twins if they are spawned in their line of sight.
2 of your Hunters should use their Misdirection on each of the Sacrolash tanks. Then, start a 20 second pull timer by using the /pull 20 command on DeadlyBossMods or any similar raid management addon, and get ready to start. When there are 2.5 seconds left on the pull timer, they should start casting Aimed Shot on Sacrolash, ensuring it finishes casting just as the pull timer reaches 0.
Meanwhile, your Alythess tank use any ranged ability available to them on her and immediately jump down, 0.5 to 1 seconds before the pull timer reaches 0. This part is vital — if you are too late, Alythess will start casting Blaze on one of the Sacrolash tanks, which will complicate positioning significantly, if it doesn't wipe your raid outright. If you don't jump down before using a ranged ability, she may cast
Then, the moment the pull timer reaches 0, the Sacrolash tanks & melee DPS jump down as well, quickly moving into position.
The Fight
There aren't fights per se in this fight. However, when one of the Twins dies, the other is healed to full HP and gains one of their abilities, so there's no point in cleaving them down, and as such the fight can be seen as two separate phases. Phase 1 involving fighting both Twins with your raid killing Lady Sacrolash, and Phase 2 involving killing an empowered Grand Warlock Alythess.
Phase 1 – Lady Sacrolash
After the raid starts, you will want to position as shown in the picture below. The idea is very simple: ranged DPS and healers on the ledge. The 2 Sacrolash tanks + melee DPS stay in a triangle pattern (so as to avoid parries) more than 20 yards away from the ledge crew, so as to avoid having Shadow Blades hit ranged DPS / healers. The Alythess tank stays slightly further away from Sacrolash, kiting Alythess in a circular pattern around her Blaze flames, making sure to always stay in the healers' range. As much as possible, everyone should stay in a tight stack, so AoE healing spells are as effective as possible.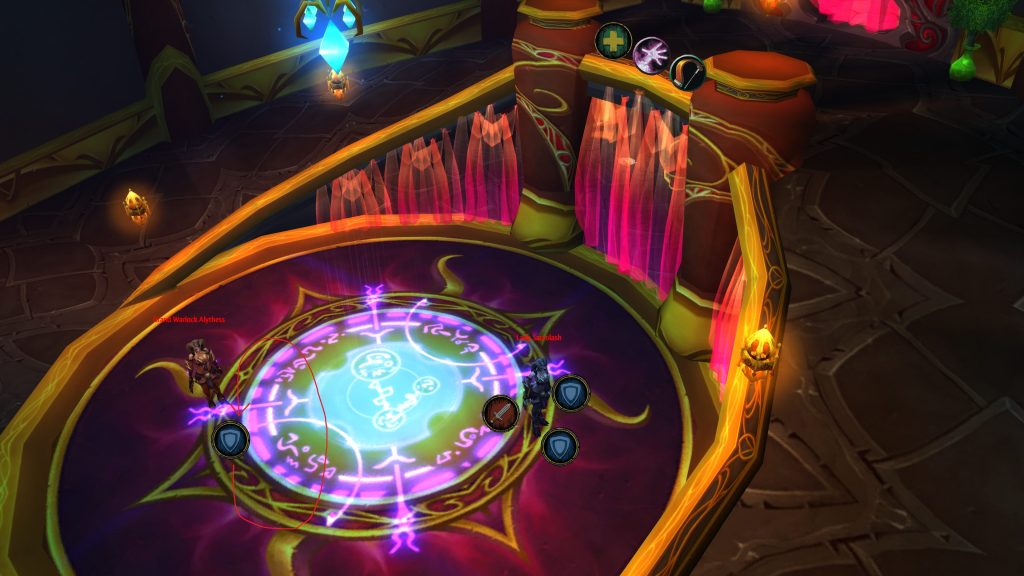 The pull will be one of the hardest parts of the fight, with lots of moving parts involved, so don't be disappointed if you find yourself wiping on the pull a few times. Thankfully, the Twins will give you 10 seconds to position before they start casting their spell, with the exception of Blaze, which Alythess will start casting on the highest threat target. Give your tanks 5-10 seconds to build some threat, and when they have a healthy threat lead, your raid will want to use Heroism / Bloodlust, as these first 10-20 seconds will be the only period where everyone can focus on dealing some big damage to Sacrolash, which will help a lot.
10 seconds in, the Twins will finally cast their first abilities: Shadow Blades & Shadow Image for Sacrolash, and Flame Sear for Alythess. At this point, you'll see what this fight is really about – just tons and tons of raid damage, and things have just started off. Your healers will need to quickly heal this damage off, as you'll now start getting stacks of the Dark Touched and Flame Touched debuffs. The Twins will use these abilities constantly throughout the fight.
The first 2 abilities are fairly trivial to deal with, but Flame Sear will immediately present to be one of the biggest problems for most raids. Not only does it deal a fairly high amount of damage on its own, it will also apply 5-6 stacks of Flame Touched to each player over its duration, causing its damage to skyrocket to absurd amounts. Your healers should target players afflicted by it and spam heal them as explained in the Healers part of the Raid Composition & Preparation section.
The first cast of Flame Sear will generally not be a problem, but subsequent casts can be a problem — if the same ranged DPS or healer happens to get targeted by it twice in a row, without Sacrolash having cast Shadow Nova in-between Flame Sears, they will spike up to 11-12 stacks of Flame Touched. This translates into a massive 2500-3100 Fire damage per second for the last few ticks, so they'll need to be spam healed like no tomorrow, while also getting topped off immediately afterwards so they can survive the Shadow Nova, with Flame Touched dealing 1800 Fire damage per second to them. This will thankfully be very rare for melee DPS players & tanks, as their Flame Sear stacks get cleared by Shadow Blades every 12 seconds, which is the same timer as Flame Sear, but it can happen pretty regularly for ranged players & healers, so they should be ready to use a Master Healthstone to survive, or clear their Flame Sear debuff using Divine Shield, Ice Block and Cloak of Shadows.
Then, 20 seconds into the fight, your raid will get its first major test: Alythess will target a random player in the raid and start casting Conflagration on them. That player now has 3.5 seconds to move to their designated Conflagration spot, more than 8 yards away from other players. If they fail to move in time, you are going to wipe, even if they happen to hit just a couple of players somehow. It is highly recommended that everyone has a WeakAura like this one to alert them when Conflagration is being cast on them, and classes with mobility spells, such as Sprint and Blink, use them immediately to get out.
The PvP trinket (Medallion of the Alliance) as well as Divine Shield & Ice Block will remove Conflagration, so you can count yourself lucky if it targets a player who has the trinket equipped or plays one of those classes — though they still need to move to the Conflagration spot. Your healers assigned to this task must be ready to spam heal the targeted player, as they'll be taking a significant 1600 Fire damage per second, during a fight with already very high raid damage.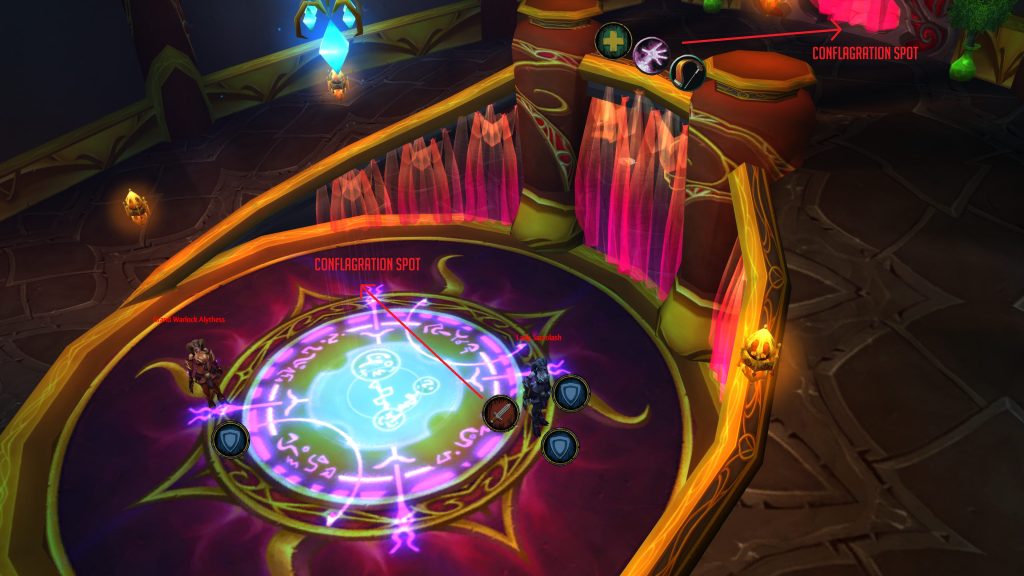 There's one more trick you can use to avoid Conflagration: Rogues can use Vanish, forcing Sacrolash to lose her target and thus stop casting it altogether, meaning you don't need to deal with the ability at all until she decides to use it again, 20 to 40 seconds later. It is possible that Hunters can also use this trick with Feign Death as it also drops target, but it has not be tested yet, so use with caution.
Note that occasionally, Sacrolash's Shadow Images will be jerks and decide to cast Shadowfury at this point, stunning the targeted player for 2 seconds and more than likely wiping your raid if they don't have a PvP trinket equipped / can't Divine Shield or Ice Block the stun. If that happens, there really isn't much you can do, just try again. Hopefully that doesn't happen, and your healers were on point and the Conflagration target survived… for now, as Alythess will be using this absolute nerve wrecker of an ability every 20 to 40 seconds.
Finally, there's one more gimmick to Conflagration — it can never target the 2nd highest player on threat, which is really important, as your off-tank must be 2nd on threat at all times in order to deal with Confounding Blow, which is explained later. It will very commonly target the 3rd highest threat player, but never the 2nd highest — so DPS players must ALWAYS be 3rd on threat or below, while your off-tank is always 2nd.
NOTE: It is not enough for you to simply be 3rd on the threat meter, after the off-tank — you must make sure you have the 3rd highest amount of threat or below. Some threat meters will show ranged players as being in 3rd place because of the higher ranged aggro pull threshold, but that is not accurate for this fight. If the 1st tank has 40k threat, the off-tank has 36k and you have 37k, some threat meters will show you as being underneath the off-tank, as they will pull aggro at 44k threat, while you will pull aggro at 52k threat, so you're lower as a percentage of threat needed to pull aggro. THIS WILL CAUSE YOU TO WIPE HERE — you must always have less threat than the off-tank.
To make things worse, the Twins still have more abilities. Sacrolash will occasionally use Shadow Nova, which deals even more AoE damage around a random player after a 3.5 second cast, which may sound familiar. Unlike Conflagration, your ranged players actually want to take this damage, as it is the only reliable way for them to remove their Flame Touched stacks and avoid dying to Flame Sear. If she targets a melee DPS player, they should move away from the melee stack, reducing raid damage, as they are already having their Flame Touched stacks cleared regularly by Shadow Blades anyway. Shadow Nova is cast every 30 to 40 seconds, so it will generally overlap with Flame Sear every 2-3 casts of Flame Sear.
But Sacrolash has one more trick up her sleeve: Confounding Blow, which deals ~8k Shadow damage to her current tank and disorients them for 6 seconds. Your 2nd Sacrolash tank needs to be 2nd on threat at all times, otherwise you're very likely wiping — so DPS be careful with your threat. Moreover, healers will need to make sure that the current tank is always topped of so they don't die to the direct damage, and they must quickly swap to the second tank. Sacrolash will be using Confounding Blow every 20 to 30 seconds, so it must always be on your tanks & healers' minds, particularly as it will sometimes overlap with Conflagration.
Alythess has one last trick up her sleeve too, which is extremely lethal but thankfully not too difficult to deal with: Pyrogenics, a buff which increases her Fire damage done by 35% for 15 seconds, which will make all of her abilities incredibly dangerous. Your raid must dispel it immediately — a delay of 2-3 seconds can wipe your raid as she will snapshot her damage. Dispel Magic, Purge, Arcane Shot and Spellsteal can all dispel it, making Enhancement Shamans, Elemental Shamans, Hunters and Mages great candidates for this task. She casts it roughly every 30 seconds, so it can help if you have Alythess on your focus frame by typing /focus while targeting her, so you can quickly dispel it.
And that is all of the "first phase" of this encounter. It may sound fairly simple, and it is simple on a technical level, but it is impossible to understate just how high raid damage is during this fight. Your healers must bring their A game here to keep everyone alive, as you really need all the DPS you can get, so just a couple of deaths can result in a wipe. Players need to be aware of specific mechanics they need to deal with, and particularly Conflagration at all times.
Finally, your entire raid must be cognizant of their number of Dark Touched & Flame Touched stacks — more than 4-5 is too dangerous. Tanks and melee DPS may need to occasionally dip in the flames left behind by Alythess' Blaze ability in order to clear their Dark Touched stacks. If a tank needs to do that, they should communicate with the raid immediately. Meanwhile, ranged DPS players may get unlucky with Sacrolash using Shadow Nova on melee exclusively, at which point the tank could move her a bit closer to the ranged group, allowing them to get hit by Shadow Blades so as to reset their Flame Touched stacks. Again, thus must be communicated to the raid in advance.
When Sacrolash reaches 1-2% HP, your ranged DPS and healers should jump down from the ledge and be ready to move into Phase 2 positions. Be careful however — don't do this if Alythess has not used Conflagration in the last 20 seconds, as you may be setting yourself up for a wipe.
Phase 2 – Grand Warlock Alythess, Empowered
After Sacrolash dies, Alythess will heal to full HP and become empowered, which causes her to use Flame Sear every 8 seconds rather than every 12, and more importantly allow her to cast Shadow Nova. As Shadow Nova is the only Shadow damage you'll be taking from now on, your raid will need to stack up behind Alythess as shown in the picture below, ensuring it hits everyone in your raid and thus resetting their Flame Touched. As a trade-off however, she will not cast Conflagration anymore, which makes things significantly easier.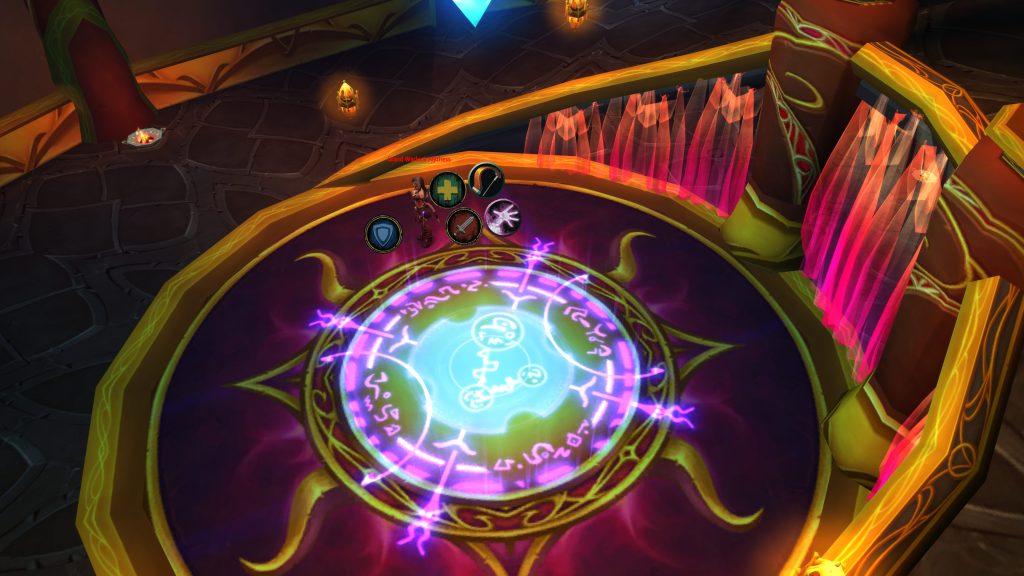 In all honesty, if you have gotten to Phase 2 then you are most likely going to win, as things are understandably significantly easier with just 1 Twin to worry about, and almost half the abilities you had to deal with before. Raid damage is just a bit lower during this phase, making it seem like a cakewalk if you came out of Phase 1. Mechanics-wise, things are a lot more simple without having to worry about Conflagration.
All you have to do here is following Alythess around, as the tank moves her out of Blaze. Continue dispelling her Pyrogenics immediately, and healing through her Flame Sear. The main difference here really is that she casts Flame Sear 50% more often, causing raid damage to stay very high regardless, and making it extremely important that absolutely everybody gets hit by Shadow Nova, resetting their Flame Touched stacks.
Speaking of Shadow Nova, the targeted player should move directly underneath Alythess, allowing the tank to get hit by it as well, while the rest of your raid clumps up behind her yet again. Just be careful of flames left behind by Blaze as you move around.
And with this, you have defeated one of the most difficult bosses in Sunwell Plateau, and are one step closer to putting a stop to Kil'jaeden's plans! Rejoice, but do not rest easy just yet — the next boss, M'uru, is widely considered to be the most difficult boss of the raid by many guilds, so be ware!