Author: Pride
Date: March 8, 2022
Updated: March 8, 2022
Expansion: TBC Classic
Teron Gorefiend, the first Death Knight, is a boss inside the Black Temple raid that players can encounter after defeating Supremus and gaining access to the Sanctuary of Shadows. Located at the very end of Gorefiend's Vigil, Gorefiend will typically be the 4th boss that players fight, usually after defeating the Shade of Akama.
Being an iconic character from Warcraft 2 and a very important figure in the lore as the first ever Death Knight, Blizzard made this fight very memorable, thanks to Shadow of Death. Teron himself is modestly tough, sporting 5 million HP and 6200 armor. However, this fight can be really tricky for unprepared groups. Just 1 player can wipe your raid by failing the Shadow of Death mechanic, and there's a decent amount of pressure on your healers.
This guide will offer a step-by-step analysis on how to exorcise the fiendish Teron once and for all.
Role Summaries
Abilities
Raid Composition & Preparation
The Pull
Before you engage Teron, kill all of the Hand of Gorefiend mobs guarding him. This will give your raid plenty of room to revive the fallen, buff up, regenerate mana and prepare for the fight in general.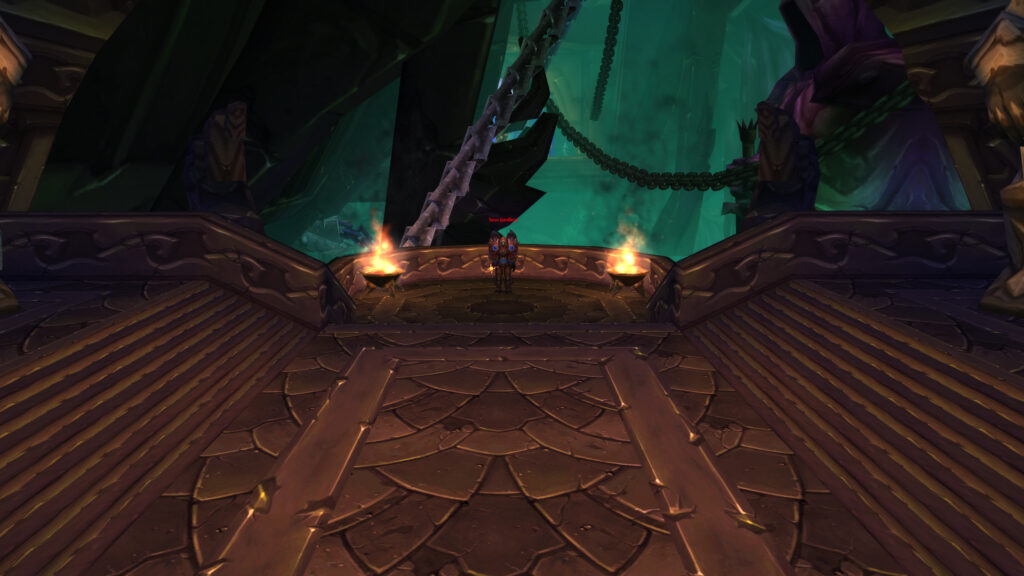 Pulling Teron is completely straightforward. As soon as your raid is ready, have your Hunters pull using Misdirection on the main tank, who should be ready to go in, moving Teron slightly past the dark brown circle on the floor, and then turning him around so he's facing the balcony wall rather than the door you came from.
The rest of your raid should quickly assume the positions shown in the image below. Essentially, all of your healers and ranged DPS should have their backs up against the balcony wall, behind the tank with Teron facing towards them. Melee DPS stack behind Teron. This positioning maximizes the distance the Shadowy Constructs must travel before they reach your raid, and can thus save a couple of players if someone is slightly too slow with killing them.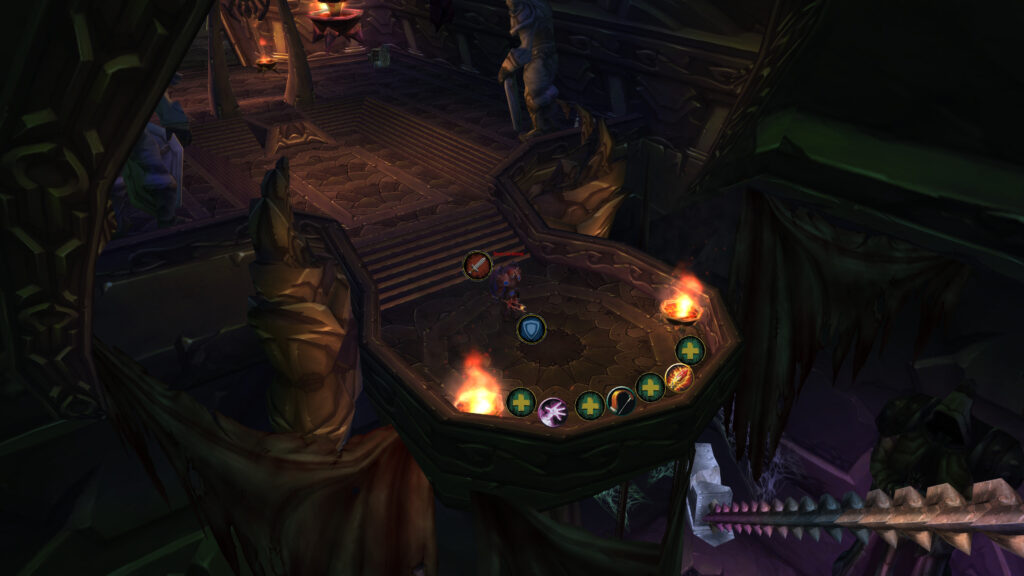 The Fight
After engaging Teron, your raid has between 10 and 20 seconds before the first Shadow of Death — typically the first ability he casts in the fight. Thus it's a good idea to use Heroism / Bloodlust along with personal DPS cooldowns right away, while all of your players are alive and can do damage without having to worry about Shadowy Constructs.
At this point, Teron will target the first unlucky soul and apply Shadow of Death on them. This will likely be the most important moment in the fight — the first 4 Shadowy Constructs are the hardest to deal with as there is only 1 Vengeful Spirit around to kill them. Your hope is that it targets someone in your raid who's competent at dealing with the Shadowy Constructs, else you are virtually guaranteed to wipe.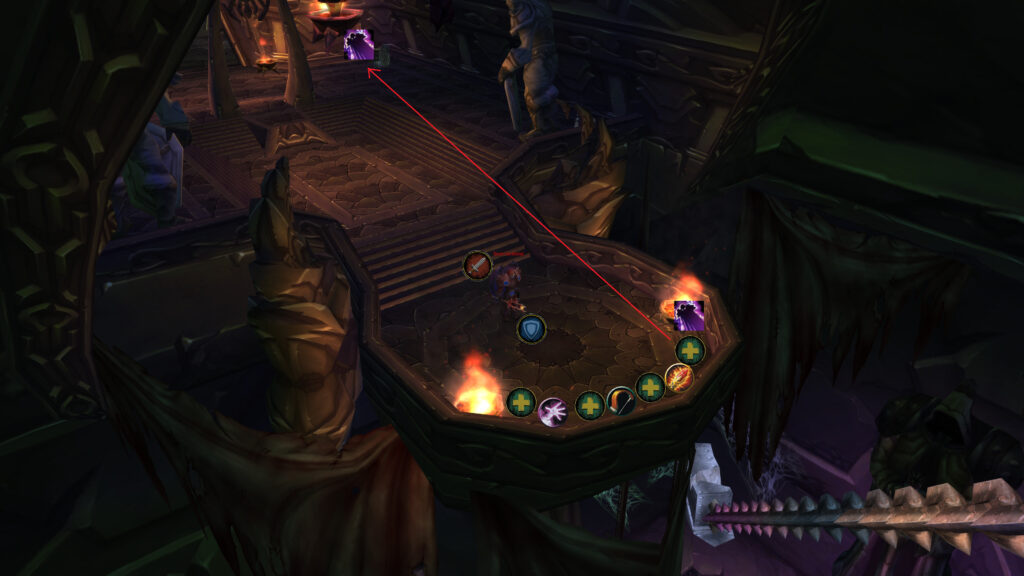 When there are about 10 to 15 seconds left on the debuff, the targeted player should start running to 1 of the opposite corners of the room, on either side of the door, as shown in the picture above.
The moment the Shadowy Constructs appear, you should use Spirit Volley (5) to damage them, then immediately use Spirit Chains (4) to stun them. Then, begin using Spirit Lance (3) on each Construct, until they are all slowed by 90%. You can use tab to keep changing targets, or clicking on each construct — whichever is more comfortable to you.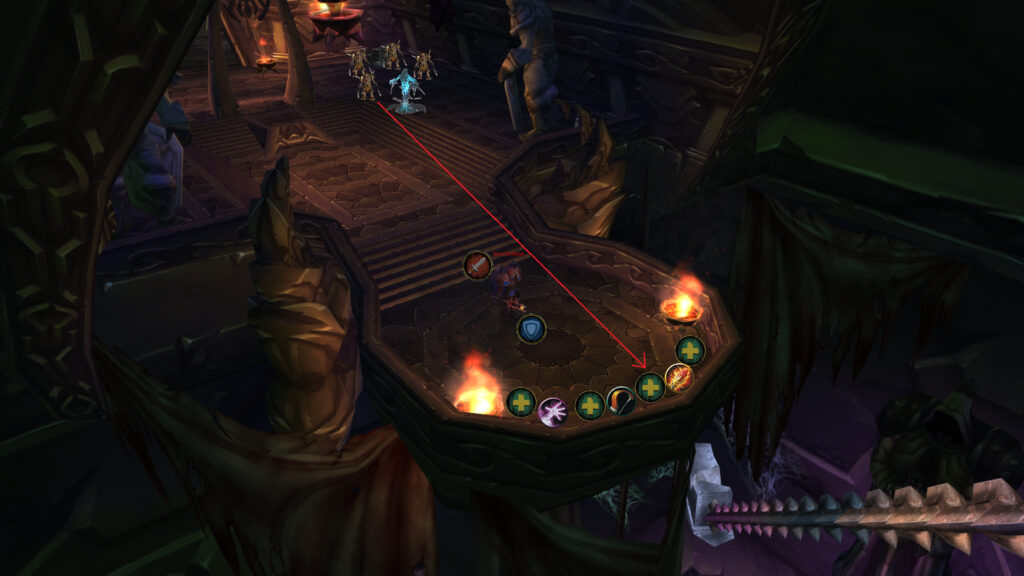 The Shadowy Constructs will be constantly moving towards your raid and it's your job to kill them before that happens, as nobody else can damage them and they deal high damage, likely killing your healers immediately. Keep using Spirit Lance (3), changing target every time, and using Spirit Volley (5) & Spirit Chains (4) on cooldown, until all of the Constructs are dead. After they die, use Spirit Shield (7) on your tank, and spam Spirit Strike (1) on Gorefiend.
When the next Shadow of Death target is about to die, move to the corner with them and help them kill their own Shadowy Constructs. This will be significantly easier now that there are 2 Vengeful Spirits around to kill them.
Note that multiple classes can nullify Shadow of Death. It has a 1.5 second cast, and if you use abilities that make you un-targetable (like Vanish & Feign Death) or invulnerable (like Divine Shield & Ice Block) while Teron is casting it, the cast will fail and you will not get the debuff. Teron won't cast Shadow of Death for another 30 seconds.
With Shadow of Death handled, your raid will generally not have too difficult of a time dealing with Teron's other spells. The only other ability you will have to watch out for is the purple swirly clouds summoned by Summon Doom Blossom. Their Shadow Bolts might not deal an exceptionally high amount of damage, but Teron summon more and more of them — you can have up to 4 at once before one of them despawns and you go back down to 3.
Your healers will need to be mindful of this, and be prepared to heal their damage. This will be doubly true after Teron casts Crushing Shadows, applying a 60% Shadow damage taken increasing debuff on 5 random players — those players will really suffer if there are multiple Doom Blossoms around and will need to be ready to heal using Master Healthstones.
Teron's final ability will be Incinerate, which he casts very erratically. Your Paladins and Priests will need to dispel it immediately with their Cleanse and Dispel Magic respectively. Just a couple of ticks will get people killed, specially players who just took Shadow Bolt damage and are thus low — so don't lose focus, dispel quickly!
Realistically speaking however, if your healers are decently aware and your raid manages to deal with the first Shadow of Death, you likely won't be tripped up majorly. You may lose a couple of players to Shadow Bolt, and your Druids should quickly ress them using Rebirth. With decent raid DPS, losing even a few players won't be a problem, provided the Shadowy Constructs have not made it to your raid.
Congratulations on defeating Teron Gorefiend! With the Death Knight now dead, you are one step closer to gaining access to Illidan's domain, and finally making the Betrayer pay for his crimes in the Outland.