Author: Pride
Date: March 8, 2022
Expansion: TBC Classic
Mother Shahraz, the Shivara, is the 7th boss inside the Black Temple raid. She is located at the end of the Den of Mortal Delights, which can only be accessed by defeating all 4 bosses after Supremus: the Shade of Akama, Teron Gorefiend, the Reliquary of Souls and Gurtogg Bloodboil.
Most players have probably heard of Mother Shahraz, as their guild likely required them to gather some shadow resistance gear. She is generally not particularly difficult, provided you use a decent strategy. However, unprepared guilds may be walled off completely from progressing further in the raid as they fail to take down Mother Shahraz due to a lack of shadow resistance, so make sure you have enough — see the Shadow Resistance section below.
This guide will offer a step-by-step analysis on how to toy with Mother Shahraz's emotions.
Role Summaries
Abilities
Shadow Resistance
Everyone in your raid, except for your tanks, will need shadow resistance to make this fight go smoothly. How much you actually need will depend on how good your healers are, and how quickly everyone can move way from each other during Fatal Attraction.
We recommend that everyone has at least ~130 SR unbuffed. This will be easily attainable for most guilds / players by using the following 3 items:
Then, your choice of crafted bracers, depending on your armor type. These require Friendly with the Ashtongue Deathsworn.
The bracers and cloak cost 1 Heart of Darkness, along with other materials depending on the item, which make them the cheapest and most cost efficient sources of shadow resistance you can get. Those 3 slots (neck / back / wrists) are generally fairly weak from a DPS / healing stat trade-off perspective, making them very appealing.
Using those 3 items will get you 135 Shadow resistance, or 205 when buffed with Prayer of Shadow Protection by a Priest. That will usually be enough for most guilds to clear, provided their healers are decent. If you're still struggling with 205 buffed shadow resistance, here are some other good options:
Glyph of Shadow Warding – Helm enchant that provides 20 shadow resistance. Put this on your previous helm for some nice, cheap shadow resistance.
Void Sphere – +4 to all resistances gem. Put this in any old gear you may have, including your Glyph of Shadow Warding helmet, for a little bit extra.
Heart of Darknes crafted legs & boots. These aren't as efficient as the previous options, but they will help in a pinch.
The maximum I'd recommend that you run would be about ~300 buffed, or 230 unbuffed. Going that high however will heavily decrease your damage / healing output, so ideally you will want to get to a point where your healers can keep everyone up with just the neck / cloak / bracers.
Raid Composition & Preparation
The Pull
Make sure you have cleared the entire room that Shahraz is in. You most likely won't need all of that space, but better be safe than sorry, specially with a boss that's as challenging as Shahraz. This will give you all of the room you need to res people, regenerate mana, buff up etc, while preparing for the fight.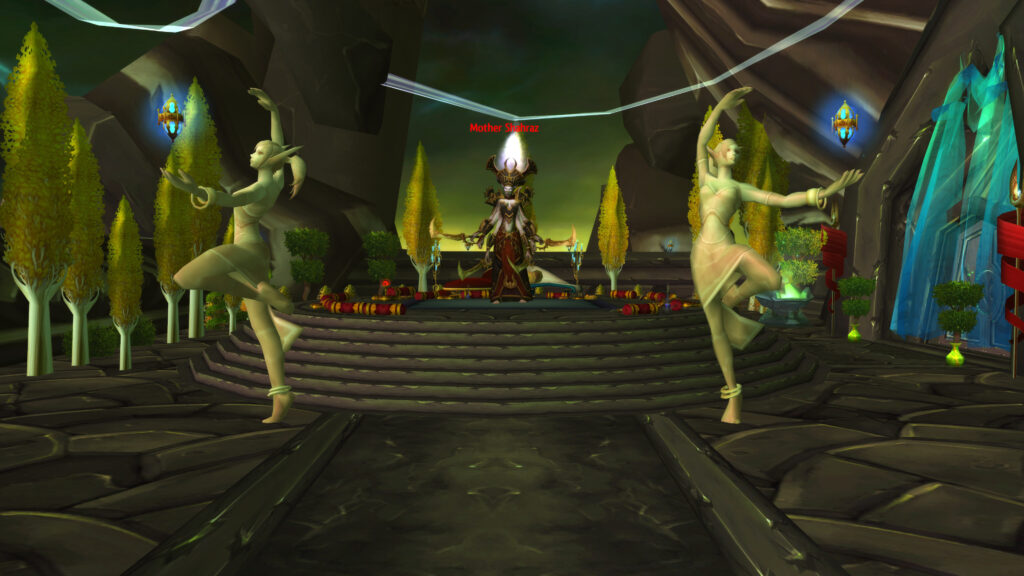 This guide will be covering the "fish position" strategy. All of your ranged players will be stacking under the fish statue by the pond in Shahraz's room, specifically the one furthest away from Shahraz's original position. Your melee DPS meanwhile will be stacking underneath the opposite fish statue, with Shahraz being tanked right in front of them, facing your ranged players. All of the tanks will stack on top of each other.
The reason for this positioning is simple: being underneath the fish statues prevents you from being knocked up in the air by Sinister Beam. This will reduce the damage your raid takes by a very decent amount, while also giving your DPS players maximum DPS uptime & letting your healers heal without being interrupted by the knock-up, potentially causing players to die while they're unable to heal due to being mid-air.
Note that certain races will struggle to get under the fish because they have a different hitbox. If any of your players find themselves unable to get underneath them, they can instead stand underneath the hand of the night elf statue right next to the pond. This won't prevent them from getting knocked up altogether, but it will stop their ascend early on, causing them to land without taking fall damage.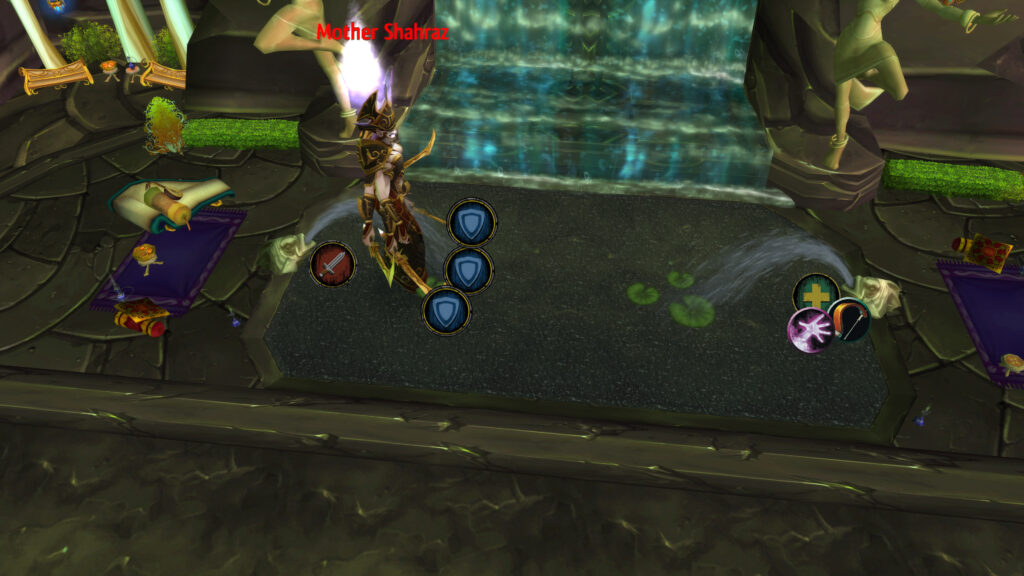 When your raid is ready to pull, a single Hunter should cast Misdirection on your main tank and start moving towards Shahraz, pulling when your raid leader says so. Your MT should be in position, ready to pick up Shahzrah when she reaches her designated spot, and moving slightly if necessary — you'll want to make sure that she's never within 18 yards of your ranged players, as a single Silencing Shriek on your healers will wipe you.
Your melee DPS should make sure they're never in front of Shahzrah as she's being pulled. There's always a chance that they get hit by Saber Lash which will get them killed, so they should only move in when the MT has gotten her into position. Once she's there, your remaining Hunters should use Misdirection on the MT, officially starting the fight.
NOTE: If it's ever looking like your raid will wipe, all you have to do is move towards the room's entrance. Shahraz will then reset, allowing you to res and try again.
The Fight
Your raid should use Heroism / Bloodlust along with personal DPS cooldowns right away, before you start losing players to Fatal Attraction. This fight is a DPS race and getting all of the damage you can in there can make a difference between a kill or a wipe.
The first thing you'll notice during this fight is that Shahraz does a lot of damage. Your main tank healers will need to be constantly healing the tank from the start of the fight — there's a decent chance that one of Shahraz's first attacks trigger Saber Lash, causing them to take a big damage spike and potentially dying. She will not be kind and wait for your raid to be nice and ready before using Saber Lash.
15 to 20 seconds into the fight, Shahraz will activate her first Prismatic Aura, reducing the damage taken by one school of magic by 25%, while increasing damage taken by its opposite school by 25%. Raid addons like DeadlyBossMods will announce this, so your casters know when they can use their cooldowns to maximize their DPS, and when their DPS will suffer due to having an unfavourable aura. She will keep changing auras every 15 seconds, so they'll need to pay attention.
The next ability you'll see will most likely be one of Shahraz's Prismatic Beams, roughly 20 to 25 seconds into the fight. Provided you're stacking correctly, the only beam that your raid has any reason to be afraid of is Sinful Beam, which causes a very high amount of damage. For that reason, your raid healers will need to go into overdrive starting at this point, making sure everyone is topped off as much as possible, minimizing random Sinful Beam deaths. She will use her selected beam 3 times total, once every 9 seconds. It will be up to your healers to keep track of incoming beams and heal people as necessary.
The next ability that Shahraz uses will be Fatal Attraction — which will be the first moment of truth for your raid. 3 random raid members will be teleported to a random nearby spot and get linked by purple chains, which cause them to deal damage to all nearby players, including themselves — read the Fatal Attraction section under Abilities for more information on how this works.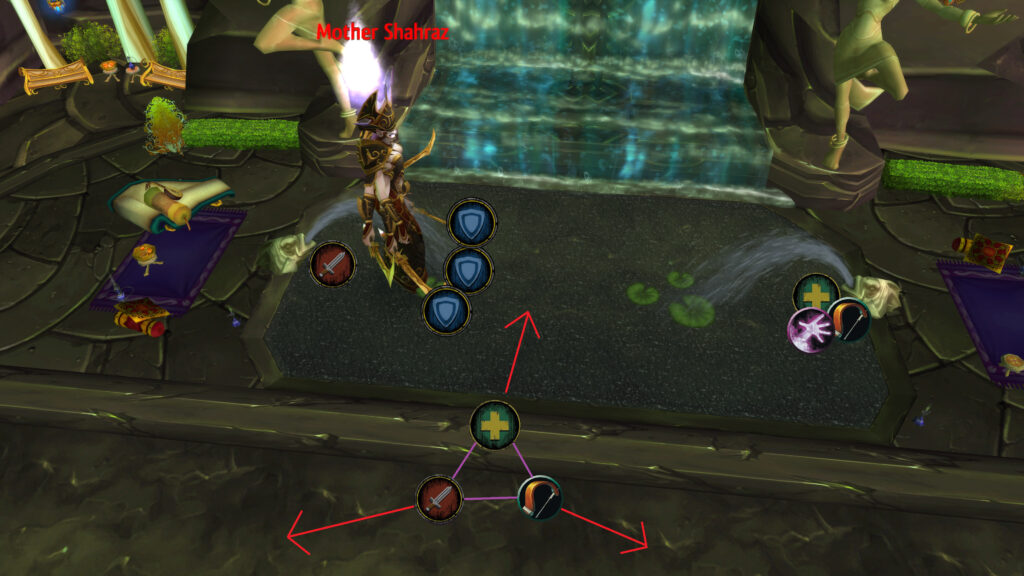 It will be vital that the targeted players start moving away from each other immediately, breaking the chains in the process. If possible, they should do so without moving towards other raid members, to avoid causing unnecessary raid damage — but sometimes there'll be no option but to run towards the raid, which will usually be okay if the chains break quickly.
Your healers will need to keep an eye out for this and as much as possible try to heal the targeted players, to give them a slightly better chance of surviving. However, the damage comes so fast that your healers may very well not be able to react to it, so each individual player will be responsible for moving quickly and using everything they can to stay alive, such as Master Healthstones, Major Shadow Protection Potions, etc. Realistically however, people will be dying to this ability, so you should be ready to combat res them as necessary to keep your raid going.
Note that occasionally, Shahraz might choose to teleport the 3 targeted players into your ranged stack. When that happens, you're likely going to wipe, as your entire raid takes an unhealable amount of damage. That is an unfortunate byproduct of using this "fish position" strategy, and there's not much you can do – just res and try again. This scenario will be rare enough that it's not worth it to use a different strategy for most guilds.
The final ability you'll see from Shahraz will be her Silencing Shriek. Provided you've positioned correctly, this ability will just be an annoyance for your spellcasting melee DPS — Enhancement Shamans & Retribution Paladins. However, if your tanks weren't on point with positioning Shahraz at the start of the fight, you can expect to wipe, as 10 seconds with no healing will very likely be lethal for your main tank and several raid members.
And that is the entire fight! You have now seen all of Shahraz's abilities. She will keep changing her beams up every 3 casts (so every ~27 seconds), her aura every 15 seconds, and occasionally casting Fatal Attraction & Silencing Shriek. Provided your healers are on point and can keep up with the main tank & raid damage, and your raid has enough shadow resistance that people don't just instantly die to Fatal Attraction, then you are very likely walking away from this fight with some tasty new loot.
The only thing that may yet trip you up is that at 10%, Shahraz will enrage, increasing her attack speed and damage dealt by a small amount. You are hardly going to notice it as she hits like a truck and the buff isn't that major, but it is a good idea for your MT to use a defensive cooldown to ensure a kill.
Congratulations on beating Mother Shahraz! With this, only the Illidari Council stands between you and the final boss of the Black Temple, Illidan Stormrage himself!