Welcome to our beginner's guide for casually playing a Holy Paladin healer in World of Warcraft. This guide is intended for players who prefer a less complex play style.
Talents & Builds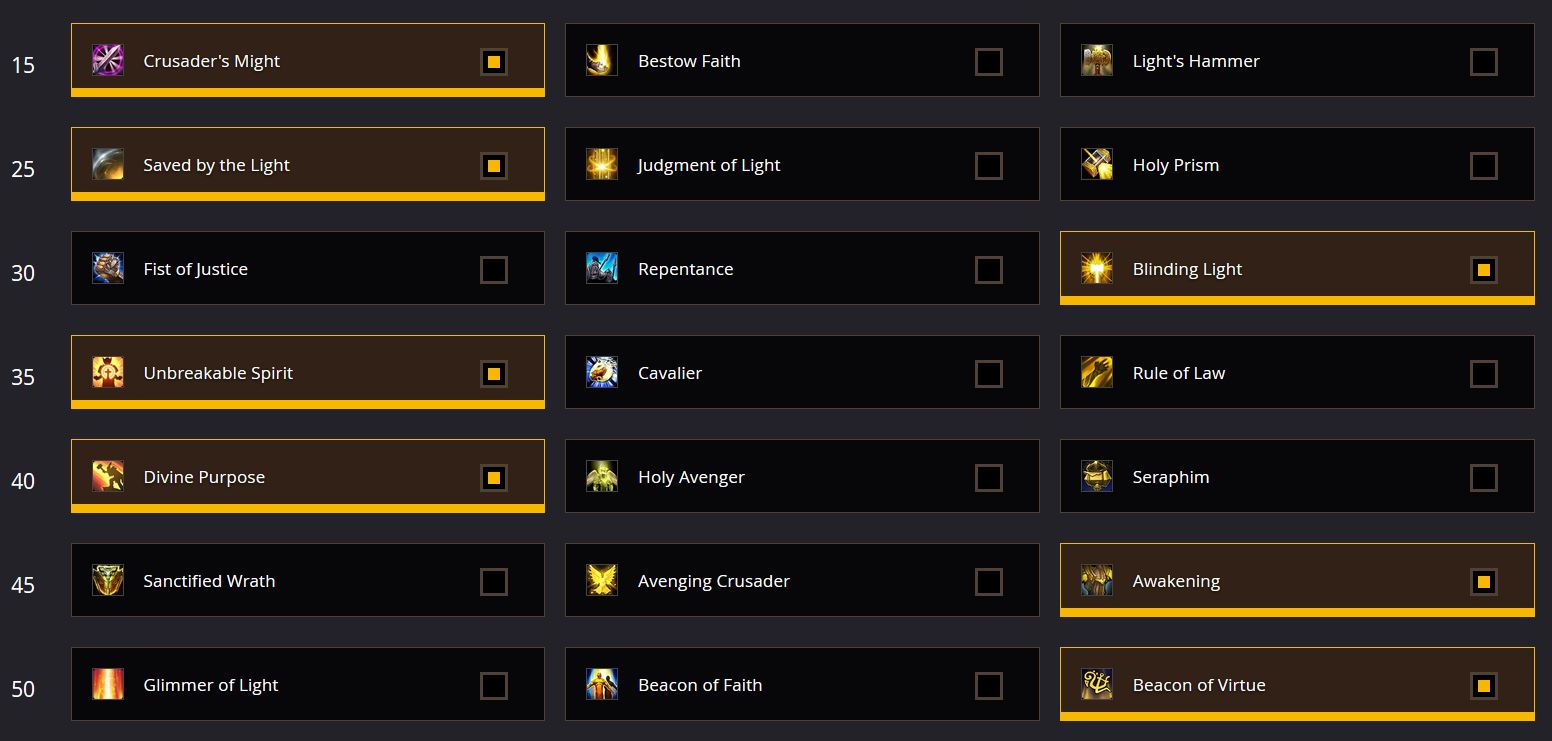 Stat Priority
Intellect
Haste
Versatility
Crit
Mastery
Abilities
Rotation
Gems & Enchants
Gems
As of right now the best option is Haste gems.
Enchants
Covenant
Kyrian is currently the best choice for a casual player playing a Holy Paladin, as

Divine Toll provides you with a very powerful ability on a very low cooldown.
Divine Toll: Instantly casts 5 Holy Shock on nearby allies or enemies
Phial of Serenity: Removal of all diseases, poisons, curses and bleeds with a small heal
Conduits
Here you can find a list of Potency Conduits and Endurance Conduits in order of priority. Feel free to use whichever Finesse conduits best suit your play style.
Potency Conduits

Ringing Clarity – Divine Toll has a 40.0% chance to cast 3 extra time on the main target.
Drops from multiple World Bosses:

Valinor
Mortanis
Nurgash Muckformed
Oranomonos the Everbranching

Focused Light – Holy Shock's critical effect chance is increased by 5.0%.
Drops from the last boss in Spires of Ascension, Devos, Paragon of Doubt
Endurance Conduits

Golden Path – Consecration heals you for 200 every 1 sec while standing within it.
Drops from Castle Nathria, Lady Inerva Darkvein encounter. This can be obtained from LFR.

Shielding Words – Casting Word of Glory grants you a shield that prevents damage equal to 15.0% of the healing done by Word of Glory. Lasts 10 sec.
Drops from Castle Nathria, Sun King's Salvation encounter. This can be obtained from LFR.
Legendary
The best overall legendary for casual Holy Paladin is

Shock Barrier.
Holy Shock protects the target with a shield of Holy Light for 18 sec, absorbing damage equal to 20% of the Holy Shock every 6 sec. Can protect up to 5 targets.

Memory of the Shock Barrier is dropped in Torghast, Tower of the Damned in the Coldheart Interstitia wing, Layers 3 and higher.