There are a few different reasons you might need to get to Mechagon. Maybe you want to complete some achievements in the zone, or maybe you need to get there to unlock the Mechagnome allied race. Whatever your reasons, you can just fly there from Drustvar or Stormsong Valley if you have unlocked flying in Battle for Azeroth. But if you haven't unlocked flying yet, or if you want to be able to do the quests in Mechagon, you will need to unlock the quest Fame Waits for Gnome One (Alliance / Rumors of Mechagon (Horde). This requires completing a large number of quests in the other Battle for Azeroth zones. But not to worry – we're here to help!
Here's what you'll need to do before you can head to the Mechagon zone:
The Battle for Azeroth introductory quests (Come Sail Away for Alliance or Welcome to Zandalar for Horde)
The Heart of Azeroth introductory quests
Friendly with 3 of your faction's reputations (Uniting Kul Tiras for Alliance or Uniting Zandalar for Horde)
Establish all 3 footholds for your faction's war campaign
The Nazjatar introductory quests
The Mechagon introductory quests
Note that the Uniting Kul Tiras (Alliance) / Uniting Zandalar (Horde) quest requires level 60, so that is the level you will need to be to reach Mechagon.
As you can see, there's a lot to do – so let's get started!
Starting Battle for Azeroth
Before you can get to Mechagon, you'll have to get to your faction's main city for the Battle for Azeroth expansion. To do this, you'll need to do the introductory questline. We have a separate walkthrough for that in our BFA Intro Guide.
If you follow that chain, you should get the achievement Come Sail Away (Alliance) / Welcome to Zandalar (Horde), which will open up the portal to your faction's capital city and give you access to the Scouting Map, which is needed for the next step.
Getting the Heart of Azeroth
You can do this step as late as mid-Nazjatar, but getting it done early will allow you to level your Heart of Azeroth while you do the other quests. You will need to be level 50 before you can do this chain.
After speaking with the Earthen Guardian in either Boralus or Dazar'alor, head to the portal room and take the portal to Silithus. For an in-depth guide to this quest chain, check out our How to Get the Heart of Azeroth guide.
The three quests to complete here are:
When you're done, leave the Chamber of Heart the way you came in and head back to Boralus or Dazar'alor through the portal.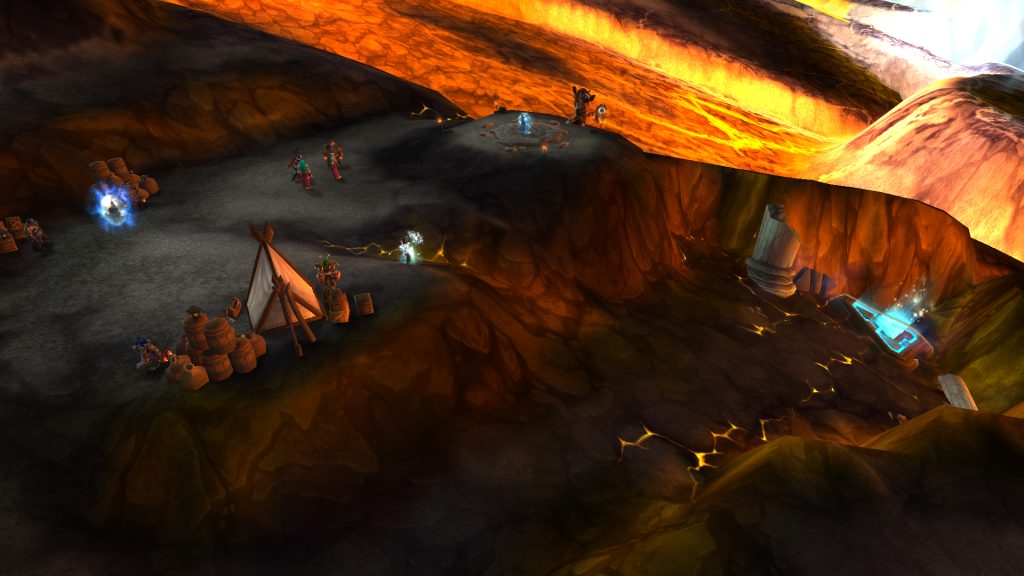 Getting Friendly With Your 3 Factions
Once you have opened up the Scouting Map, the next step is to quest through each of the zones on your home continent until you reach Friendly with its associated faction.
Establishing Footholds
The Nazjatar Campaign
You've already quested through six zones — but wait, there's more! Before you can get to Mechagon, you have to go to Nazjatar. You'll follow this quest chain until you unlock world quests in the zone, which will also unlock the Mechagon quest chain.
This step requires that you be level 60.
Getting to Mechagon
You're almost there! Now you just have to turn in a couple of quests, and you'll be able to get to Mechagon.