Getting started with content from the Legion expansion requires two steps: completing the Broken Isles introductory quests, and unlocking your class's order hall through a class-specific quest chain. Both of these prerequisites must be done before you can begin questing through zones in the Broken Isles. In this guide, we'll go through it all in detail.
The Broken Isles Introductory Quests
The first step is to travel to the Broken Isles. To do this, you have a couple of options. If you haven't reached level 50 on any character yet, you may need to complete the Battle for Azeroth introduction before these options become available. We have a separate guide for that here: BFA Intro Guide. Once you have completed the Battle for Azeroth introduction and earned the Welcome to Zandalar (Horde) / Come Sail Away (Alliance) achievement, you should be able to start the Legion quests.
This introductory quest chain will take you through a scenario and a few quests in your capital city before teleporting you to New Dalaran. Demon Hunters get their own separate quest chain, which we've given its own section for convenience.
Getting to New Dalaran
Whichever route you take, you will finish in New Dalaran, where you will receive your Dalaran Hearthstone. This is an extra Hearthstone specifically for this city, so you don't need to set your regular Hearthstone here.
If you find yourself missing a Dalaran Hearthstone, you can also get to the city via portal. There are two options:
Valdrakken

If you have done enough Dragonflight content to access the city of Valdrakken, you can take a portal straight from that city to New Dalaran.

Orgrimmar or Stormwind

You can take a portal from the portal room in your faction's capital city (Stormwind or Orgrimmar). Look for the one that's labeled "Portal to Azsuna" when you hover over it. If you open your map, you'll see the city of Dalaran floating off to the east of your current location. Fly up and eastward to head there.
Once you're in Dalaran, head to the Legerdemain Lounge inn and talk to Amisi Azuregaze to get your Dalaran Hearthstone.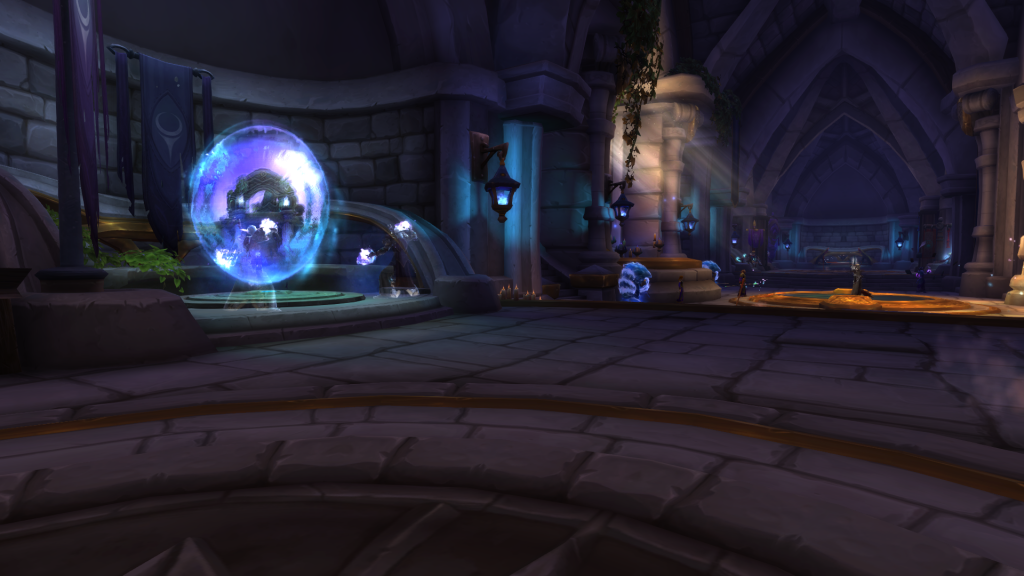 Unlocking Your Class Order Hall
After you have turned in In the Blink of an Eye, an NPC will appear and follow you around with a class-specific quest. There is a short delay for this NPC to appear, so just give the game a few seconds!
Completing your class quest chain will get you your first artifact weapon. It will also unlock your order hall, which is required to start the zone quests.
Getting to Your Class Order Hall
If you need some help getting back to your order hall once you've unlocked it, here is how you can get back to each one: