From now until August 15th, players from North America can sign up for the new WoW Variety Show that begins on the 24th. This event will be broadcasted live on Twitch, where players will be competing alongside four Celebrity contestants in 3 different activites:
Leveling Competition: Four Warcraft Celebrity Contestants will have an hour to level a fresh character as high as possible on a live server. Meanwhile, players will be able to interact with these contestants and help them with their leveling. The winning Contestant will receive digital goodies to distribute to their community.
Scavenger Hunt: 4 teams of 5 players, each led by one of the Warcraft Celebrity Contestants, will have one hour to complete a series of tasks throughout several zones. The team that either finishes all of the tasks first, or that completes the most tasks before the timer runs out, will receive digital awards from Blizzard.
Race Through Azeroth: Players will race through a series of check points, with no flying mounts, to reach the finish line.
Schedule
Leveling Competition – 5:00 pm PST
Scavenger Hunt – 6:00 pm PST
Race Through Azeroth – 7:00 pm PST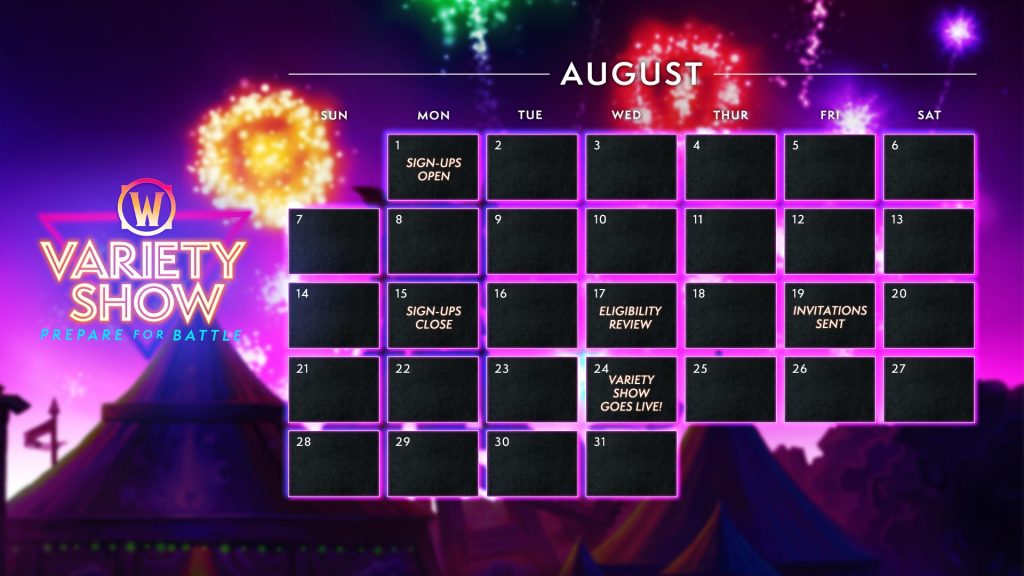 Signups
While the four Celebrity Contestants are yet to be announced, players from North America can already sign up for a chance to participate in these activities here, until 11:00 am PT on August 15th, and join the Variety Show Discord here. Keep in mind that the spots are limited, so signing up does not guarantee that you will get to participate in the WoW Variety Show.
For more information, make sure to check out the official post below.
Blizzard Entertainment – (
Source
)
The WoW© Variety Show is a new three-event live broadcast coming to Twitch on August 24!
For glory and honor, a mix of renowned Warcraft Celebrity Contestants and chosen community members will go head-to-head as they compete in a triathlon of unique WoW activities. Players will have to show off their in-game knowledge, mastery of leveling, and speed in our specially-tailored segments for bragging rights over their fellow heroes and a slew of giveaway prizes. Read on for details of each event, and be sure to both register here and join the Variety Show Discord before the event goes live on Twitch!
LEVELING
We've seen what some of our favorite friendly faces can do at max level, but now we're taking them back to where it all began. Hosted on live servers, four Warcraft Celebrity Contestants will have exactly one hour to level a fresh character as high as possible, with a series of additional tasks and challenges to face along the way!
SCAVENGER HUNT
From lore to unsolved mysteries, the Warcraft universe is filled with all sorts of hidden items. Faced with riddles, puzzles, and plenty of things to find, teams of five will need to work together, making the most of their time as they scour the zones and complete as many scavenger tasks as possible! Register today to start your search, because spots are limited.
FOOTRACE THROUGH AZEROTH
The final activity comes down to a test of speed and strategy, as players will fight without flight on a footrace through Azeroth! Grab your ground-mounts and go sign-up today. May the fastest hero win!
FAQ
Who can register?
The first Variety Show is limited to players from North America. Full eligibility and rules can be found here.
When does registration close?
Signups will be open until 11:00 am (PT) on August 15.
Who are the four WoW Celebrity Contestants?
The four will be revealed in the coming weeks! Make sure to follow us on Twitter to catch who will be joining the broadcast.
What prizes are being given away?
We will be giving away a variety of in-game goodies–Game Time, Mounts, Pets, and some special surprises–to players throughout the broadcast.
How many spots are available?
Spots are limited! The four Celebrity Captains will be joined by a further four registered players to join each of their teams, be sure to sign up for a chance to be selected. The Footrace Across Azeroth is open to additional players. Limiting spots allows us to ensure the best experience for everyone as we experiment with our first Variety Show.
How often will you be hosting the Variety Show?
Only time will tell! Let's see how the first one goes before we plan on the second.