World of Warcraft expansions are always a cue for the gaming industry to get excited as the fans divide themselves down the middle. Half of the Warcraft fans herald the expansion as the saviour of the MMO while the other refuse to have anything to do with it because it changes something that they think is fundamental or because it includes pandas or something.
The latest World of Warcraft expansion called Mists of Pandaria is due for release on the 25th September this year.
'Mists of Pandaria' brings with it…
Another 5 levels, bringing the maximum level to 90
The Monk class
The Pandaran race, basically pandas.
A vanity pet combat system
A revamp of the talent trees
The new continent Pandaria
Challenge mode dungeons
PvE Scenarios
You can find more info on all of those here on the Official Mists of Pandaria site and the trailer just a eye-movement away.
It's been out for pre-order for a while, but up until recently I wasn't even sure if I was going to buy it. I had been playing Star Wars: The Old Republic and enjoying it well enough, but I found myself missing the familiarity of World of Warcraft. Over a few days, my enthusiasm with SWTOR disappeared altogether and was replaced with wow. So much so, that I cancelled Star Wars and subscribed back to World of Warcraft.
Even while I was playing, I knew that were so many things against the new expansion that it seemed pretty silly and wasteful to buy it. The biggest issues I had with Mists of Pandaria were…
Panda's – I mean Panda's. Of all the bears to choose from, there's only really koala's which are further down the scary list than pandas.
All the issues I have with the game will still be there after the expansion. Not being able to devote time to end game, getting bored with the endless questing zones, and the repetitive PvP gameplay.
It costs about £30 to buy and if I'm not sure I'm going to play it, it's a waste of money.
They were, and in many ways still are the issues that run across my mind. Though honestly, the panda thing doesn't bother me that much. I'm not a lore junkie, if you can have giant talking cows why not giant talking panda's. Regardless, I know that all those issues will still be there come launch day.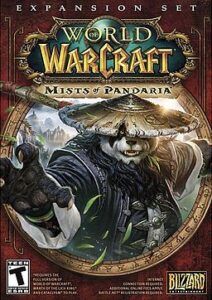 Yet I know that I am going to buy it. I'm not resigned to buying it, I actually think it will be quite fun. How does Blizzard do that? Make a game that can split me down the middle so much. Usually it's so simple in my mind; Big Brother, Twilight movies, rectal examinations = bad; cheesecake, lottery wins, stroking a puppy = good. See, simple, but not where Blizzard is concerned. Diablo 3 had a similar ambivalence about it though to a lesser extent. I've not bought it yet but I think that was down to not affording it rather than deliberately not buying it.
So yes, I am definitely excited about Mists of Pandaria even though it includes Panda's and WoW Pokémon. Even though I will hit the same enthusiasm barriers I do with every World of Warcraft expansion. I'm excited because I know the content will be fun to play, though for how long is questionable. Do you get free months with expansion packs? I don't think you do, do you? Oh well.
I will probably always end up going back to World of Warcraft, it's the familiarity of the game.I know I have used this familiarity as a reason why I left WoW in the past, but even if that was the case it's what brings me back as well. I don't have time to devote myself to finding out everything in another MMO, so to go to one which seems so comfortable is easy and honestly that's what I want in a game.
So, until the post where I undoubtedly decided to leave World of Warcraft for one reason or another I'm gonna quietly look forward to the new Mists of Pandaria expansion but at the same time hope my enthusiasm has worn off before I spend the £30 to buy it.