Shadow Priest Damage Coefficients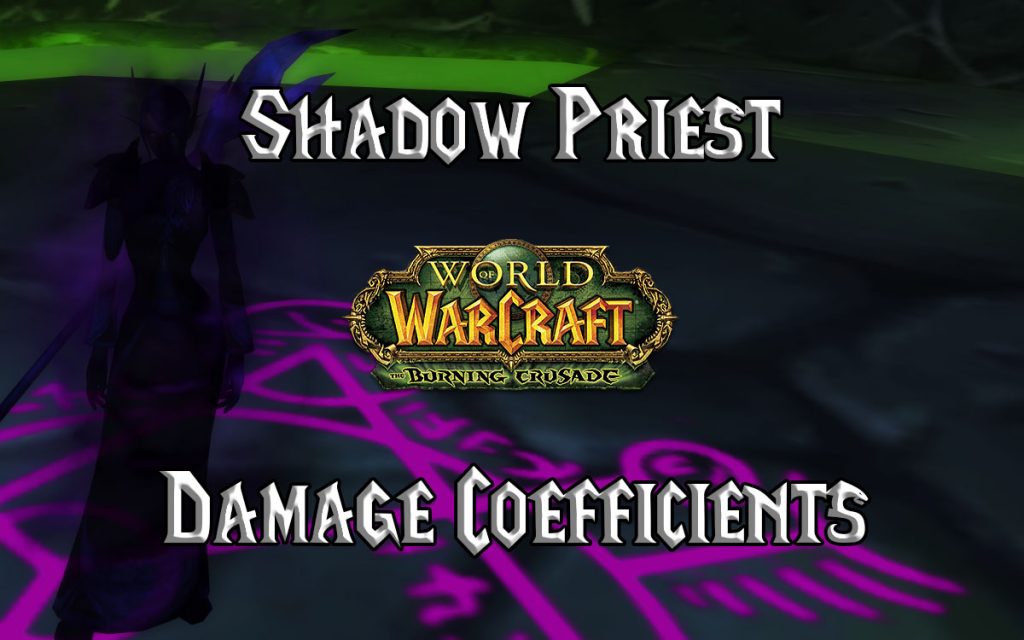 Table of Damage Coefficients
| Spell | Untalented | Talented | DPS increase per +dmg |
| --- | --- | --- | --- |
| | 57% | 83% | 0.276 |
| | 110% | 214% | 0.089 |
| | 43% | 63% | 0.419 |
| | 43% | 63% | 0.419 |
| | 100% | 146% | 0.097 |
* A improved Shadow Word: Pain will not only get all the usual bonuses a shadow damage spell gets, but also nets a large extra bonus for being a longer than average DoT (due to the normalized DoT duration). A SW:P with just increased duration and no extra talents gets 160% effect from gear. A SW:P with no increased duration but all the other talents would receive 184% of the effects on gear (though why anyone would go that way is a mystery).
The Math
Base
Talents
Untalented is without talents in the Shadow tree.
Talented is with all the bonuses of the Shadow tree factored in:
These bonuses combine multiplicatively, resulting in: 110% * 105% * 115% * 110% = 146%
This guide originally comes from the Shadowpriest.com Wiki, which we own.
Topic starter
Posted : 07/12/2020 9:55 pm
This is useful. However, are the DPS increase per +damage correct for the DoTs (pain/VT)? They show as lower than the others even though they are receiving higher damage coefficients. Is there an extra 0 there? For example, not .089 DPS increase per +damage but +.89?
Posted : 05/01/2021 7:33 pm
The dmg increase should be correct. The dps increase for dots is lower because the increase is meassured per second. Since Dots have a duration of effect you have to divide by the duration to see the damage increase per second.
Posted : 05/03/2021 11:19 am
Hey I know this is 5 months too late but no they are not correct, they are measuring the damage of the spell as if its a 23 second cast, when it is in fact a 1.5 second cast and the dps should be calculated accordingly
Posted : 05/07/2021 6:25 am
Hey Im sure this is an old feed, but I'm wondering if Misery can stack with multiple shadow priests, or is the bonus only able to be applied once?
Posted : 11/03/2022 12:39 am
If my spell takes 60 seconds to cast, and does 60 damage, it does 1 damage per second.
If my spell takes 30 seconds to cast, and it deals damage over a 30 second debuff, and it does 60 damage, then my spell does 1 damage per second.
Hope that helps.
Posted : 20/04/2022 9:17 pm