Leak: TBC Classic Beta in Feb, Release in May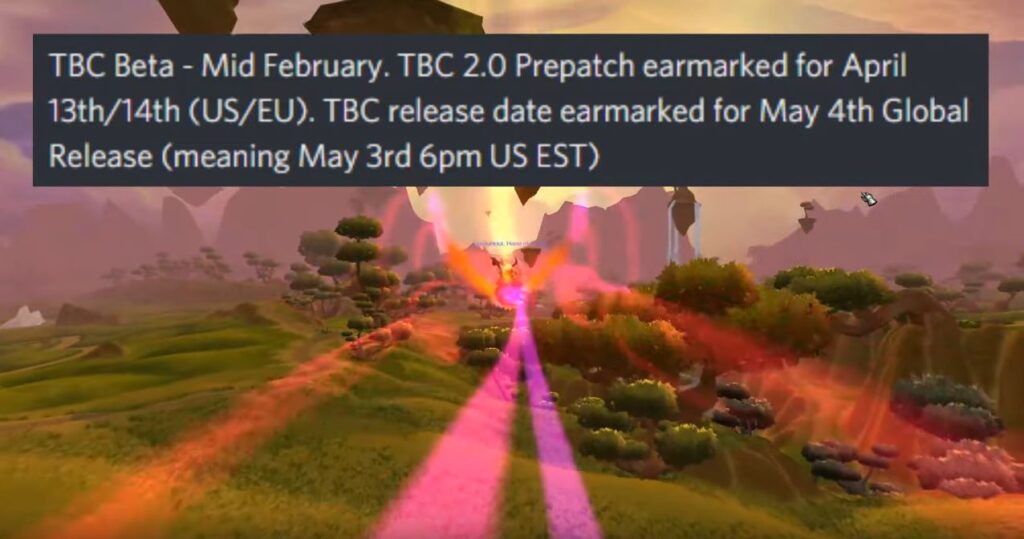 We've had rumors of upcoming release information for TBC Classic for the last couple of weeks, most notably from Nano (a former member of Nostalrius).
The TBC news is coming folks. Hold on to your butts, make sure you're following all your favorite Classic streamers and stay safe out there... pic.twitter.com/SPzgN3BJpy

— Nano (@NanoNost) December 29, 2020
It seems that they've finally been revealed by Staysafe TV on his channel.
TBC Beta - Mid February. TBC 2.0 Prepatch earmarked for April 13th/14th (US/EU).
TBC release date earmarked for May 4th Global Release (meaning May 3rd 6pm US ESY)
Staysafe mentions that he's heard this leak from multiple sources, however leaks should always be taken with a grain of salt.
News of a Prepatch means that in some way we'll see existing realms progressing from WoW Classic to TBC, meaning that if players want to keep their character as WoW Classic only they would need an option to copy/move it to a non-progressing realm.
IMO - Current servers progress directly to TBC alongside a small number of "fresh" tbc servers with the 2.0 prepatch or TBC official launch. With a character copy option for a perma-vanilla realm and "Fresh" classic realms sometime in the future.

— Nano (@NanoNost) December 20, 2020
Topic starter
Posted : 29/12/2020 3:57 pm
I know some people consider this too fast but with population declining so much since AQ I'm ready for TBC.
Posted : 29/12/2020 4:24 pm
Posted : 29/12/2020 4:44 pm
We should end up getting a lot of information during Blizzconline then, the dates align for the TBC beta in mid February.
Posted : 29/12/2020 4:51 pm
Posted : 29/12/2020 5:18 pm
I want to create a Draenei Shaman.
Posted : 29/12/2020 6:50 pm
TBC and Wrath are the golden age of WoW. Everything good about Vanilla with more quality of life improvements, all specs viable, and heroics.
Posted : 29/12/2020 7:28 pm
NO Classic plus. No WoW for me
Posted : 29/12/2020 7:44 pm
for me it was the end so far and will be again. this time earlier -iI won't play tbc again.
Posted : 29/12/2020 7:46 pm
Posted : 29/12/2020 7:55 pm
Classic > TBC > Wrath and it ain't even close.
Posted : 29/12/2020 8:55 pm
Posted : 29/12/2020 9:26 pm
I don't like the world buffs. This is the reason I want TBC to come as fast it can. Vanilla is good, but not all classes and spec are viable. I think it will be a good progression for all. I also like the idea to still allow player to play vanilla on seasons base.
This post was modified 1 year ago by Georgi
Posted : 29/12/2020 9:47 pm
tbc has even more consumables than vanilla has + world buffs have a percentage increase, so you can assume ppl will farm hakkar hearts and burn them before their bc raid starts, only that portals will go to shattrath instead.
Posted : 29/12/2020 10:27 pm
The flood of blood elf paladins is coming.... again.
Posted : 29/12/2020 10:41 pm