In news that shocked absolutely everyone, Microsoft announced that they agreed to a deal to purchase Activision Blizzard. If the deal is completed, it would be the largest acquisition of a game studio in history, valued at $68.7bn — all cash.
Activision Blizzard's future has been very uncertain as of late, to put it mildly. With multiple projects delayed indefinitely, others like World of Warcraft Classic suffering from a lack of attention by developers, and multiple failed projects like Warcraft III: Reforged, there was a lot of unease and anxiety among fans.
It would seem that Microsoft was eager to capitalize on that unease and the 40% drop in stock value that Activision Blizzard experienced over the past year. This is just one of a series of acquisitions of major companies and game studios that Microsoft has carried out since Satya Nadella took over as CEO of the company.
But the purchase of Activision Blizzard is by far the largest one yet, trumping the purchase of ZeniMax Media (the parent company of Bethesda) by almost 10 times the value, at $68.7bn for Activision Blizzard vs $7.5bn for ZeniMax.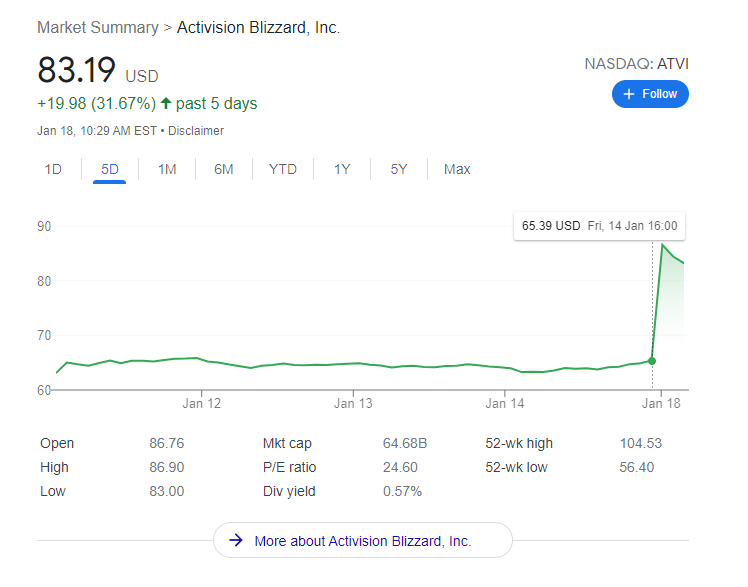 The previously lagging stock value of Activision Blizzard saw a massive 32% jump as a result of these news, prior to the market opening. This was clearly a short-term effect, resulting by people buying in large quantities after the news broke, evidenced by the fact that the stock's value has been dropping steadily since the market opened.
Nonetheless, executives at both companies must be very pleased. Microsoft's market share of the gaming industry is expanded even further, while Activision Blizzard executives get a small break from the torrent of bad news that has surrounded the company for the entirety of the last year.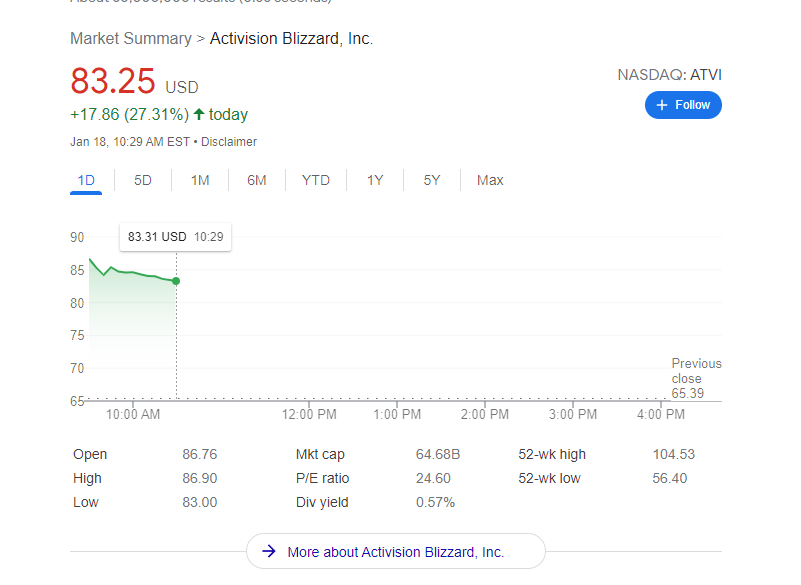 But what fans care about the most, is what this will mean for the future of Activision Blizzard. Microsoft has a notoriously poor track record of of dealing with studios they have purchased, with Rare being one of the most famous examples of what fans describe as Microsoft killing studios they purchase via corporate overreach and a complete shift in tone and focus. Lionhead, another popular game dev studio acquired by Microsoft, largely had the same fate.
On the other hand, Minecraft was revitalized following Microsoft's purchase of its developer, Mojang. So perhaps Activision Blizzard will not follow in the footsteps of Rare or Lionhead, becoming a soul-less, corporate-ruined husk of their previous self. Perhaps it will be revitalized like Mojang and Blizzard IPs will stand on the top of the gaming sphere again.
Only time would tell, but we can certainly hope.