Welcome to our beginner's guide for casually playing a Discipline Priest healer in World of Warcraft. This guide is intended for players who prefer a less complex play style.
Talents & Builds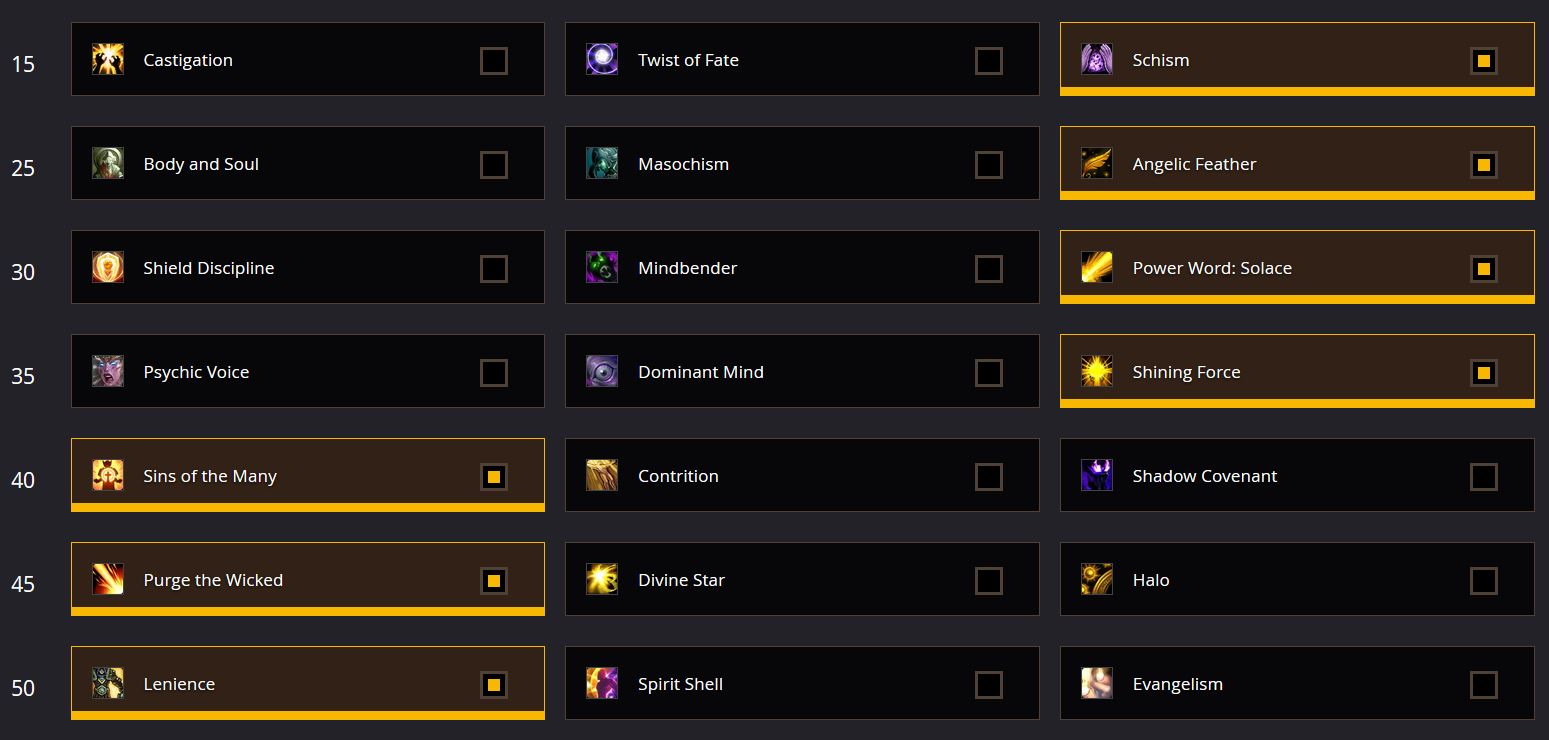 Stat Priority
Intellect
Haste
Critical Strike
Versatility
Mastery
Abilities
Rotation
Gems & Enchants
Gems
As of right now the best option is Haste gems.
Enchants
Covenant
Venthyr is currently the best choice for a casual player playing a Discipline Priest. The class abilities are

Mindgames and

Door of Shadows.
Mindgames provides a high damage/pseudoabsorb ability on a low cooldown
Door of Shadows helps with your low mobility as a disc priest
Conduits
Here you can find a list of Potency Conduits in order of priority. Feel free to use whichever Endurance and Finesse conduits best suit your play style.

Shining Radiance – Power Word: Radiance's healing is increased by 40.0%.
Drops from the last boss in The Necrotic Wake, Nalthor the Rimebinder
Lootable from Tribute rewards of Covenant Callings (Covenant Daily Quests).

Shattering Perceptions – Mindgames lasts an additional 2.0 sec, deals an additional 15.0% initial damage, and reverses an additional 15.0% damage or healing.
Drops from multiple World Bosses:

Mortanis
Nurgash Muckformed
Oranomonos the Everbranching
Legendary
The best overall legendary for casual Discipline Priests is

The Penitent One.
Power Word: Radiance has a 60% chance to cause your next Penance to be free and fire 3 extra bolts.

Memory of the Penitent One is dropped in Torghast, Tower of the Damned in The Soulforges wing, Layers 3 and higher.
This legendary can be crafted for the feet slot or back slot, but the feet slot is preferred.