Author: RhadigarTV
Date: April 20, 2021
Expansion: WoW Classic
As announced yesterday, today's scheduled maintenance brought Patch 1.13.7 for WoW Classic and with it came a slew of changes, including the Chronoboon Displacer. In case you missed it, you can read through the WoW Classic Patch 1.13.7 Patch Notes by clicking here.
In addition to the patch notes, it appears that several other changes were made that were not disclosed. A reddit user, from /r/classicwow, posted an image from the current client that discloses information about the upcoming Burning Crusade Classic transition. There has currently not been an announcement from Blizzard regarding the release date for Burning Crusade Classic.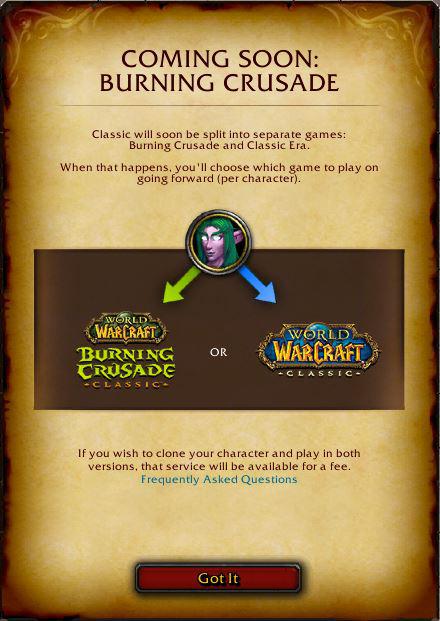 There were also Support pages updated to answer questions regarding both the upcoming Character Cloning and Realm Options once Burning Crusade Classic is released. For Character Cloning, the takeaway from the article is that once a character is cloned, it can not be undone and that each account will come with one free clone. Any other clones on the account will come with a service fee, which has yet to be disclosed. For Realm Options, the takeaway is that Classic Era realms will stay in the Shadow of the Necropolis patch 1.13.7 era and Progression Realms will begin with Burning Crusade Classic.
You can read more information on these two topics by checking out the World of Warcraft Character Clone FAQ and the World of Warcraft Realm Options FAQ pages.