Author: Zephan
Date: July 9, 2022
Updated: September 26, 2022
Expansion: WotLK Classic
Demonology Warlocks have a lot of choices that they have to make when it comes to talents. There are builds that are focussed on bringing the most possible support to the raid, while there are others focused on dealing damage with your pet or even a hybrid spec that goes into the destruction tree to rain down the ultimate fire damage from above. There also are a lot of talents that seem great at first glance but end up not being quite as great if we take a second look. In this section of the guide, we will be going over all the essential talents, what they do and what the options are.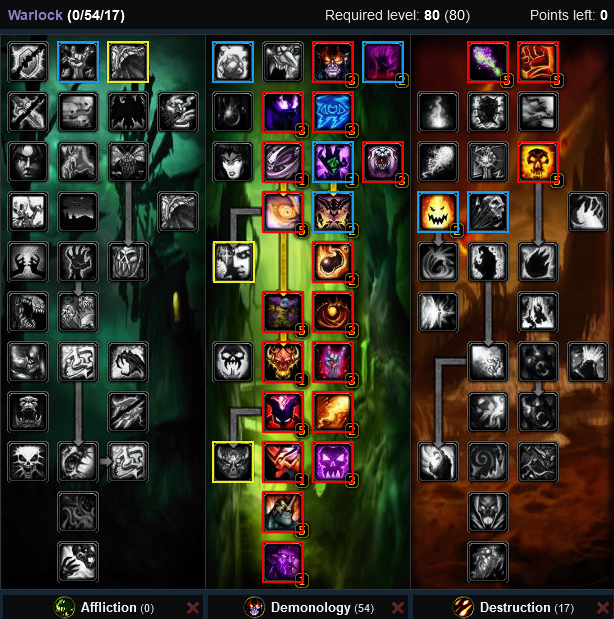 This is the quote on quote "normal" Demonology Warlock build. Characterized by the use of a Felguard, providing Demonic Pact, and changing into a demon through Metamorphosis.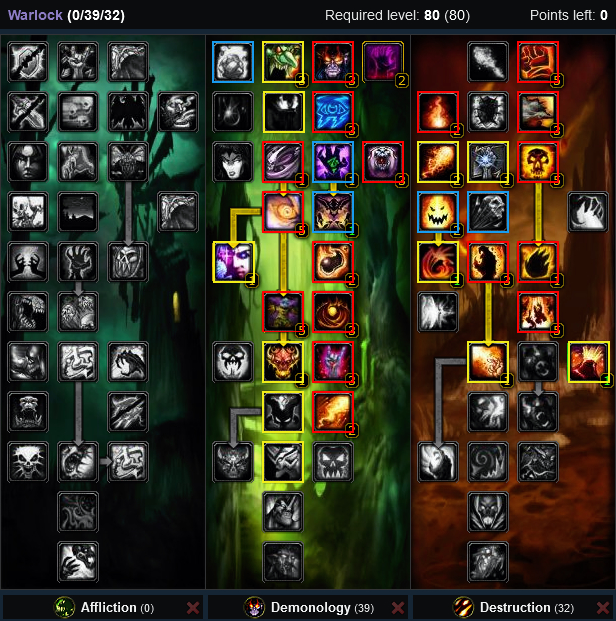 The Hybrid Demonology spec doesn't provide any raid support but does have more single-target DPS. It should also be noted that it has less AoE throughput due to missing out on Metamorphosis which provides Immolation Aura and Shadow Cleave. The specialization also tends to fall behind the better gear becomes available.
That being said there are two slight variations when it comes to the Hybrid builds, the first and most common one talents into conflagrate, which means you won't be able to get your Felguard. Instead, you buff out your Imp to help you rain down fire damage. The other variation you do get your Felguard, however, this does mean you do not get to use conflagrate.
It should be noted that the Yellow Offensive Options change a lot based on the choice of Conflagrate vs Felguard. If you go Conflagrate and use Imp then Mana Feed, Improved Imp, Demonic Power, and of course Conflagrate become mandatory. In the case of Felguard, the same happens to Demonic Brutality and Summon Felguard.
| | |
| --- | --- |
| Red | Mandatory and optimal |
| Yellow | Offensive Options |
| Blue | Utility Options |
Talents
The following is a summary of all the most important talents, what they do and why you should have them, or what choices you have.
Not the first talent you would think about when it comes to Demonology, but Corruption is still good for roughly 5 to 10% of our damage, and Seed of Corruption stays our main source of AoE damage.
When you gain mana from Drain Mana or Life Tap spells, your summoned demon gains 100% of the mana you gain.
During raid encounters this won't be having any use for your Felguard, which will regain enough mana from buffs and regeneration debuffs/ buffs. However, for the Hybrid spec which uses Imp this could come in handy as this little fella burn through mana more quickly.
Increases your summoned demon's critical strike chance equal to 30% of your critical strike chance.
This talent in theory increases the damage from your demon, and at face value, it looks really good. However, we got to keep in mind that our pet only deals roughly between 15 to 20% of our damage, and this only transfers a part of our critical strike chance. On a point-per-point basis for this talent, you might find more value in the use of other talents.
Glyphs
With talents out of the way, it is time to go over our Glyphs. Glyphs are a new addition to the class build mechanic introduced in Wrath of the Lich King. Glyphs can be crafted by the new profession Inscription.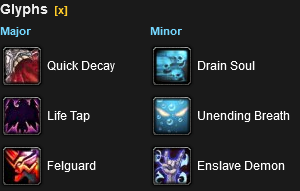 In encounters where your demon might not be able to deal a lot of DPS or burst is really essential you can consider using Glyph of Metamorphosis instead of Glyph of Felguard.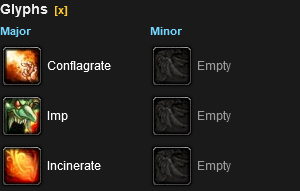 You would swap Glyph of Imp with Glyph of Felguard in case you use your Felguard. And swap Conflagrate with Quick Decay.
Thi glyph is great for any Warlock spec. It provides a significant amount of spell power for little effort. Most often we have to Life Tap anyway within 40 seconds or we have to move somewhere and have no other instant casts to use. This also further increases the impact that our Demonic Pact has.
Increases the Felguard's total attack power by 20%.
Our Felguard is good for roughly a fifth of the damage that we deal, making this in turn one of our best possible glyphs to improve our throughput. Note that in encounters where we can not use our Felguard we should opt for Glyph of Metamorphosis instead.
Your haste now reduces the time between periodic damage ticks of your Corruption spell.
This glyph causes your Corruption to scale with Haste Rating and other cast speed-increasing effects. Corruption is still a good chunk of our total damage, making this glyph the third best DPS increase that we can get.
In general Glyph of Felguard will be a bigger DPS boost, but this only holds true if we can use our dearest friend to deal damage in the encounter. If not we are best off increasing the damage we personally deal. The extra six seconds on Metamorphosis allows us to cast a second Immolation aura (30 seconds cooldown vs 36 seconds metamorphosis duration with the glyph), but it should be noted that we won't enjoy the full duration of that as Immolation Aura will fall off as soon as we lose Metamorphosis.
Both versions of the Hybrid specialization drop Shadow Bolt in favor of going full-time Incinerate. Boosting your predominant filler spell damage by 5% should be a no-brainer.
This glyph is only of interest if you are going the Hybrid route which drops his Felguard in favor of Conflag, and in turn, has to use his Imp instead. This Glyph combined with Improved Imp, Demonic Power, and all other pet boosting talents makes this version of the hybrid spec fully embrace the idea of the machine gun imp.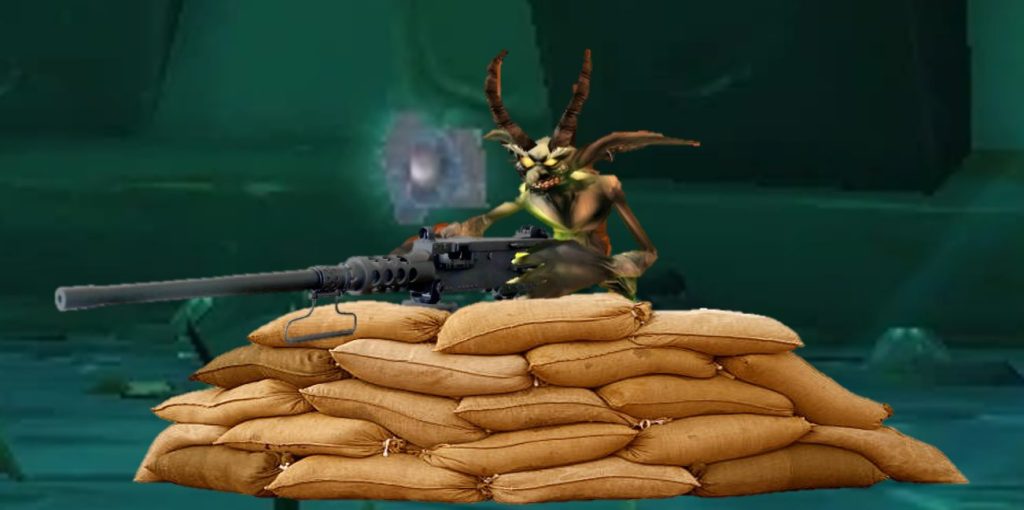 About the Author
Zephan
I am a Classic Warlock enthusiast and in general like theorycrafting. I am the owner and admin of the best community in the whole wide world, being the Classic Warlock Discord. This is the home of some of the best Warlocks in this game and the basis for theorycrafting and figuring out the optimal plays for us warlocks. My aim is to make sure this up-to-date information is out there everywhere to be found and to give back to the community.