Author: Pride
Date: October 15, 2021
Expansion: TBC Classic
There's a massive elephant in the room that is World of Warcraft Classic: dying servers. Take a look at the official Classic forums, US or EU, and you'll see countless threads on the topic, like this, this, this, etc etc. The majority of threads are on the topic of dying servers. Same deal on Reddit, where threads like this are among the most upvoted.
Everyone can see it. One look at ironforge.pro's Demographics tool, which tracks players with logs on WarcraftLogs.com and players who have done any arena games in the last week, is illuminating as to what's going on. At the time of writing this article, ironforge.pro shows 21 servers with a population of under 1000 players,13 of which have 230 active players or less.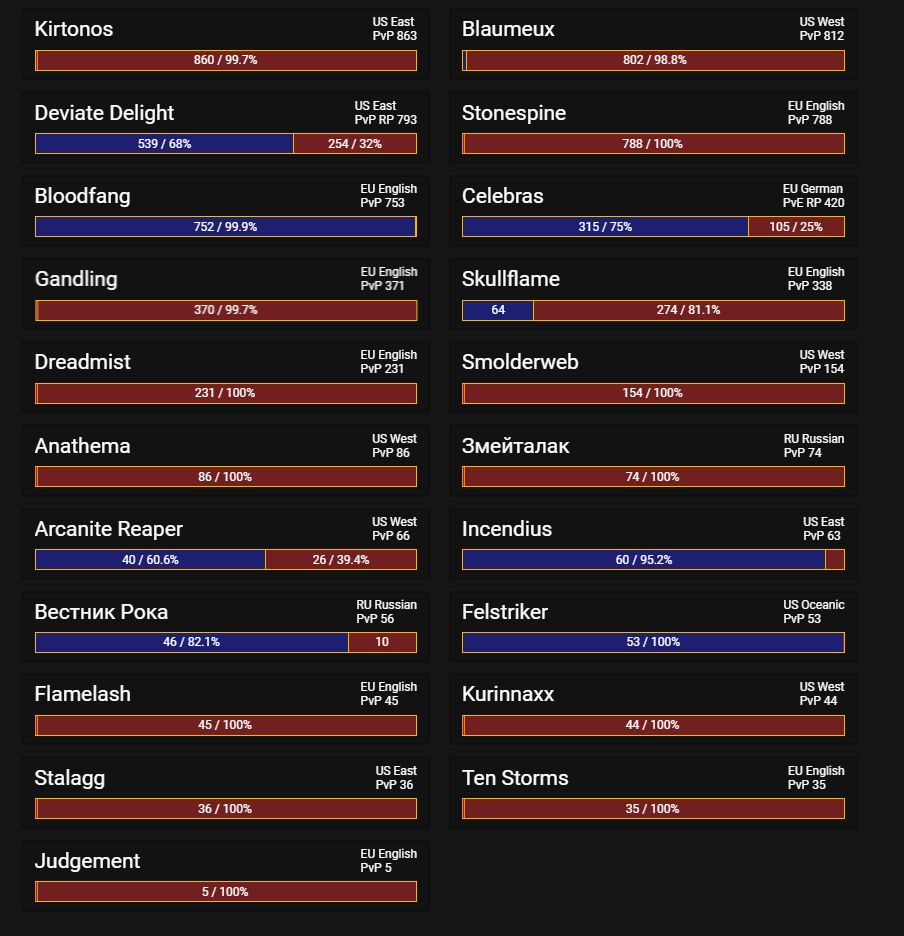 "But this is just the extreme of the extreme — many of these servers were already dead or dying since the very start!" I hear some of you say.
Well, yes and no. Ironforge.pro offers historical data as well, so we can take a deeper look at some of these servers and see what happened.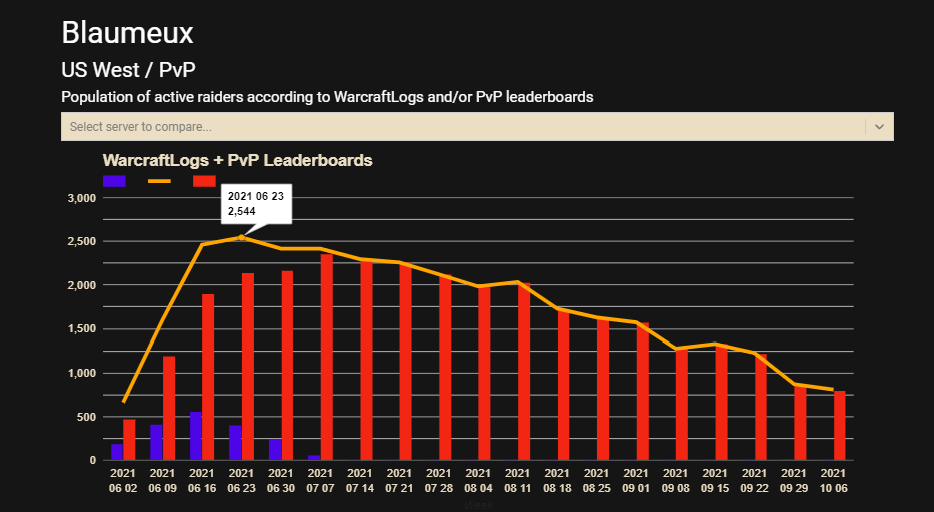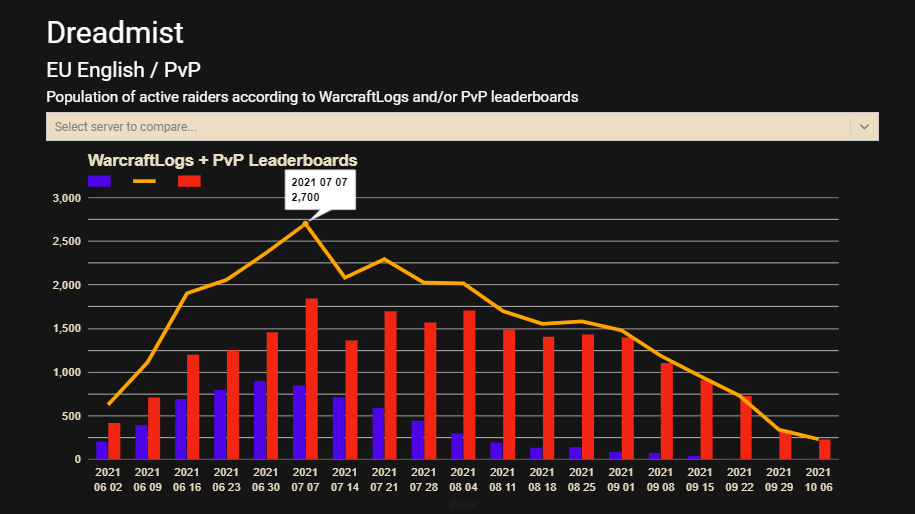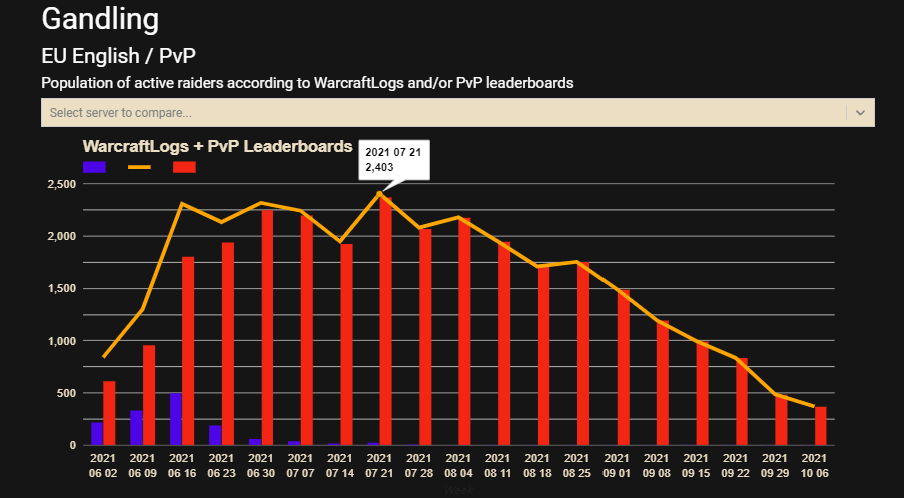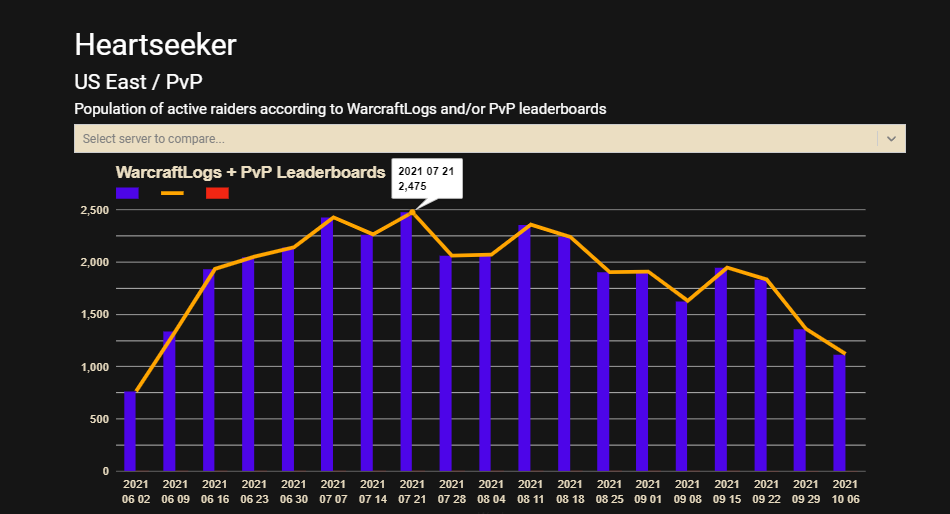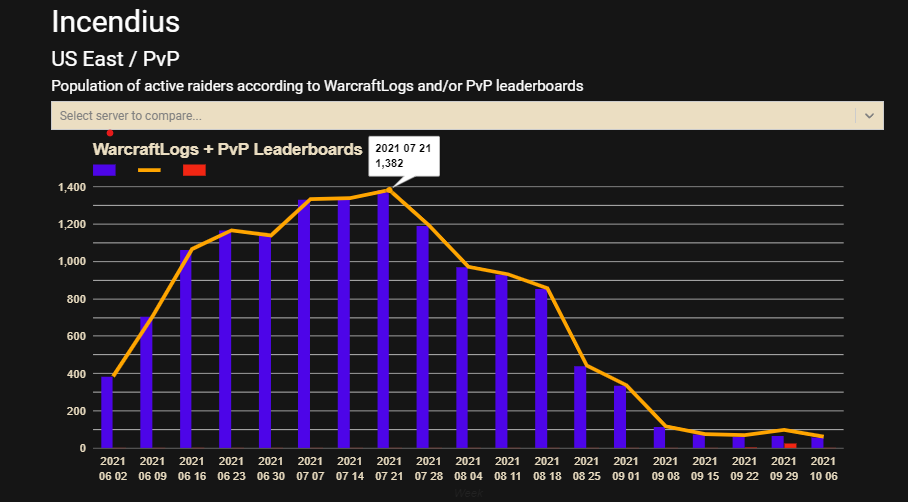 While none of these servers were exactly the busiest out there, they did have a relatively healthy population — in fact, servers back in the day were capped at 2.5-3k players, which would make most of these servers "High" population by 2007 TBC standards, which were certainly doing fairly well back then. Yet for some reason they now imploded to the point where playing on them properly is impossible, forcing players to either quit or transfer off.
What's extremely striking right off the get-go is that these servers are basically unicolor – either 100% dominated by one faction, or close enough, with a subsequent exodus of the underdog faction. This in turn seems to have triggered a general exodus, and it doesn't exactly take a rocket scientist to figure out where these people went since we can clearly see when it all started — early to mid August.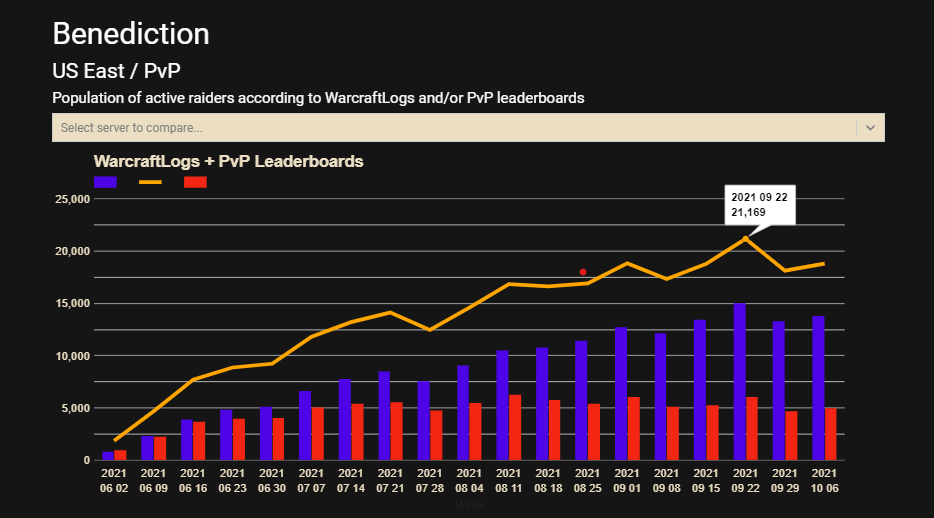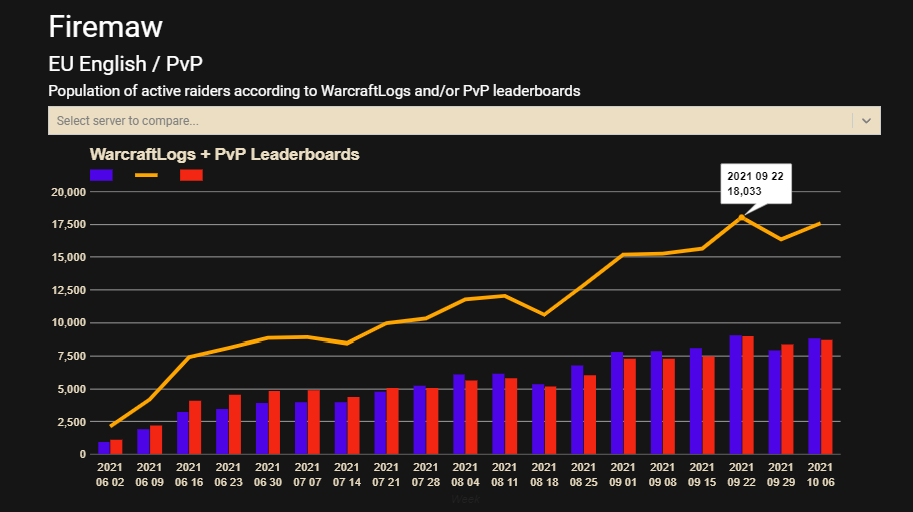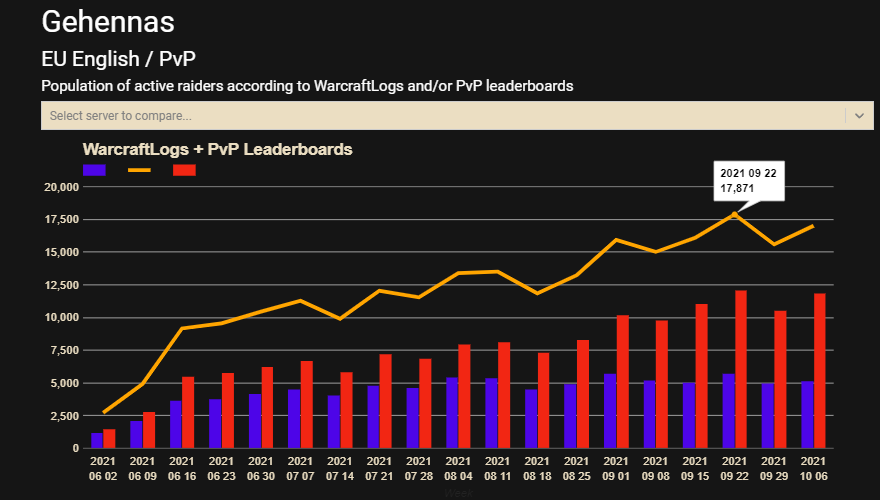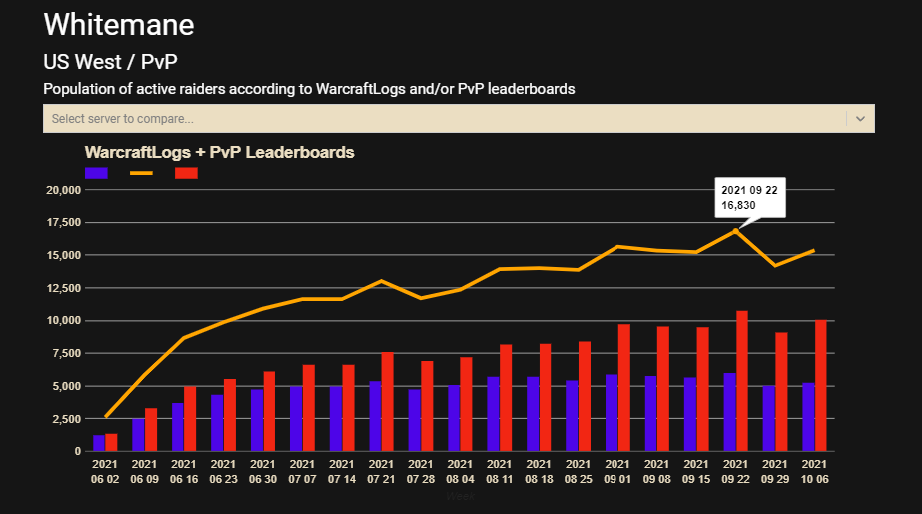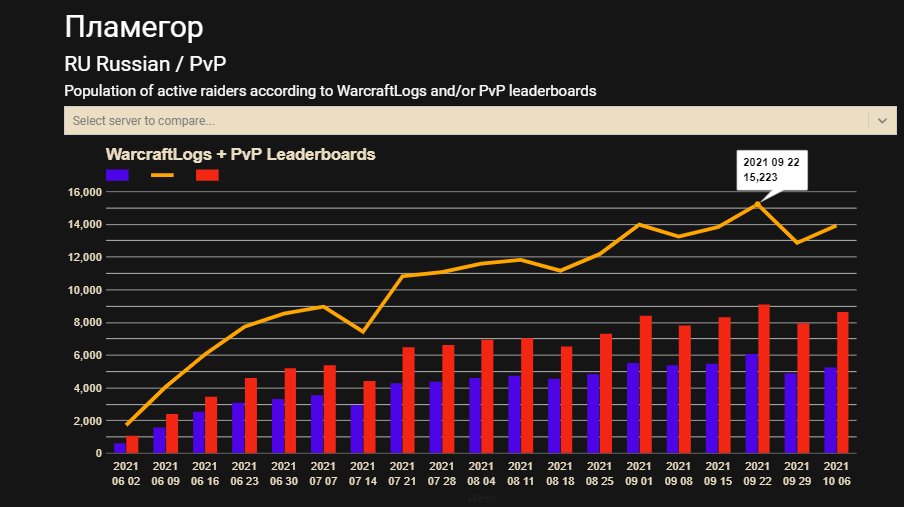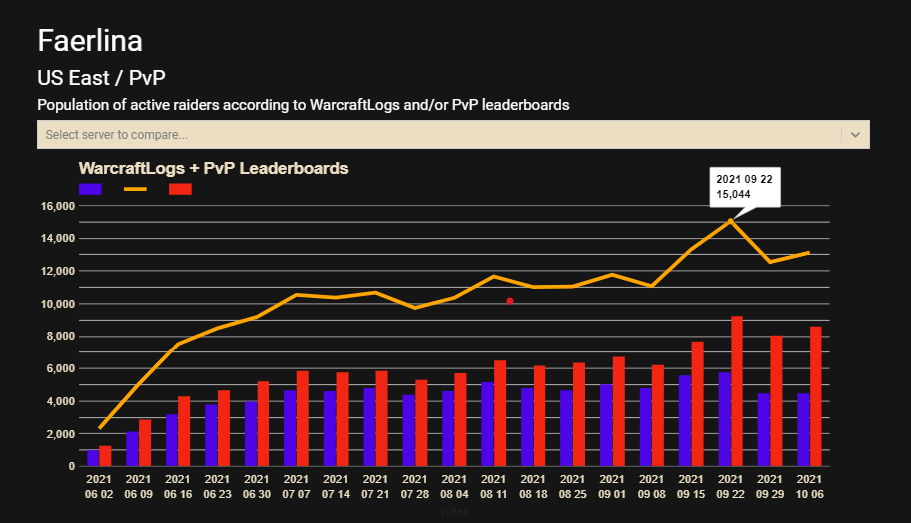 This has resulted in in the formation of ~10 so-called "mega-servers" with ~10k+ players each, while every other server is in free-fall, population-wise.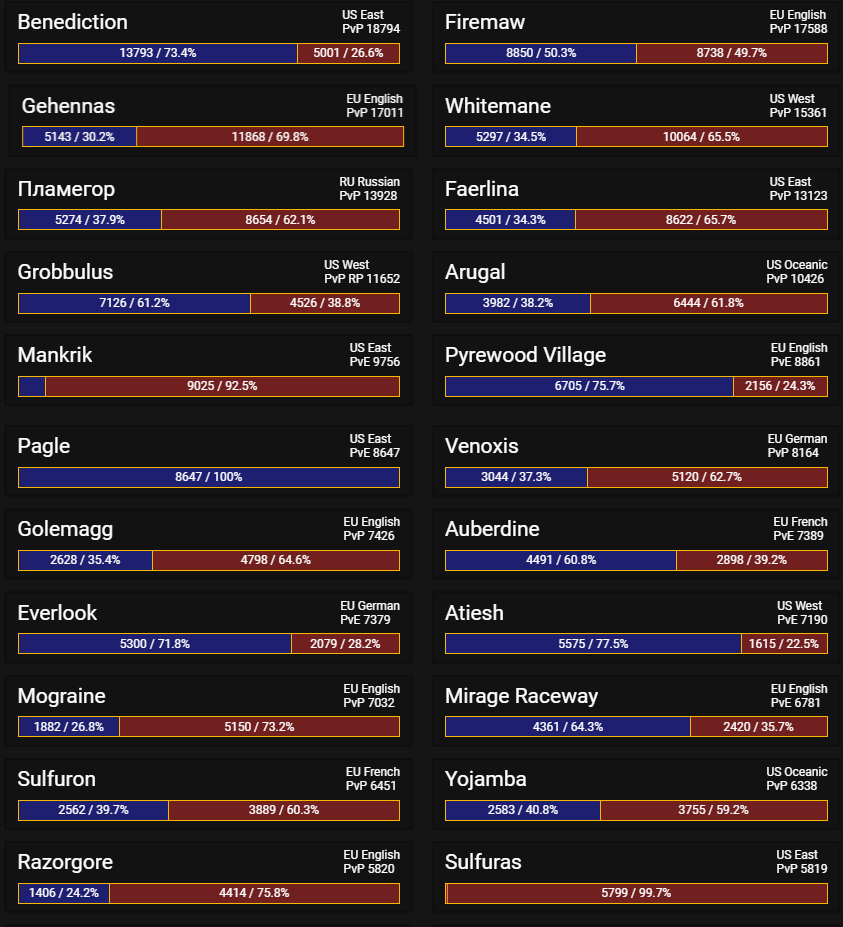 What's especially noteworthy about this is that nearly all of these servers saw a rise in the number of players of 1 faction, while the other faction's population either didn't change at all, or in fact declined.
On Benediction for example, the number of Alliance players almost doubled, while the amount of Horde players remained fairly unchanged. Meanwhile, on Faerlina, Flamegor, Whitemane and Gehennas, Horde saw a 50 to 100% population increase, while Alliance numbers held steady. There are only a couple of exceptions to this rule, like Firemaw, wherein Alliance and Horde saw a roughly equal rise in population.
Another noteworthy point is that nearly all of these mega-servers saw a substantial drop in player counts – particularly on the domination faction's side – during late September.
Those more cynical among us may attribute that to the release of New World on September 28, resulting in many players quitting what they saw as a sinking ship for a new, exciting adventure, but all of them saw a sharp increase immediately afterwards, suggesting that at the very least, the migration waves are not stopping.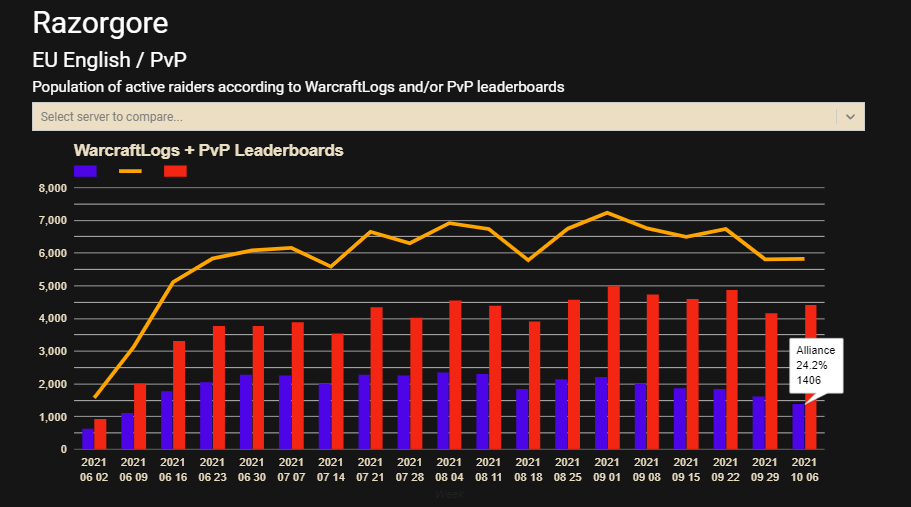 What does this all mean? Well, one interpretation is that people are desperate to leave servers where they're the overwhelming minority. As an Alliance player on a 76% Horde server, I can definitely relate – it is not fun having to ghost run for 10 minutes in order to get into Serpentshrine Cavern, being unable to farm in the world without getting ganked every few minutes, etc. So a lot of people are packing their stuff and heading to the first server with a decent faction balance, or where their faction is the majority, so they get to play the game the way they want to, which does sound very tempting.
My server is seeing a decrease of about 200 Alliance players weekly, which obviously has a snowball effect — there's only 5 Alliance guilds who have successfully cleared 10/10 bosses in the current tier currently. As the guild master of 1 of of those 5 guilds, I can tell you that it has become extremely difficult to recruit new players, and I can only begin to imagine how much worse it must be for guilds that are struggling with progression, player attendance, etc.
I cannot see our server keeping any Alliance players whatsoever in the long term. It will become yet another unicolor server in 6 weeks at the current rate, and if it follows the trend of other similar servers, the Horde population will start declining at that point as well. But it once thrived as a 6k population server with a 45/55 A/H faction ratio, and I can only be frustrated at Blizzard for doing nothing to prevent its demise.
That is a recurring theme in most of the forum threads I linked at the beginning of this article. An increasing frustration with Blizzard's inaction on handling a very predictable problem. We knew all this from private server trends, we knew the faction balance takes a hit with the introduction of arena which makes racials more impactful, and we also know that it'll get substantially worse in Phase 5, with the release of the Isle of Quel'Danas, a vital questing hub and the access point for the Sunwell Plateau raid. Yet Blizzard did nothing at all.
The more cynical among us will point out that Blizzard is actually making money off all of those transfers. Just the 6 mega-servers I listed above saw up to ~41,000 transfers, netting Blizzard $1mil at $25 per transfer, which certainly wouldn't hurt their bottom line.
But I digress – this cannot be a good long term strategy for them, and they are no fools, they must be aware of that too. Many players do not want to pay Blizzard for a transfer, fixing a problem that Blizzard created and never handled. Some just don't want to start over on a new server. Many players will quit for good, and the value of their subscriptions over time will most likely eclipse that $1mil, so their inaction is certainly peculiar.
And to be honest, I cannot see many solutions at this point either, it very much feels like this is the type of issue Blizzard should have addressed proactively, rather than reacting after the fact — not that they seem to be reacting at all anyway.
Many players seem to believe that free character transfers are on the way, like it was the case with Classic Era servers 2 weeks ago following their massive population issues. While that could certainly help players escape their dying population servers, particularly those with a dwindling underdog faction population like mine, it is likely to exacerbate the mega-server effect, which many players see as another issue, as mega-servers tend to have a reduced feeling of community due to sheer number of players.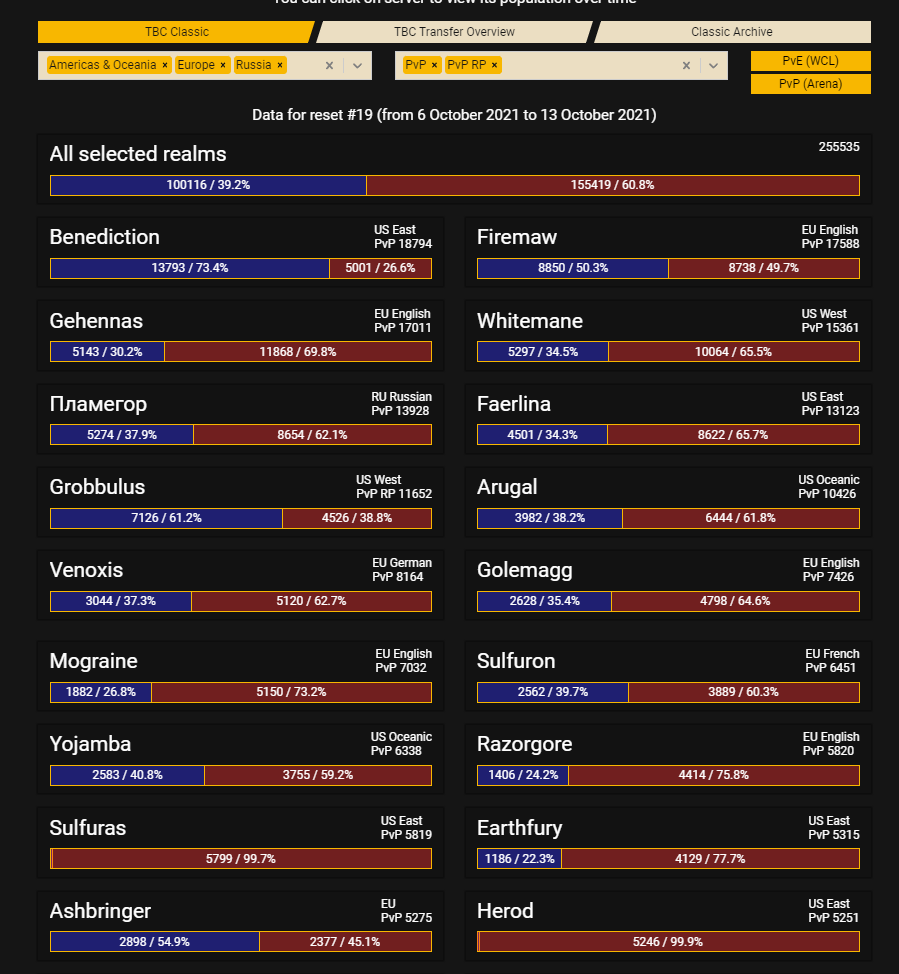 Server merges would be another option, and that'd certainly work for some of the truly dead servers like the ones I highlighted above — it'd be fairly easy to merge them in a way that forms larger servers with relatively healthy faction balances. But it wouldn't be as effective for currently medium sized servers with lop-sided faction balance, as there's a very clear trend of Horde dominating PvP servers (60%) while Alliance dominates PvE servers (65%).
There's only 5 Alliance-majority or balanced faction ratio PvP servers in the entire world, for example, meaning there would have to be additional measures to ensure there isn't a mass exodus of players of the underdog faction again, which Blizzard has not exactly had a great track record on.
No, Blizzard would have to go back to the drawing board to deal with this and their silence throughout these last 2 months indicates that they're probably not willing to do so. They might just be happy to let this all play out, and hope that long term the mega-servers balance out and the situation stabilizes, perhaps with the help of free character transfers.
But that solution isn't exactly great for people on servers that are currently dying, with communities being torn apart, guilds disbanding and friendships ending. I believe it goes against the spirit of Classic, fundamentally, and it's a damn shame that Blizzard is just sitting by while it happens. The Blizzard I knew would not have let this happen.
---
What is your opinion on this matter? And what is the situation on your server? Do you believe Blizzard doesn't need to intervene in this issue, or are you frustrated at their inaction as well? Let us know in the comments below!