Author: Pride
Date: May 14, 2022
Expansion: TBC Classic
Back when TBC Classic was first announced, Blizzard made an unprecedented move: they allowed us to "clone" our characters, keeping 1 copy on the eternally vanilla Classic Era servers, and another copy on the current serves, which transitioned normally to TBC Classic. The service wasn't extremely popular and was widely criticized for having an absurdly high cost attached to it, prompting Blizzard to very quickly reduce the price by over 50%.
Despite all of that however, this service was certainly welcomed by players who enjoyed both vanilla & TBC and didn't have to leave vanilla behind once again, or be forced to level up and gear up from scratch if they want to play it again. Well, these players will be sad to hear that this service will be going down permanently on July 26, as Blizzard announced on their official blog and on a corresponding forum post.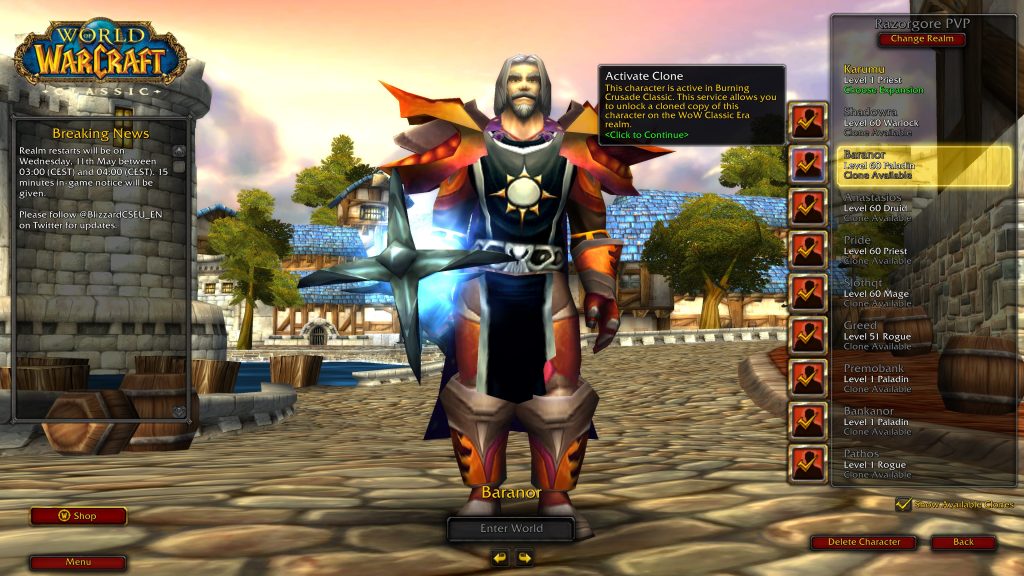 Any character that hasn't yet been "claimed" on either the TBC or Classic Era servers will automatically be moved to the TBC servers, which will in turn transition to Wrath of the Lich King servers with no option to stay on TBC, as we unfortunately learned last month. So if you have any characters that you would like to keep on Classic Era servers, or would like to be able to play on both Classic Era & Wrath of the Lich King, you have two months to act and either pick the Classic Era servers or use the cloning service for that character.
Thankfully, Blizzard is offering a 66% discount on the service until it is retired, which should make it less painful for people who want to clone some characters. Some players are arguing that given the almost non-existent population on the Classic Era servers, Blizzard should make the service free or automatically clone characters, which may somewhat revitalize the servers along with server merges or free migrations. But that isn't looking too likely, so if you're interested in keeping some characters on Classic Era servers and you're okay with the $5 / 5€ price point, this is your last call.
---
What are your thoughts on this topic? Will you be cloning a character to the Classic Era servers with the 66% discount? Do you think Blizzard's decision to retire this service is correct? Let us know in the comments below!
Blizzard Entertainment – (
Source
)
The World of Warcraft®: Burning Crusade Classic™ Character Clone service will soon be cycled out of the Battle.net® Shop. The service will be on sale until its retirement, and you'll be able to get a Character Clone for up to 66% off to keep those characters active on both Burning Crusade Classic and WoW Classic Era realms.
For a refresher on how Character Clones work and which characters are eligible to use this service, refer to our Playing Ahead: Making Choices in WoW Classic blog post.
---
WHAT IS THE CHARACTER CLONE SERVICE?
The Character Clone service allows you to activate a copy of one of your WoW Classic characters, restored from a point in time just before the Burning Crusade Classic pre-launch update on May 18, 2021, on either a Burning Crusade Classic realm or a WoW Classic era realm.
To clone your character, simply log in to Burning Crusade Classic or WoW Classic—wherever you would like your cloned character to become available. Any characters that are eligible for the Character Clone service on the character select screen will have an appropriate icon. Some restrictions do apply; you can read about them in our support article.
WHEN IS THE SERVICE BEING RETIRED?
The Character Clone service will be permanently retired on July 26, 2022. After that date, any locked clones will be removed from their respective realms and will no longer be available.
WHAT HAPPENS IF I DON'T MAKE A CHOICE?
If you haven't made a choice for any of your characters since the last time you logged in to either WoW Classic or Burning Crusade Classic, those characters will be moved to Burning Crusade Classic. The Classic Era version of the character will be permanently deleted and unavailable for cloning.
---
THANK YOU!
WoW Classic, Burning Crusade Classic, and Wrath of the Lich King Classic wouldn't exist without your unwavering support. We hope you'll continue to relive Azeroth as it was and create new memories. Thank you for playing, and we'll see you In Azeroth.