Author: Pride
Date: May 23, 2022
Updated: May 23, 2022
Expansion: TBC Classic
It's been just 4 days since Kaivax's post on the EU official forums, essentially saying that Blizzard do not plan to address the issue with queues on the Firemaw server, which left many players deeply unsatisfied, to put it mildly. It would appear that Blizzard noticed players' discontent and begun taking measures on the situation: the first of which being to disable the ability for players to transfer to Firemaw, or to create new characters there.
The way it works is simple: if you don't already have a character on Firemaw, you're simply not allowed to create one. It is not currently known where the transfer block functions in this way as well, or if players simply cannot select Firemaw as a transfer destination at all. On top of this change, Blizzard has expanded the number of servers that are eligible as free character migration destinations for players on Firemaw.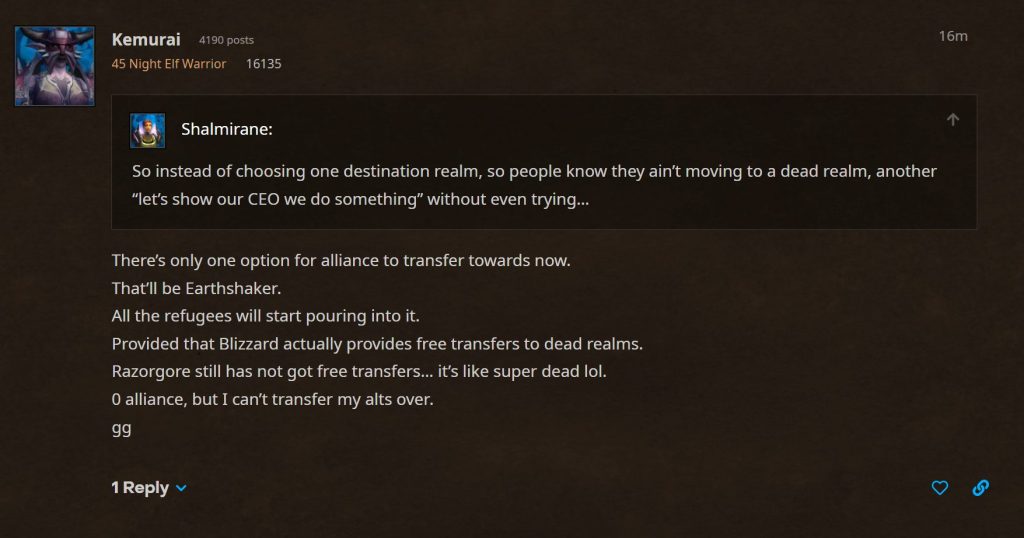 The response to this change is likewise not great, with players stating that it is too little too late, or that it does not go far enough in addressing the issue. Furthermore, some have pointed out that it's peculiar how Blizzard is still offering transfers to completely dead servers, essentially having done nothing to do address the broader issue of realm populations dying off and thus the need for mega-servers like Firemaw to begin with. Players who are frustrated with the queue situation may find themselves transferring to a server with no players instead due to Blizzard's free character migration policy, which would not be much better at all.
Here's hoping that this is just the first of multiple measures that Blizzard plans to take up in order to address the Firemaw queue issue, and not just the only thing they plan on doing. As a Firemaw player, I cannot say my issues were addressed by this change at all.
---
What are your thoughts on this topic? Do you think this change will help address the queue issue on Firemaw, will there be more changes, or do you think it is just a PR move on Blizzard's part, to show that they're trying to fix the issue? Let us know in the comments below!
Update—
As of about 20 minutes ago, it is no longer possible to transfer to Firemaw, and it is no longer possible to make a character on Firemaw if you do not already have a character on Firemaw.