Happy birthday bchat!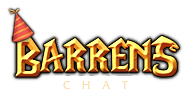 /images/misc/birthday.png
I'm pleased to announce that Barrens.chat came online for the first time one year ago today. Woohoo!
A big thank you and shout out to all the guide writers, contributors, supporters, posting members (and lurkers! ) who have helped build this place up from the beginning. Honestly didn't expect this much interest in a bulletin board in 2019 - perhaps it's the nostalgia, or the desire for a slower pace of discussion? Either way I'm so happy you're all here and enjoying the forum.
Not much else to say really - here's to another year of terrible posting. One free https://classic.wowhead.com/item=2594 for everyone on the house! (..But not you Uncle Ganus McAnus, you've had too much already


Your boy,
Teeb
PS I've had people asking if I accept donations etc. - I don't. Try finding opportunities to link topics, guides and resources posted here elsewhere on the net wherever you think it's relevant to do so - this in itself is far more valuable to our growing community than any amount of money will ever be. Every little link helps!
Topic starter
Posted : 15/04/2019 10:40 am
Posted : 15/04/2019 10:46 am
Congratulations teebling!
Posted : 15/04/2019 10:50 am
httpsANd9GcRDs4E3U7hpSWrDO8GUspdczcOm7CX5tSu5-Ivk8a6n35DyPL4j
Definitely part nostalgia here. I really miss the communities that developed around forums. I was hugely involved with the Destructoid.com forums before they closed and have been looking for something similar since. I'm excited to see how this place develops after Classic is released.
Posted : 15/04/2019 10:59 am
Woohoo! Long live Barrens Chat!
Posted : 15/04/2019 11:34 am
Today is also my birthday, and the day I started up WoW for the first time in 2004
🤘🏻
Posted : 15/04/2019 11:40 am
Congrats on putting this together, teebling. It's a lovely site. I only joined today, but I hope to be around for a while.
Will you add per-realm subforums?
Posted : 15/04/2019 11:52 am
Posted : 15/04/2019 12:02 pm
Glad I was able to just barely make it into the first-year club Here's to many more years enjoying Classic with you all.
Posted : 15/04/2019 12:13 pm
Hail Barrens Chat & Teeb!
Posted : 15/04/2019 1:28 pm
You've done a phenomenal job, here's to another year!
Posted : 15/04/2019 1:36 pm
Awesome! I'm new around here, but this is a great community.
Posted : 15/04/2019 2:52 pm
Much love teebling, you're doing a great job and everyone is enjoying the fruits of your labor!
Posted : 15/04/2019 3:54 pm
It's really been a year?
Good on you @teebling for making this place happen! Wanted something like this for years <3
Posted : 15/04/2019 5:28 pm
I came here for the awesome forum layout, and stayed for the Uncle Ganus and others!
Posted : 15/04/2019 6:09 pm