Patch 1.13
images/updates/oneonethree/113logo.png
Patch 1.13
Sunday 4th July 2020
---
Warcraft Tavern merges with Barrens Chat
Alright, here we go... patch 1.13! Woo!
It is with great pleasure that I can tell you all that Furious has decided to move over all of the high-calibre WoW Classic tools, news articles, written guides and addons from the esteemed fansite WarcraftTavern.com over here to Barrens.Chat, to remain here as their new home. Awesome!

/images/updates/oneonethree/wtbc.png
This decision has shaped patch 1.13 and has resulted in large changes to the site's functionality, layout, and purpose, as well as brought in some new features that I hope you'll all enjoy.
By consolidating both the WT and BC communities' WoW Classic knowledge and resources into one place, we hope that this new rendition of the site will be so powerful that it will open the portal to Outland.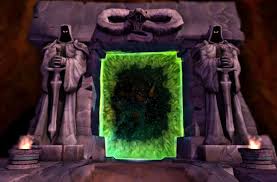 /images/updates/oneonethree/darkportal.jpeg
Uhmm what we mean is we hope you like it

Anyway, here's the feature breakdown:
---
Navigation 2.0
To accommodate all of this new content I've redesigned the way users navigate BC. The desktop navigation bar is now tiered with multilevel dropdown menus that cascade through the different sections of the site to provide you with an easier and faster way to get to the page you want.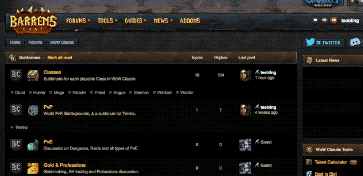 /images/updates/oneonethree/navigation.gif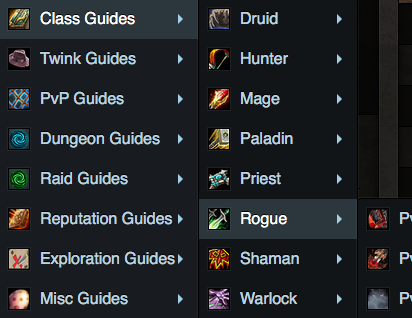 /images/updates/oneonethree/navigation2.png
I've also revamped the (previously very lacking) mobile navigation bar in a similar manner. On tapping the hamburger menu, a navigation menu now slides in from the left allowing for exactly the same functionality of the desktop version for our smaller viewport friends.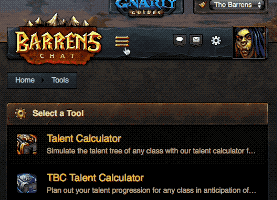 /images/updates/oneonethree/mobilenavigation.gif

---
Widgets and the Sidebar
If you're viewing this topic on a larger screen, you'll have noticed that BC has put on a bit of weight and expanded to 1366px in width, which has permitted a sidebar to be laid alongside the original-width content area. Inside this sidebar are various 'widgets' which act as mini-previews and lists from all sections of the site.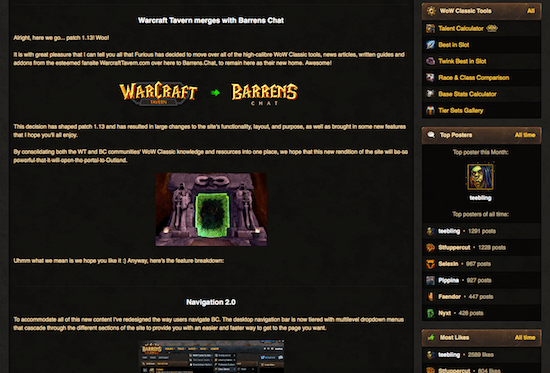 /images/updates/oneonethree/sidefull.png
For example on a forum page you'll see a mini list of the latest news, blue posts and tools. In the News section you'll see a list of the most recent topics, the screenshot of the month, and a search bar etc. On the index page a combination of sidebar and main-content area widgets exist.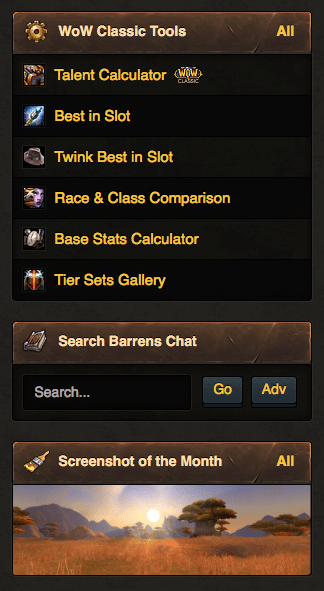 /images/updates/oneonethree/widgets2.png
Their purpose is to help new visitors and regular users to easily hop from section to section of the site, making it easy to explore all of the new stuff that has just come out or been announced, whilst also providing a bit of extra utility and information for everyone.

/images/updates/oneonethree/widgets3.png
The original desktop width is still available if your screen size goes below 1366px in width, so if you're on an older computer, a tablet, or you just like having a narrower browser window you'll still feel right at home

Of course the sidebar is not incorporated into the reduce-desktop width version or mobile version of the site but widgets are still there in the main column regardless.

/images/updates/oneonethree/widgets.png
---
New Guides, News and Addons Section
This new area contains the comprehensive encylopedia of written guides from Warcraft Tavern's authors and community on just about everything from profession levelling to raid walkthroughs. It is also an outlet for WoW Classic-related news articles, long-form opinion pieces, and also acts as an Addons download/database too.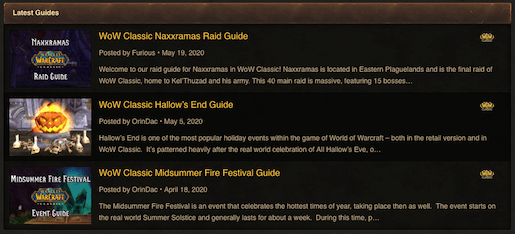 /images/updates/oneonethree/latestguides.png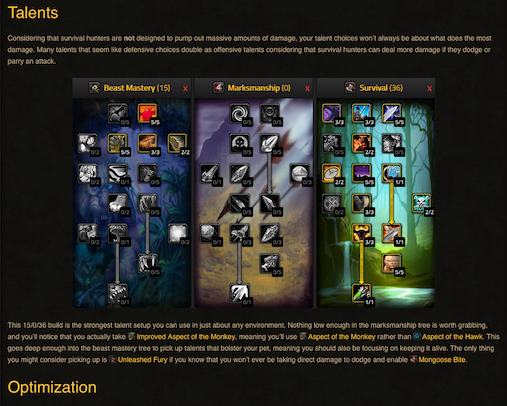 /images/updates/oneonethree/aguide.png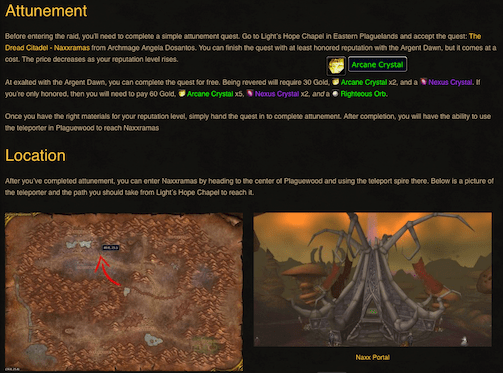 /images/updates/oneonethree/aguide2.png
The latest news articles are pulled straight to the BC home page, so you won't miss the latest patch announcements and community news for the game: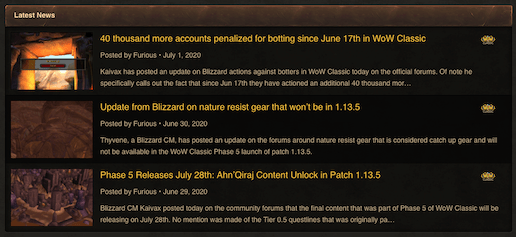 /images/updates/oneonethree/latestnews.png
At Classic Launch and well after that I often found myself visiting these kinds of pages from Warcraft Tavern and it's a real honour to be able to host them all on Barrens Chat alongside our own stuff. Included in the mix (as you'll see in the Guides nav menu) are BC members' own contributions from the past - they have remained as their original formatted forum posts but are just as accessible.

/images/updates/oneonethree/addons.png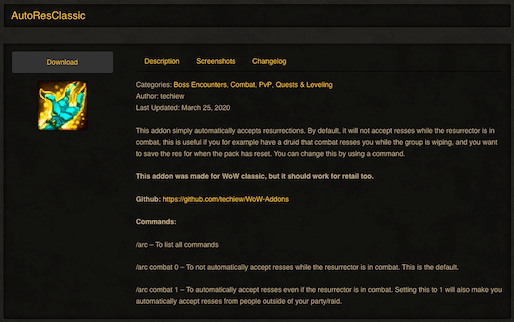 /images/updates/oneonethree/anaddon.png
---
New Tools Section
There are a handful of new tools that have been migrated over from Warcraft Tavern to BC. They include Talent Calculators for both Vanilla and TBC WoW, and a Blue Tracker to keep tabs on all the latest from Blizzard HQ, and an 'Instance Loot' tool to filter loot by role, class and instance. Linked are (at the moment) standalone BiS, Twink BiS etc. tools that will be integrated very soon.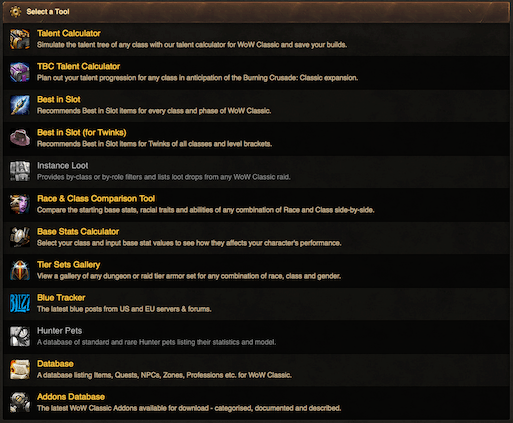 /images/updates/oneonethree/toolsindex.png
There are some other exciting things in the works also for the mid-term, and a many are TBC-related in case when it comes out.These tools can be accessed from the various widgets in the sidebar or main content area, from the navigation bar, or from the Tools index page itself. You'll notice that the 3 tools I personally authored (race/class, base stats, tier sets gallery) have also been moved into this area.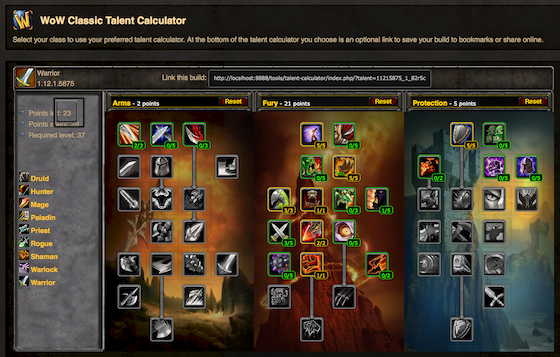 /images/updates/oneonethree/classiccalc.png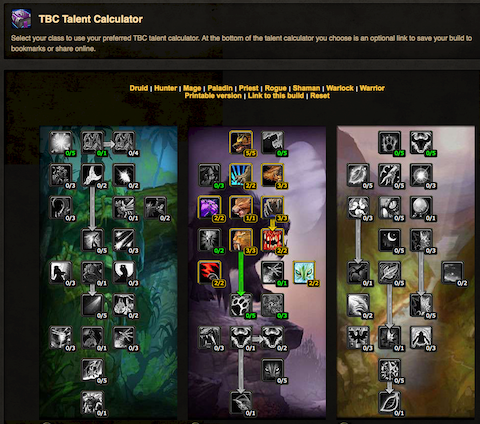 /images/updates/oneonethree/tbccalc.png
---
User Integration/Bridge
You'll see that the Guides/News/Addons area is built with Wordpress (WP) but follows the same design as BC, which is built in phpBB. What we've been able to do is link the existing Warcraft Tavern and Barrens Chat communities together by bridging the two installations. This means that all BC users are now able to use this area of the site fully, with their single existing account, without having to log in or register for a second time! If you're logged in on WP, you're also logged in on phpBB, and vice versa.

/images/updates/oneonethree/bridge.png
You can comment on a News article, and then hop on over to the forums and post a reply or a new topic there like you normally would. Your avatar and username persist, as well as any stored cookies. If you're a WT user, you'll find that you can now use the forums without having to re-register or re-login, and the same goes for phpBB users. The idea is that you have one account and that it bridges both sides of the site together.
NB If you had a phpBB account AND a WT account with the same email address or username, your unified login for both sides of the site uses your original Wordpress account credentials
If you're having trouble logging in or staying logged in, click here to clear your browser cookies, or alternatively, reset your browser cache/cookie cache if you have one.
We're still working through some bugs with the integration and have reports of people being logged out when hopping between the two sides of the site. Working on it!

---
Breadcrumbs
With the introduction of layers of new content, I realised that the navigation bars on their own wouldn't be enough for UX. I brought in a mini 'breadcrumbs' sub-navigation bar to help people with find their way around that tad bit easier.

/images/updates/oneonethree/breadcrumbs.png
As you go deeper into forum structures, guides, news categories, or tools, it's now easy for you to find your way back and I hope it makes the browsing experience a bit easier for you all. Also helps search engine bots and the like.
---
Poster of the Month & Top Posters/Top Likes
Members who have the most posts in a rolling monthly time period will now be automatically emblazoned with a glittering, shiny avatar frame that is visible in the view topic area, and also proudly displayed in one of the sidebar widgets.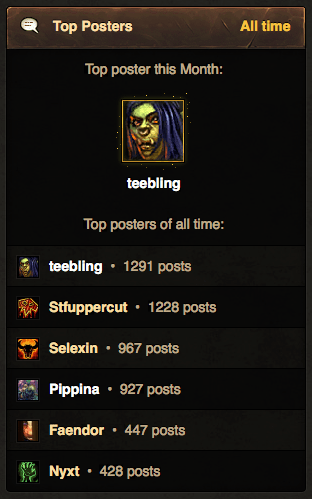 /images/updates/oneonethree/topposters.png

/images/updates/oneonethree/topposters2.png
In the above sidebar widget the top posters of all time are also listed as you can see. A link can be clicked taking you to to the 'All time' page which lists all members in order of post count, and can also be filtered for joined/last seen date etc: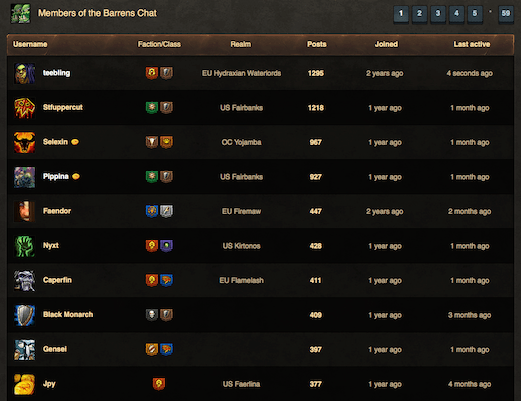 /images/updates/oneonethree/bridge2.png
Another widget resides just underneath this too, listing members with the most likes collected since the forum began two years ago. As we all know - post count is not necessarily always an accurate representation of quality

Again, an 'All time' link takes you to a Likes Leaderboard for more detailed analysis if you so wish.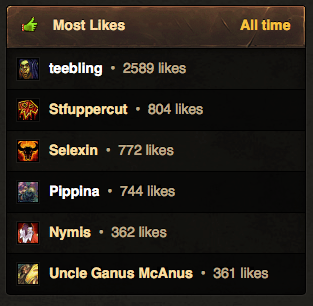 /images/updates/oneonethree/toplikes.png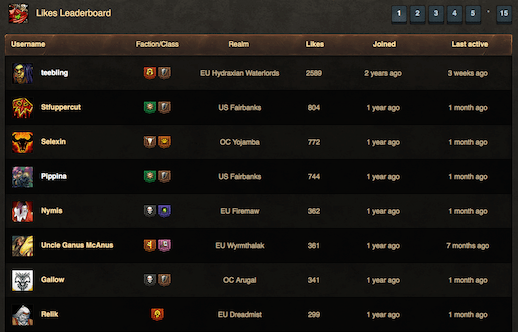 /images/updates/oneonethree/likes.png
I hope that these new features, along with the levelling up system + easier-to-award commendations will make new and existing users alike feel that their posting input here on the site is valued and celebrated

---
Forums, Subforums and a bit of redecoration
Those of you who have been here from the very beginning will remember me quite vehemently lashing out at good-intentioned users asking a very simple question - why are there not more forums or subforums here on BC?
These unfortunate souls were never seen again
.
Whilst back then I could justify keeping things to a single forum stream for various reasons, there's now obviously a lot of archived discussion here on the forums and categorising/organising the lot of it makes a lot of sense. Filters in patch 1.10 helped a bit, but weren't quite the solution that most people wanted.
We've introduced some subforums (but trying to keep it fairly tame) for the WoW Classic forum and the Off-topic area to serve this purpose. TBC will for the time being remain a single one-fits-all forum until we start to see more discussion there - with the rumours of TBC Classic abounding this may not be too far ahead in the future.

/images/updates/oneonethree/zeforums.png

/images/updates/oneonethree/subforums.png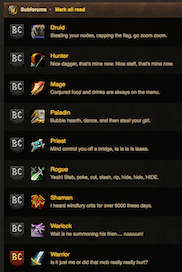 /images/updates/oneonethree/classforums.png
Subforums display underneath their parent forum in a legend format, and have mini indicators to tell you if you have unread posts in them. These legends are also present for sub-sub forums (if you're lost don't despair - you'll see what I mean when you go out exploring).
Filters will remain in the codebase and are still usable in the advanced search function. They act as tiny topic icons so also lend a bit of flair to the view forum pages - I'd like to keep that and leave it up to the user to decide which one they'd like to use.
There are also banner-like images at the top of every forum and sub forum now, to give each area a bit more identity and instant recognition. These banners persist when you are reading a topic from that forum too.

/images/updates/oneonethree/forumbanner.png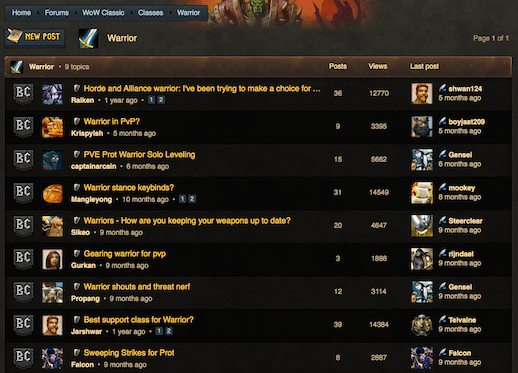 /images/updates/oneonethree/newforums.png
---
Other smaller changes & features
Social Media buttons for our Twitter account and Discord server placed at the top of the sidebar
New picture gallery added for WoW TBC - try digging out some old TBC screenshots for us to analyse!
Screenshot of the Month now more visible throughout the site as it becomes a widget
Last post indicators added to the forum list for mobile users
New off-topic 'The Barrens Chat' forum w/ subforums to discuss things outside of WoW Classic
Various bug fixes and performance tweaks, the usual SEO review
---
And that's all guys. Both Furious and I have worked very hard to bring you this patch, we hope you enjoy it

Please please report any bugs you come across - just reply to this post and I'll get the hotfixes rolling in. Since this update was quite broad in scope there are likely to be a lot of things I've missed.
Your boy,
Teebß
Topic starter
Posted : 05/07/2020 9:35 am
Hotfix 1 - 06.07.20
Fixed issue where login form was inactive on mobile devices
Fixed an issue that prevented the Blue Tracker index and individual posts from rendering properly on mobile devices
Fixed mobile navigation on Blue Tracker pages
Changed cookie settings again, hopefully this will help people losing their login session
Enlarged text size on guides/news articles/addons page for mobile devices
Topic starter
Posted : 06/07/2020 9:18 am
Such a huge amount of cool changes, thanks for all the great work!

Posted : 06/07/2020 9:20 am
Looking good!
A lot of nice features!

Posted : 06/07/2020 9:56 am
man i love the old school aesthetic of this site so much, all the new changes look really good guys!
Posted : 07/07/2020 8:06 pm
So, I haven't checked Barrens.chat for like a full year... what the hell happened to this place? Ads everywhere, Wow.
Posted : 02/09/2020 5:59 pm
So, I haven't checked Barrens.chat for like a full year... what the hell happened to this place? Ads everywhere, Wow.
I can't say for ads since I use AdBlock, but the forum has gone very quiet recently. I won't complain since I don't contribute much. I should go back to WoW in a month so I'll certainly keep posting.
Posted : 03/09/2020 2:23 am
Wow, I was hoping to come have a discussion about TBC classic since I haven't touched classic in about a year, but it seems barrens.chat is all but dead now. This ad-riddled corporate styled website just feels so hollow and lifeless compared to the old one, literally everything is changed. Guess it's time to move on. I really don't know what was so wrong about having a community-centric no-bullshit forum.
Anyway, thanks for all the good times! You'll be missed barrens.chat.
Posted : 28/12/2020 4:58 am