Thimz's Toolbox for Creatives

Thimz's Toolbox for Machinima production and other WoW Classic creative pursuits
Last updated 23rd March 2019

---

Hi folks at Barrens Chat! I guess I could start with a brief introduction and such. I usually go by Thimz or Waroduck online and I've been a long time enthusiast of World of Warcraft, specifically Vanilla and up to WOTLK. Some years ago I attempted a Youtube Channel featuring mainly WoW content but sadly never managed to release or finish any videos due to other more pressing matters.
Currently I am too busy with other projects to pursue that old goal of becoming a WoW content creator on YouTube. So instead I've decided to put up some time to make this "tutorials/guide" on how to improve whatever content you folks might be creating - may it be graphical assets on your Youtube videos or a website from digging up hidden and unused game client stuff for use in the WoW community.

---
Ladik's MPQ Editor

Ladik's MPQ Editor is a program that allows you to open up the MPQ files. MPQ is a archiving file format and works pretty much the same as ZIP, RAR 7ZIP and etc. With this editor you will have access to all of the graphics assets such as textures, icons, UI graphics, audio files ranging from foley, voices lines, background music and SFX from abilities and spells and many other files used by the client side of World of Warcraft and other Blizzard games that uses the MPQ format.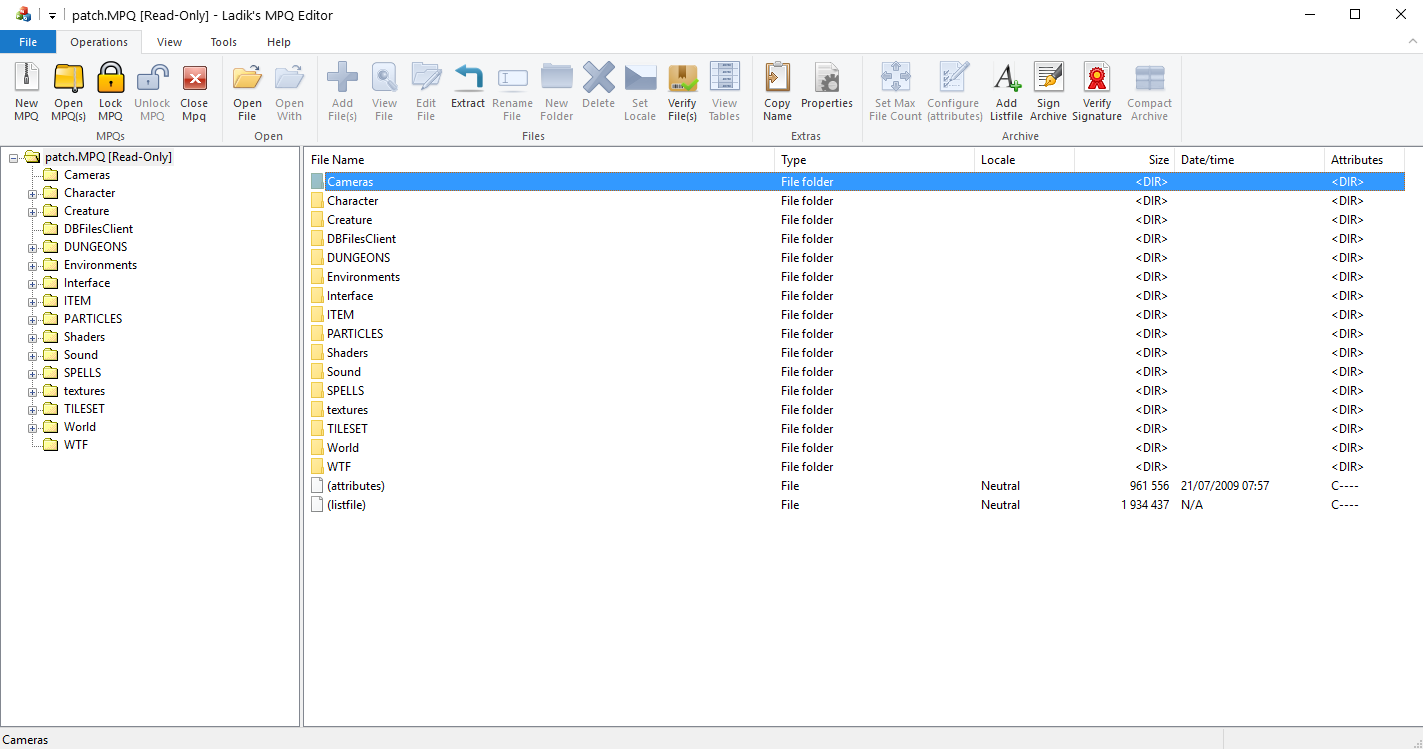 There might exist other MPQ editors online but so far this is the only one I am familiar with. If you get any errors while trying to open or extract anything you might need to fix the work and listfile paths in the Tools/Options tab and that there exists a Work and ListFiles folder in said path.
---
WBDX Editor

WBDX Editor is a DBC editor that allows you to open up and edit World of Warcrafts DBC files that are in the MPQ files. A DBC file is literally a google/excel sheet that contains columns and rows of data. this data might be numbers, text, IDs that refers to a entry in a completely different DBC file to or even graphic files such as texture names, sound file and model file names.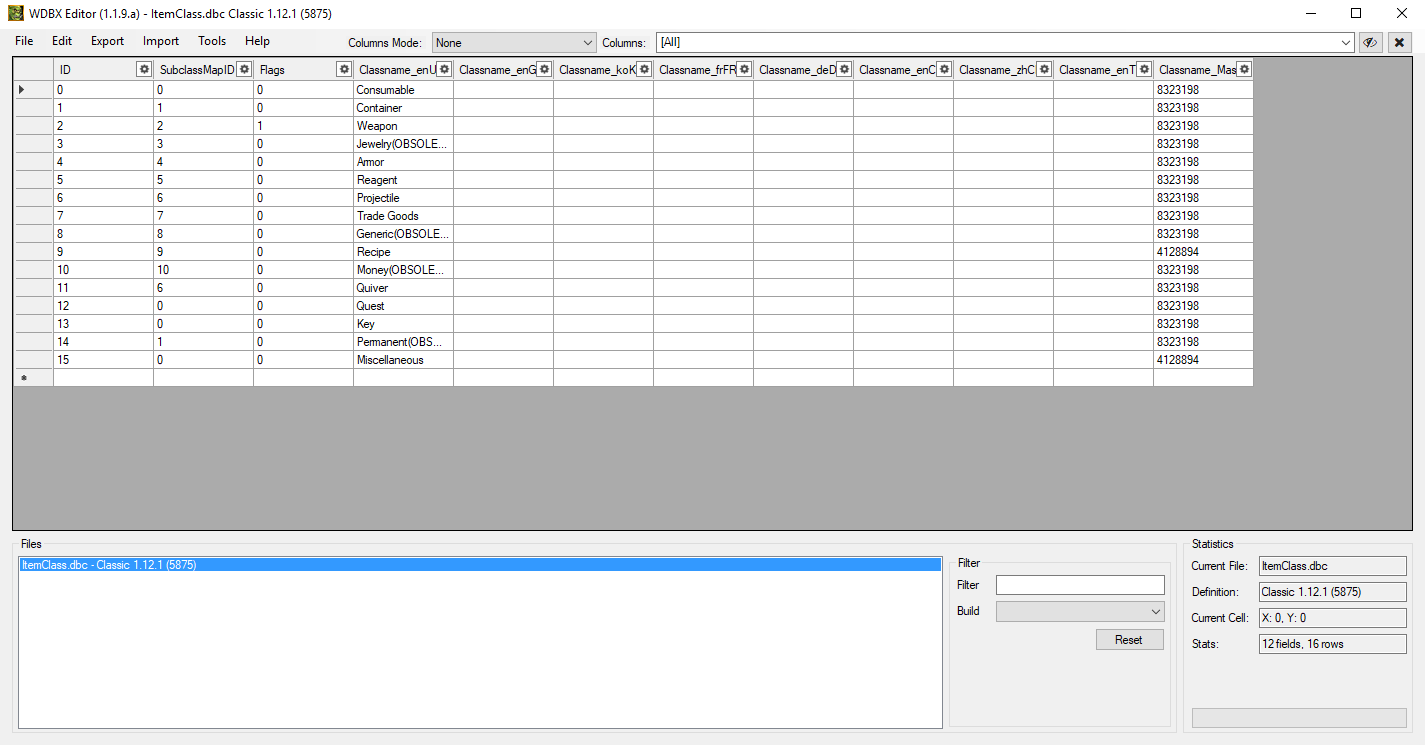 Digging through the DBC files and their contents might seem very boring but it is very informative and it was one of the places where I discovered a lot of hidden things and unused content in Vanilla WoW. I was eventually able to gain access to some of the content on my test server by manually editing in the IDs associated to these unused random enchants via mySQL on to items. I could make a video about this and how you can find this things on your own.
---
WoW Machinima Tool V2.5 (3.3.5)

WoW Machinima Tool is software that allows you to "unlock" the camera from its position, granting 360 degree of free movement while also able to do many other things like adjust the field of view, set the color of the fog to different color etc.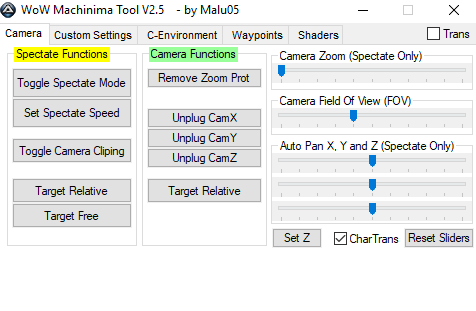 This software only works on 3.3.5 Clients and there exists one that works for 2.4.3 but it doesn't have the waypoint feature which is the most importaint feature as it allows you to create and capture incredible fly by footage of zones and areas once you've learned how the Waypoint system works.
---
WoW Model Viewer

I tried using the 64 Bit version and I had trouble with not finding the data folder, even thought I had it manually written in the path in the config file. So I ended up using the 32 bit version. when first running WMV it might ask you to choose between the WoW you have installed, if none of them are showing, just press cancel and it will let you choose the folder where you have your 4.3.4 data.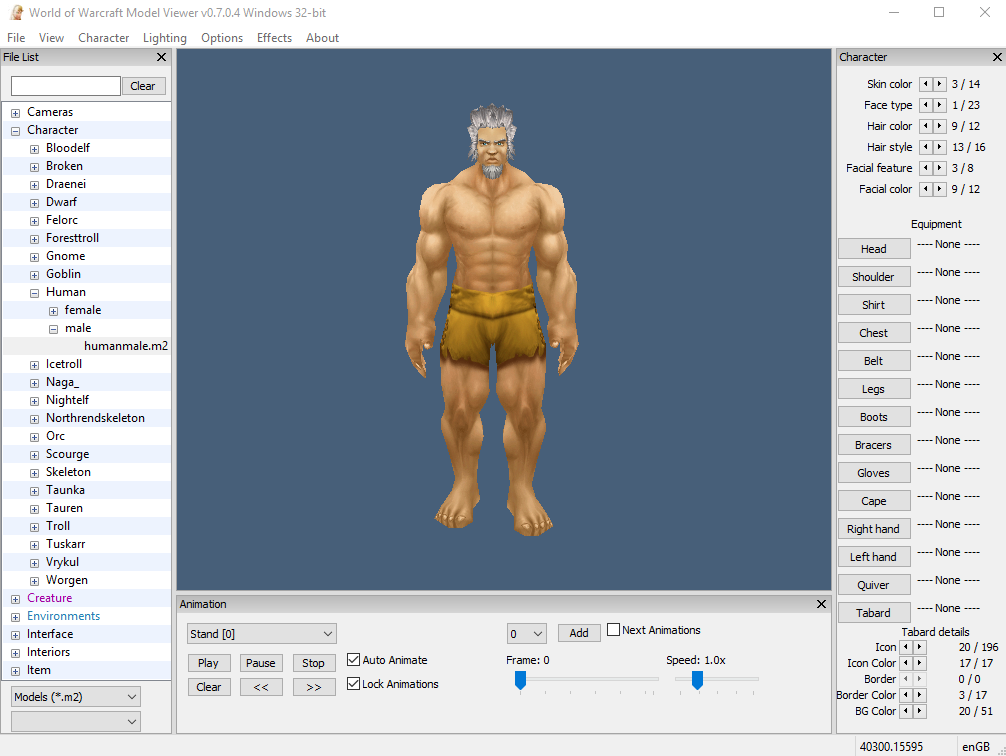 ---
FRAPS

FRAPS is a program that allows you to record uncompressed videos. Since the video files it create are uncompressed, they take massive amount of storage space on your hard drives depending on the resolution and frame rate the footage is recorded in. This is the go to program I use to gather footage from WoW Model Viewer when I need to create green screened footage of specific mobs, characters or what some gear looks like on character models.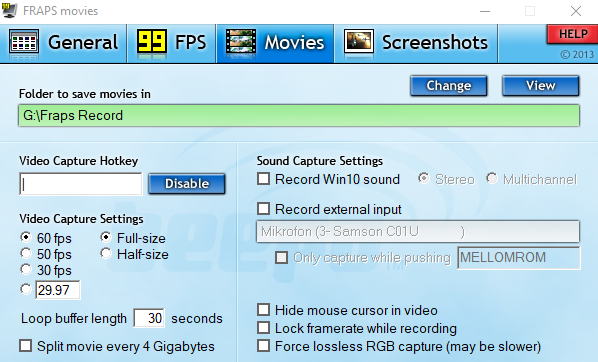 The free version of FRAPS sadly slaps on a watermark that you can't really do much about on your recorded footage and you sadly have to pay a one time fee to get rid of it for good. Other software such as OBS, Flashback Express, Xsplit and other recording programs might work but could cause problems if you attempt to do green screen effects if they don't allow you to record them uncompressed.
---
Photoshop with a BLP Plugin

I have a plugin that would make life a lot easier to you if you decide to get your graphic assets from the MPQ files. WoWs images and textures are saved as BLP files. with this plugin you can open them straight into Photoshop rather than extracting the image files and convert them into a format that Photoshop can open.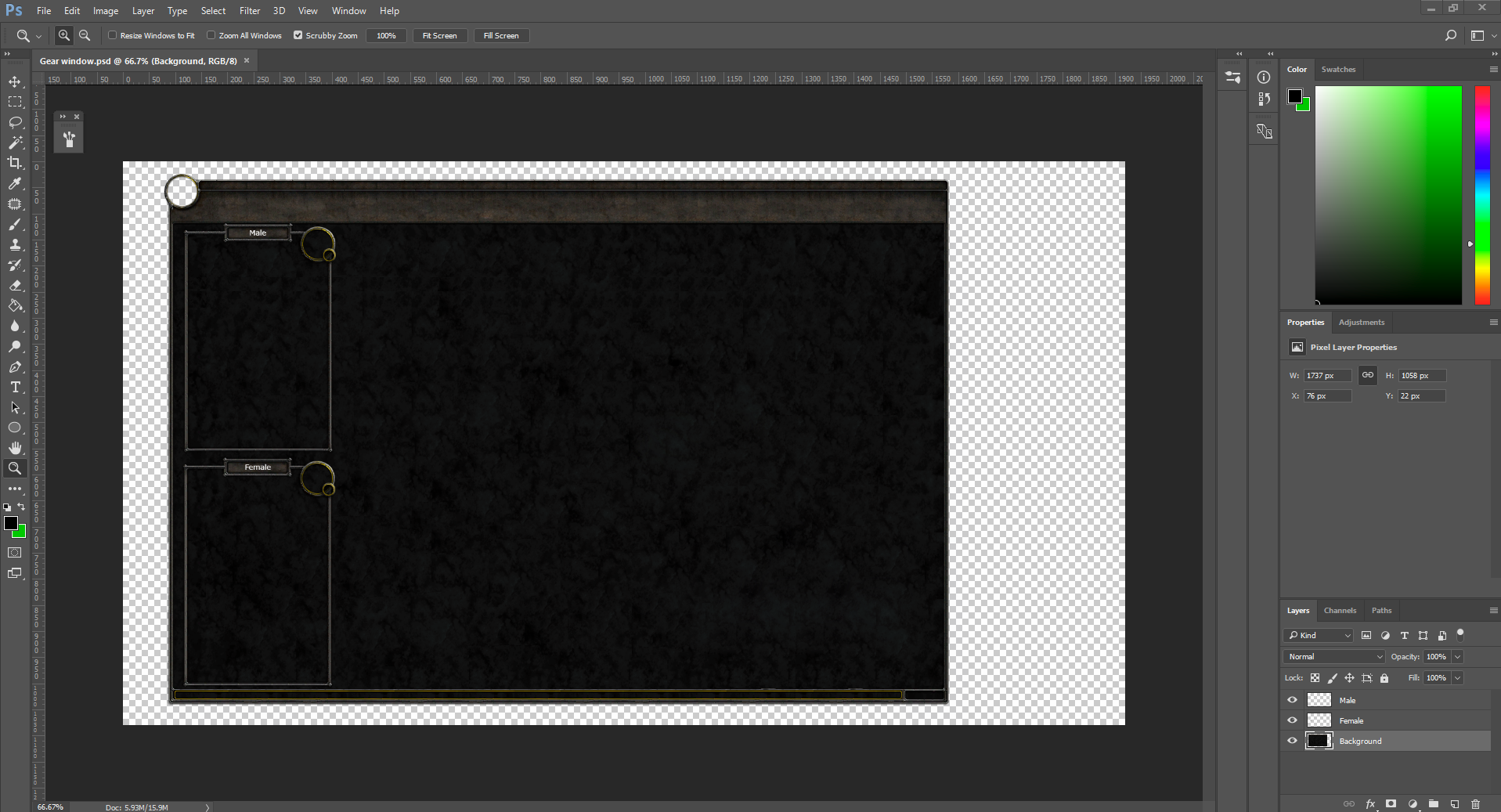 You simply just drop the file into the File Formats folder in your Photoshop folder. it should work on most versions of Photoshop.
("Adobe Photoshop version you are using")Plug-insFile Formats
---
Blender

Blender is a free 3d modeling software. I generally used it to do very specific things usually in conjunction with WoW Model Viewer where i exported 3d models as OBJ files and imported them into Blender. Blender is capable of a lot of things from like i said 3d modeling to rendering and animating.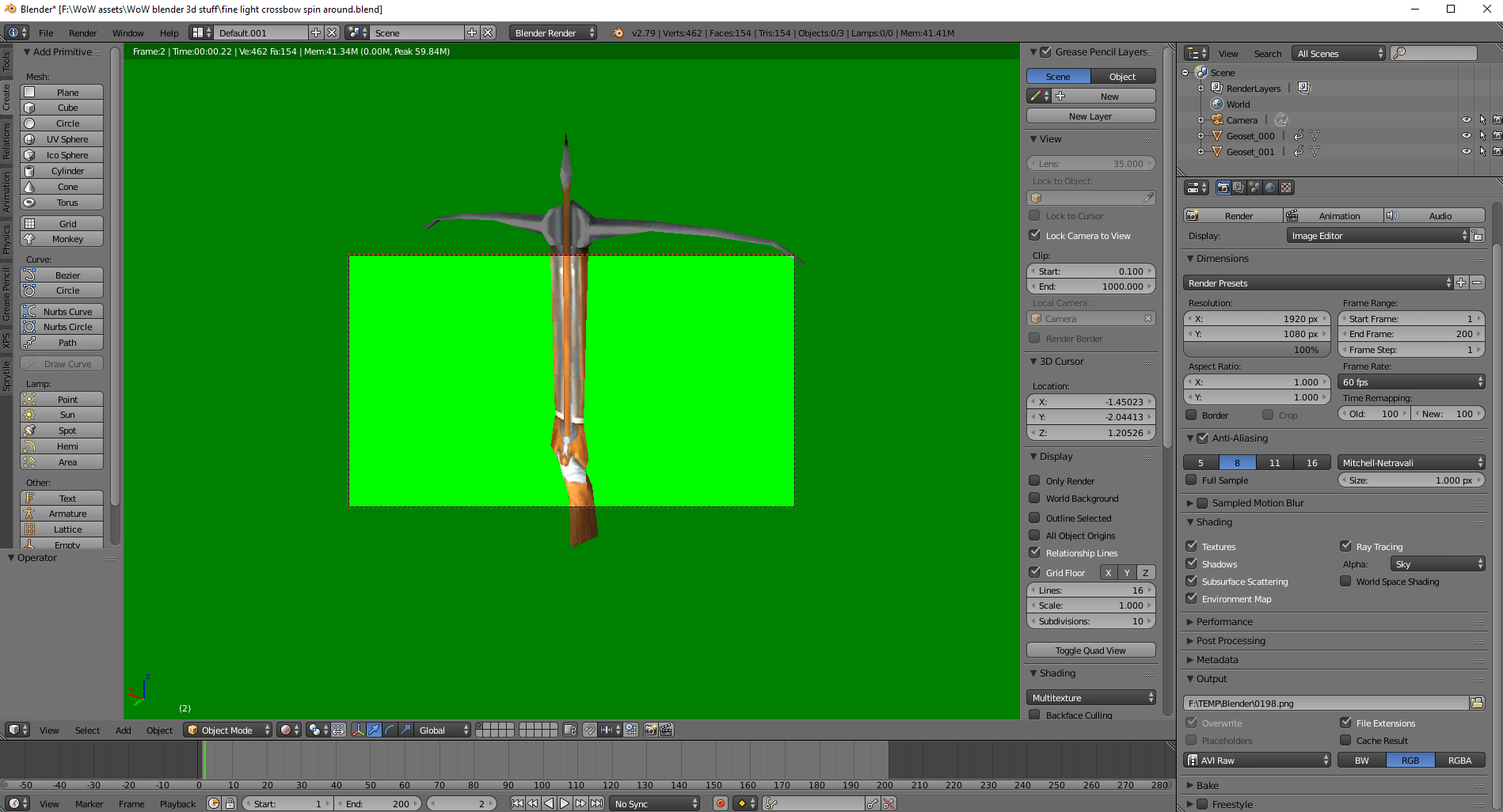 Download link

---
HeidiSQL

HeidiSQL is a program I specifically used to edit the WoW Servers databases you have running locally on your computer. With this you can do quite a lot of things like edit to create items on your server and put whatever stats or enchants and effects you want, IF you know what you are doing that is.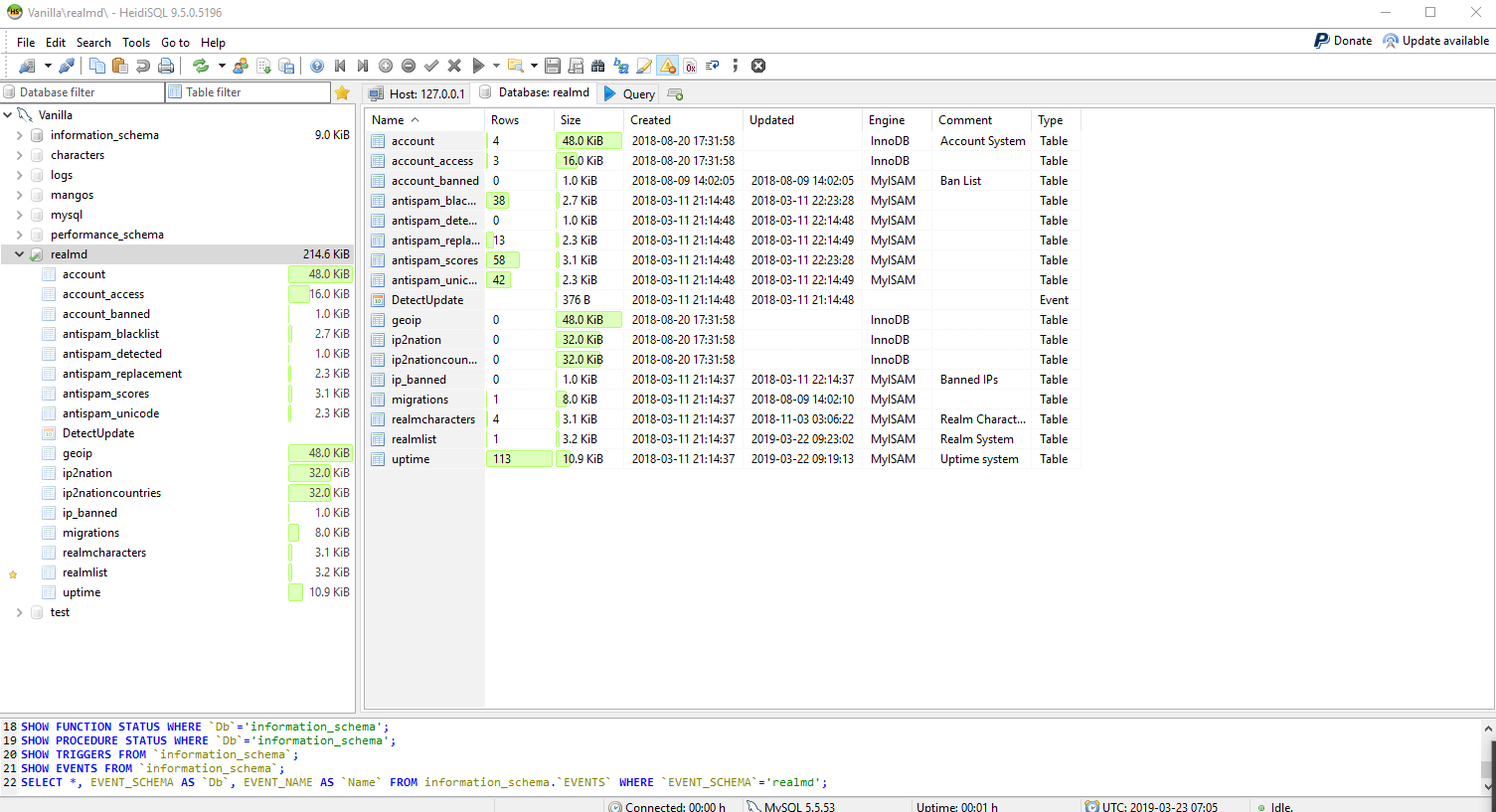 This is also the only method I know of actually testing out some of the unused content such as random enchants suffixes on items.
This is a also topic that I might need to do a video on, as it might look very daunting and intimidating for any beginner.
---
Hopefully you find these tools useful whatever it is you are creating. For web and graphics stuff, also check out Teebling's list of programs he uses for anything related to barrens.chat and Classic WoW.
Topic starter
Posted : 20/04/2019 12:36 pm
Super cool man, can't wait to see people make new machinemas like in the good old days for this game.
Posted : 21/04/2019 12:23 pm